MassageBait review
m4rc0f
MassageBait review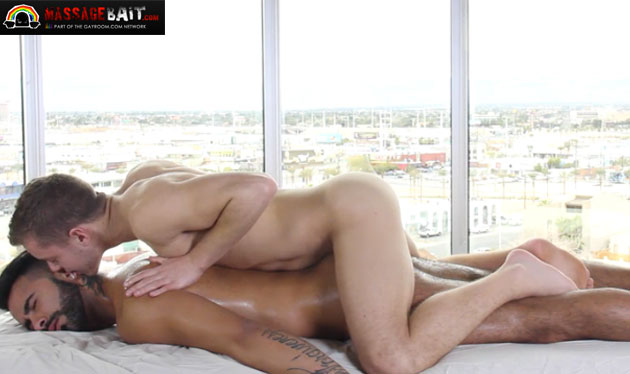 Positives
• massage videos • hard gays
Site Overview
Massage room porn is a really popular, and quite sexy niche. It's hot when girls are pleasing men, and it's also very hot when guys are doing it with other guys. The MassageBait is a porn site, where you can find a large selection of videos, which feature massage porn, with a nasty twist in the story: the clients are supposed to be straight guys. This is double-hot fantasy, and the corruption theme mixed with the fact that sexy bodies are going to glimmer with massage oil. The portal has been around since 2011. So it's a five years old porn site, with a lot of hot, fresh stuff for you to enjoy. This site is one of those within the GayRoom network, which still update. Apart from this series' videos, you gain access to a whole lot more.
As a GayRoom site, the MassageBait grants you access to all portals of the network. This grants you 12 hardcore sites to browse, covering different niches and different fantasies. The overall amount of videos you can enjoy here is circa 1,300 so it's a quite good collection. Most of the network sites have their own compilation, but according to some reports, there might be some shared content, but not much. Another important note: the GayRoom and its sites are all offering the viewers hardcore porn videos, which are fully exclusive, and they are shot with purpose of being added to the network collection.
Design and features
The MassageBait has the usual layout you may have seen on other porn sites of the network. A black color ruling the page, and a simple design which makes it easy to get used to the navigation. During the free tour, you can view five clips as preview of the content. The members' zone isn't much different from the outer page, so if you took your time outside, you will navigate easily on the inside. When you enter the site, you will find yourself in front of a large collection, which you can play form the browser and in an offline form. Every video is available through the embedded player, which you can use to access the FLV stream.
The player is responsive, loads the videos quickly, and it's a quite good experience to watch the videos with it. To download the movies you can choose from HD and SD files, mostly coming in MP4 or WMV format. Every movie is added with a huge set of photos and screen captions. These galleries consist of circa 200 files, and they can be viewed in the browser, but you may also save them in zip format. The site is available on smart phones and tablets too, so it won't be a much of an issue to enjoy some hot porn on your favorite gadget.
Guys and videos
On the MassageBait, you can find a large collection of hardcore porn with hot gay pornstars performing nasty-nasty things with their fellow gay actors. However, the fantasy this series covers is a massage-room fantasy, which features the following situation: a gay masseuse massages and fucks his "straight" client. Good gracious, it is a nasty fantasy! But, it's hardcore and professionally made, so you probably already got the idea about the niches you can see featured in the scenes. In case you like to watch hardcore porn, and you don't mind if it's performed by professionals, the collection here will satisfy your desires. These guys really know how to put on a great show, and when they are doing their job, they do it really well so satisfaction is guaranteed. The men of the MassageBait are mostly athletic ones, some may be considered as jocks, and you can also watch the stretching muscles during sex of some real gym-rats. As most of the GayRoom network's sites, this one also has several ethnic models in its videos, and this ensures that you, as a member, can enjoy the variety the site offers.
Those who are looking for Latinos may feel like they reached the shore, because there are so many hot Latin guys, which your hot-o-meter will explode. Naturally, every video is made with care, and the guys in these flicks are really professional ones, and you can see it from every move they make. There are only massage-related videos on the MassageBait, and though the scenes don't have much talking in them, they seem to be scripted and the director is directing the actors. In a few cases, you might get the feeling that they are doing it a bit too hard – those moments are the ones when the actors gave in for lust and passion. These exciting hardcore videos are featuring some massage sessions, and since the clients are usually playing the straight guys, the seduction gives the whole collection a nasty edge. To be hones we really enjoyed watching the scenes of the MassageBait, because they looked passionate and they are shot with high quality equipment, used by a professional crew, and they all bright and somewhat glamorous. The GayRoom sites are all mainstream portals, and there is no bareback sex in any of the videos. This stands for the MassageBait too: the sex is hot, the guys are amazing, but everything done in a safe way.
Conclusion
The MassageBait has a nice collection for all of us, and it's quite certain that everyone can enjoy it pretty much. With the regular updates and the increasing video quality, the site gets better and better. You will find here many gay porn stars, who are not just trying to set foot in the industry, but already have established careers. Naturally, the most important thing you might notice about this site is that it provides the members full network access