MalinaMay review
m4rc0f
MalinaMay review
Positives
• enormous tits • high quality content • live cams
Site Overview
Have you ever gone to wonderland inhabited by completely hot and sexy mommas with huge pairs of boob? I think getting lost to Malina-May is the best kind of wonderland you just want to be for the rest of your life. Welcome to Malina-May, a site overwhelming with large tits and enormous booties. You can find here all the kind of cups you just wish to land your hands on. They give you nothing but the best boob experience you can never get in other sites.
You can't just imagine what these Malina May can do with her gigantic and healthy tits. You can see here bouncing pairs of melons capable of just anything and girls giving pleasures to each other. I'm pretty sure you don't want to miss visiting this boobylandia.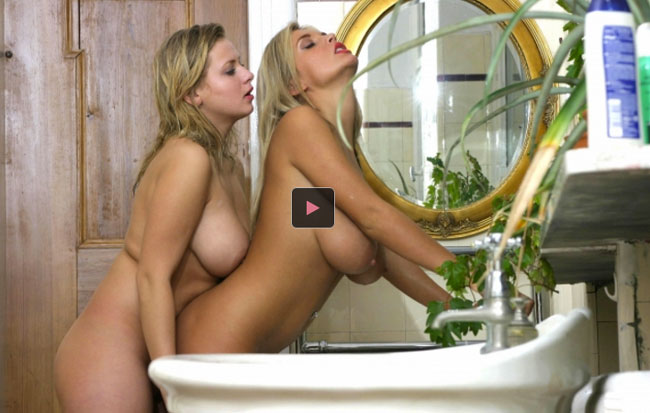 Design and features
The site has plenty of booby and girl to girl action inside. It is easy to explore and navigate and it automatically gives you what you want: boobs in monstrous sizes. The default homepage actually parades Malina May's big boobs in the slideshow showing different positions accentuating her boobs. There are pictures of Malina May with other girls looking fiercely with each other, and yes you guess it right, what comes next is live girl-to-girl action. I think the biggest asset of this site is that what they have are girls with big boobs, yes, plain and simple. Scrolling more of the images, it will give you all the sizes you are looking for. They might be amateur but sure they know how to get on a steamy lesbian action that makes you want to join the group. There are over 70 videos that are about 7 minutes each that you can enjoy watching.
These videos are very easy to download and stream. It comes with high-quality resolution as well so you can never miss any angle of their huge breasts. The best part is it's not pixilated so you can see everything, like there's no point hiding such wonderful body parts, right? You can download these videos in different formats such MP4, WMV, and Flash player. All formats promise a clear and good quality of videos. You can't have as much time to explore all of the pictures as they have 68 galleries that contain 65 pictures each. That's one hell of a boob collection you can't wait to have a peep. There a lot of extra bonuses featured on this site if ever you decided to become a member of this network. That means you can access many other sites related aside from this one. The site also has a model index wherein you can check out the videos and naked body shots of the girls, you can even have fun comparing and ordering the boob sizes of these girls. You can do live cam with the Malina May and the other girls just in case you want live action.
Being a member of this gives you an unlimited pass or access to all the videos and pictures of this site and the whole network. With over 70 videos and 68 galleries of pictures still being added and updated from time to time. The videos are fully responsive as you can download the videos and pictures using any devices you have with no hassles and issues whatsoever. So if you are using tablet, personal computers, laptops or your phone, you can still have a clear and high quality resolution. They also have an amazing customer support that will guide you and assist you regarding your questions.
Girls and videos
If you love big boobs, then you really deserve to visit and become a member of this site. Malina May has the biggest and loveliest pair of boobs you can't see elsewhere. This girl really knows how to play around with her enormous boobs, fat booty and pinkish white pussy. It's a real treat to see Malina May rub her erect nipples and large boobs with Ines and doing hardcore lesbian fucking in the bathroom. They really know how to glide each other's wet and soapy skin while Malina's pussy is rubbing on Ines's huge butt.
They like playing with each other's big breasts, licking nipples and penetrating each other's pussy with sex toys. She likes penetrating other girls by wearing around a strapped dildo and roughly, almost savagely penetrating other girls. She likes going really deep and doesn't stop even if her lesbo partner was already screaming and shouting in ecstasy. You can witness here threesome lesbo action wherein Malina sucks Kryks' large breast while being Ines is rubbing her pussy on Ines' large butt. Malina also does solo performances wherein you see her posing hotly in front of the camera and goes naked baring her enormous natural breasts. She likes sucking her own breasts as it is so big it can reach her mouth.
Conclusion
So if you like to see busty lesbians in hot and wild bathroom action, threesome lesbo action, girls penetrating large and hard dildos to each other's pussy, then Malina-May is the site you are looking for. This wonderland overwhelming with girls with big breasts just can't help sucking on each other's breasts and licking their pussies. Like they have all the fun with themselves and do more fun when they know we are watching them!
Like Barbie dolls, they like using each other's body to have pleasure and for play. Yes, we can see that these girls are having the best time of their lives sucking and penetrating each other's pussies, while their boobs are happily bouncing as usual. And it's quite unfair we can't join them, but hey, becoming a member of this site and having a live cam with them while masturbating is just as great!
---
Looking for further info? Check these other porn review sites.