BubblyMassage review
m4rc0f
BubblyMassage review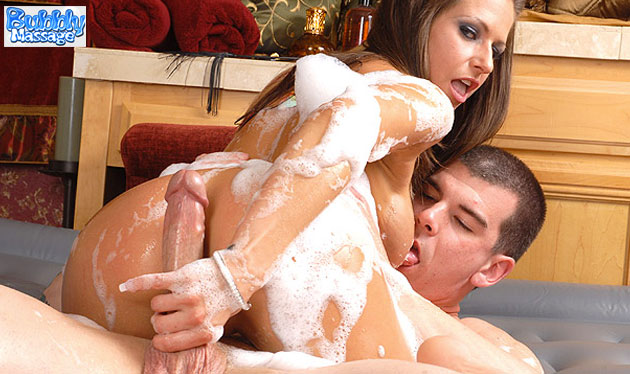 Positives
• hd videos • exclusive content
Site Overview
The massage porn niche is one that has never gone out of style. I have to admit, this kind of action truly gets me excited. It is very easy to get hooked on what you see. After a hard day, what can feel better than a sexy massage from a beautiful model? Especially when fucking is involved, right? You probably have enjoyed the action from many massage sites but you are wrong. It's time to enjoy a sexy massage site that is all about soap and bubbles. BubblyMassage makes getting clean sound so dirty. The site features hot models who love giving those nice lathered up and give soapy massages that guys truly love.
As part of the WetNMessy Fetish, BubblyMassage is all about blowjobs and hand jobs. The site was launched in 2008 and it comprises of 13 lengthy scenes. Granted, these are not thousands of scenes but you will surely appreciate all of the viewing moments that you get here. BubblyMassage is like one of those sites that offer epic content and are very hard to come by. You may not find the address or location to this massage parlor on the phone book but it is one that you would love to get to if you could.
Representing the hottest and most discrete massage parlor in the city, BubblyMassage is set out to make all of your fantasies come true. This is a place where drop dead gorgeous women entertain clients who know how to keep a secret. You know that if the cops got a whim of this, trouble would be around the corner. All soft of sexy things take place here. The action features the sexy caressing of boobs, to sucking cock and even getting fucked in all sorts of styles, time and time again. The site is definitely a bold one, especially because the models are eager for some pleasure and excitement and even despite the fact that they are in front of the camera, they do not really care about your opinion of them. This porn site is not one that is an amateur in any way. In fact, you will see several famous porn stars in the scenes. The level of action here may not be befitting for a first-timer, thus the site only calls on those who are experienced in bringing porn sites that have a distinct difference.
BubblyMassage represents that amazing place that you can rely on and find enjoyment at all times. This adult site knows better than to fall below your expectations. In terms of content provision, the site has a total of 13+ scenes that are approximately 24 minutes in length. The flicks can be downloaded in either WMV, H-264 format or flash streaming. The movies show at 4,000k and as all of the action that is featured is a guarantee of crystal clear viewing. There are also 26+ galleries that offer an average of 300 pictures each. They can all be downloaded as zip files.
This adult site has been brought to you by the HoHLimited. While this may be a new adult company, it will show you that it is ready to give only good entertainment. Members of the site can enjoy extras such as live cams, pictures, and bonus videos to all sites that are listed under HoHLimited.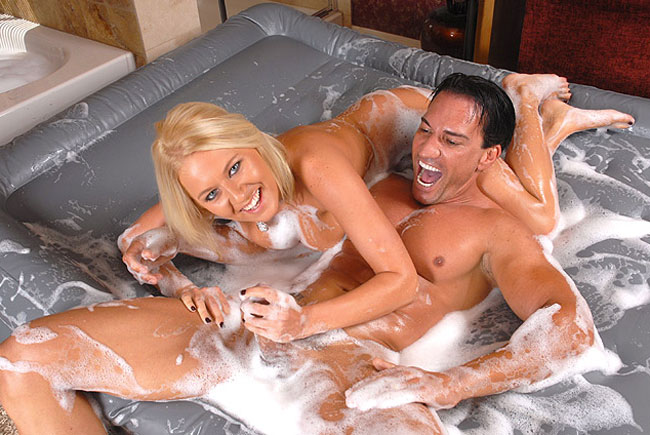 Design and features
In order to get a great feel for things on BubblyMassage as a full member, you should things kick off on a two-day limited trial period, just to ensure that the site is a perfect fit. It definitely will be. Upon log in, you will be greeted by images of the models doing all sorts of sexy things to their partners' bodies. What follows is the site's menu which takes you to the websites, the network updates, the members and gives you a sign up link. Although you do not need much convincing on why you should join this platform, the site still manages to throw in a paragraph on what makes BubblyMassage the best platform. There is the featured update section which shows you the latest on the site and it is followed by scenes that are well described.
Girls and videos
Holly West, Rachel Roxxx, Riley Evens and Mia smiles are all models that are urging you to get into their roller coaster of pleasure. The site has a true definition of sexiness because, amongst the women, there is no one who falls below a perfect eight. If you have always wanted to have a fantasy girl, one of them will definitely be embedded in your memory. They are taking advantage of their soapy bodies and doing all that their bodies urge them to. They give fellatios to their partners, sit on their cocks, rub them gently as they also rub and caress their privates. The scenes give you a combination of playfulness and a lot of sexiness.
When Jack arrives at the massage parlor, Mia asks for the secret password and searches his pockets before inviting him upstairs, where all of the sexiness happens. In order to make him feel comfortable, she gives him a blowjob as he lays comfortably on the bed. There is no better time to lather up his body sexily with soap. This is it! Mia does not disappoint, they roll around the bed as she reaches for his shaft. The entire time, you will be glued to the screen. She rubs him in a sexy manner and ensures that he gets the happy ending that he was looking for. You will absolutely love all that the sexy women BubblyMassage has to offer. The action is most definitely worth your while.
Conclusion
BubblyMassage is the one place that you would always love to come to when you feel sexy and want to let lose. The models are willing and inviting and are also ready to do all-sorts of things to you. They take their men on the ride of their lifetime and urge you to join in. you will not be disappointed by what you see as it is simply what you will get.
This website has been deleted, check more good massage paid porn sites!