BigTitHooker review
m4rc0f
BigTitHooker review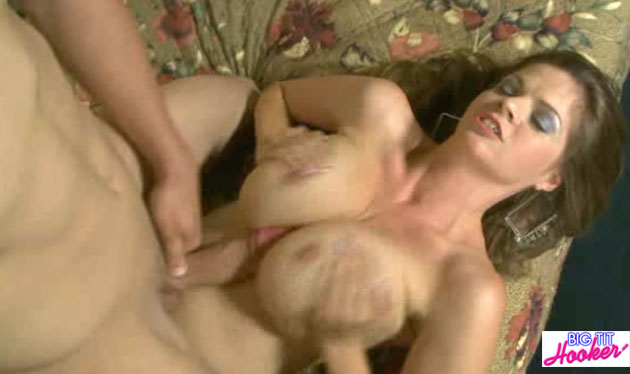 Positives
• hd videos • exclusive content
Negatives
• no cute models
Site Overview
What is a fresh faced lad to do when he has a wallet full of cash and nothing to spend it on? He simply calls his favorite big tit hooker and gets down with her. While this is considered immoral or unacceptable in some parts of the world, spending time with a hooker on the adult site BigTitHooker is an everyday affair. The women here show that long gone are the days when being a hooker was a shameful thing, in this world of excitement, these are the women that all men want to be and all women want to be with. They are known to bring pleasure in its best and rawest form, therefore knocking you off your feet anytime that you see them. The women on BigTitHooker are not real prostitutes, they are very famous porn stars who have polished up their acting skill in order to get you hooked to the action.
Despite the fact that the hookers on BigTitHooker put on an act, you will not be able to differentiate them with real hookers. This is because they own the roles in the most desirable way. The sex here comes without any hassles. The men get what they pay for and it doesn't matter how many times they come back for more, the hookers are ready to pleasure them at all times. If you have always had a secret fantasy that involves you fucking this kind of women, you can either get yourself one or live vicariously through BigTitHooker.

BigTitHooker was established in 2008, and nine years down the line, it is still going strong. The sex hardcore and the big boob's take center stage in every instance. The content on the site is original and it features busty porn stars in action. They are in the business of getting money from facials and deep penetrations. The site does a good job of not deviating from what it promises to offer.
Fortunately, the content that you will enjoy is highly appealing. The site has over 30 videos and an equal number of galleries with the promise of access to all of the 54 sites that are under the ScoreGroupNetwork's. The potential of entertainment is endless. The flicks are crystal clear and they leave us with nothing to complain about. They can be enjoyed both as MP4's WMV's that play at 2200k and are of good size regardless of where you choose to play them.
BigTitHooker generally shows how having big boobs is an asset for any woman. There are some things that are better experienced first-hand such as the action on this adult site. All you have to do is believe in this kind of entertainment and you will not question what this site has in store for you. If good pornography had a face, this site could be it.
Design and features
Your tour of the site will begin from the members' area. This is where all the goodies are. Members will get a taste of the action through the scene previews. Navigation is a breeze also because there isn't much to browse through. The content can be searched by date. The videos have a befitting description that lets you know all that is going on. If you decide to explore the galleries, you will realize that the scenes can be downloaded as zip files. This will simply save on time.
The pictures are showcased in a slideshow, therefore, you do not have to individually go through the sets. The pictures vary in size. They come in medium and large sizes. Regardless of whether you want to watch your big boob action through download or streaming, you will still enjoy them in the same quality. There is also an option for mobile downloads.
Girls and videos
On BigTitHooker, sexy porn stars like the European Jana will resonate with you. While standing on a country road half naked is the last thing that you can ever do, Jana is confident in doing this because it comes with her job. She seductively shakes her big fits in frustration because she does not see any male prospects around. If you think the road that she is standing on is too isolated, think again as in no time, a male passerby arrives and sweeps her off her fit into the hotel room where they get kinky. You already know what follows.
BigTitHooker porn stars all have big and bouncy boobs which will leave you desiring them even more. As a big boob site, the guys always suck on their hard nipples or slide their hard cock in between them. The big-bobbed girls do not stop dishing out the action in desirable ways. Lacey also goes does everything to pleasure her diet Red as she knows she has dropped the good cash for her services. She is all nude and her massive melons obviously take center stage. Her client eats her pussy as well as her boobs. The whole time, Lucy caresses her boobs because she does not want any form of pleasure to surpass her. You will enjoy watching her dominate her client and show him what anal sex is all about. All of the women are sexy and ensure that the men who pay for pleasure get their money's worth.
Conclusion
BigTitHooker is fun, pleasure, hardcore fucking, discovery and everything in between. So far, the site has not fallen short of expectations. The occasional updates will keep the collection going ensuring that you get good value for entertainment. The site has brought about an incredible concept that is waiting for you to explore. You will not be disappointed as all of the flicks have been effortlessly shot for your entertainment. You can simply show appreciation to the site by signing up.
---
Looking for further info? Check these other porn review sites.