Bangbus review
m4rc0f
Bangbus review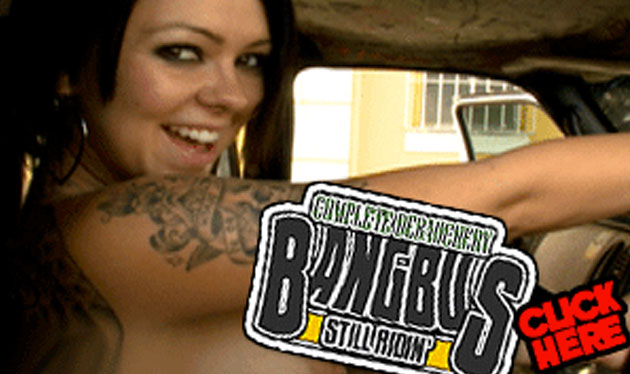 Positives
•100% real porn • real chicks from the streets
Negatives
the camera sometimes is a bit shaky no studio settings
Site Overview
Horny girls, a video camera and a lot of cash are three things that you should never bring together. Sponsored by the Reality Pickup network, Bang bus website will offer you all three of these things in abundance. The porn site is not new to the scene, it was launched in March 2001 and ever since then, it has been offering a diversity of porn action. Taking road head to the next level is nothing new with the girls and boys on Bang Bus. Once you get a taste of them, you will never look at your backseat the same way again. The porn stars are really gorgeous and the amount of content to be enjoyed will blow your mind. In a nutshell, the site combines the thrill of attraction with common sexual experiences.
There are 28 bonus sites content that will come with your single membership. If the sexy mamas are not satisfactory here, then you can always expand your horizons. There are also live chat features that will enable you to interact with the whole viewing community. Bang Bus has a good mix of amateur girls and porn stars that occasionally pop up for the ride. The content has a reality spin that is highlighted by cum splattered backseats, big cock and very attractive pussies. You will quickly forget that you are in a big bus because the action will teleport you to sexually wonderland. After many years of existence, Bang Bus is still at it. The site has never faltered when it comes to delivering jaw dropping content. Signing up is the best way to reward for yourself.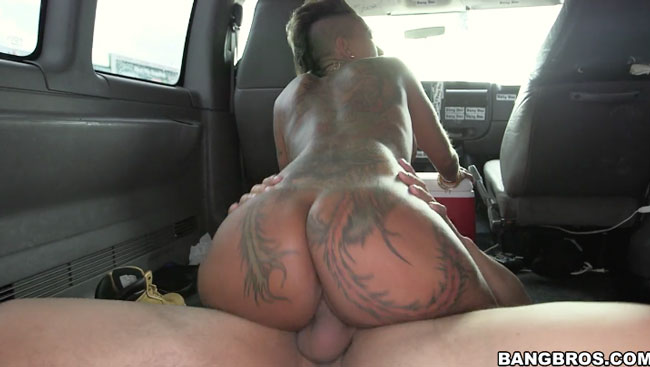 Design and features
Bang Bus is a basic site that has a traditional design. When with the fairly simple layout, the user interface is very friendly because it enables easy movement around the pages. The members' area of the site is one to look out for because all sexual fantasies have been acted out. You will be guaranteed of many moments of weakness because things may become too hot to handle from time to time.
The membership area includes blowjob scenes, big asses, black and white wet pussies and anal holes that do not intend to shy away from the camera. There are screen caps that will caption many video scenes in order to enable you to get a good preview. There are also slideshows for you to enjoy as soon as you log into the site. As you browse through Bang Bus, you will find search options that will take you through different scenes and categories.
Girls and videos
The Bang Bus models are portrayed as desperate women who stand by the roadside and wait for a good cock to pass by. While this may not be an entirely baseless description, when they get down and dirty, they will prove to you that they are more than just common girls looking for a good time. They tap into the best side of life by refusing to get inhibited by factors such as ethnicity and body features. The big triple D boobs and amazing booties will certainly give you something to fantasize about. There are one or two familiar favorites that will graze your screen at a few bus stops. Puma Swede, Jenna Presley and Yurizan Beltra boast of their extra large boobs and mouths that will show you that they have been in the game for a long time. Even the amateur models have a lot of potential to display.
They will give you the hard on of your life. "Your tits are so huge" is a video that will leave you jerking for about an hour. As Bang Bus has a tendency to showcase the models' best assets which often is a taste of the big boobs that are impossible to see on an ordinary big-chested woman. "Great package you have three" is also a befitting title for a video with a blinding ass. It is definitely obvious that the model had a butt-lift that resulted into in an hour of captivating action. The big dick does not show any mercy to her tight pussy. Ava Adams really puts it down on the bus with the single intention of having an orgasm.
She is naked by the parking to please her. The action starts off with cock rubbing and the tuning of private parts until the Ava Adams and her boyfriend cannot be able to contain themselves anymore. When the hot boiling action begins, you will want top replay it over and over again. The scenes on Bang Bus vary from full on sex, threesomes to masturbation sexiness. There is also a lot of toe sucking that is meant to make you wet. These models obviously put their mouths where the big cocks are. Bang Bus has over 578 scenes with a runtime of exciting because every scene is presented with a storyline which eventually makes it an episode. The high resolution videos are downloadable in WPV and MP4 format. However, the site lacks video galleries to go with the high-rated action. Even so, you will not be slightly disappointed with the site's best offerings.
Conclusion
It's hard to go wrong with this site because it offers you with the most interactive features and some of the most exotic beauties. You don't have to join the social media to find people with your same interests; Bang Bus will allow you to spend endless hours on the live chat cameras. The handful of bonus sites is one that you will find hard to resist.
---
Looking for further info? Check these other porn review sites.