TranssexualRoadTrip review
m4rc0f
TranssexualRoadTrip review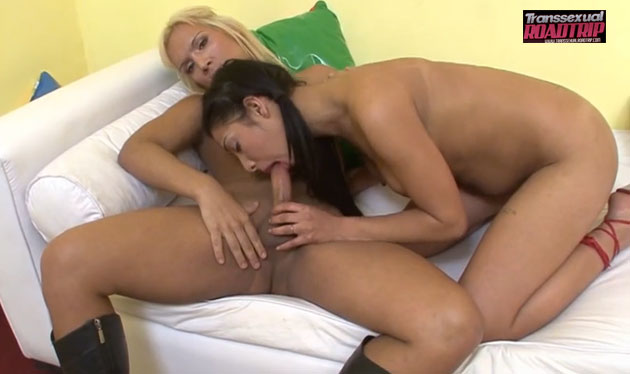 Positives
• beautiful trannies • exclusive content
Negatives
• low quality videos
Site Overview
Worlds colliding can best describe what TranssexualRoadTrip has become. It throws in tranny hardcore action, a roadside flavor to spice things up, and a reality show based feel to fuse an out of this world shemale shebang not usually seen in most porn sites. Let your imagination run wild with thoughts of fucking a girl with a cock. It's so one of a kind in fully exploring male pegging action too. It has become not just a promise to be fulfilled, TranssexualRoadTrip is fully committed to rock your world with sights of beautiful women doing it both ways and sites on the road where the element of surprise is always present in fulfilling your T-girls fantasies each and every time.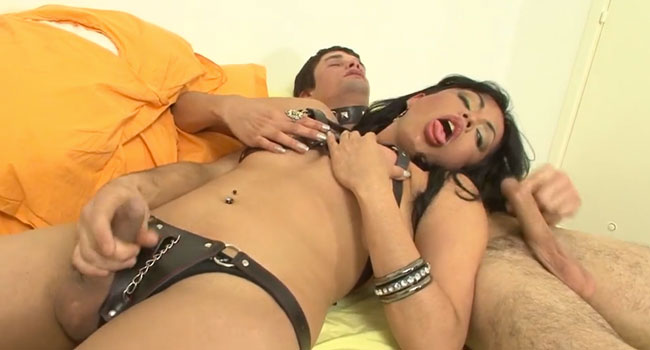 Design and features
Once you are signed up and have become a member, navigating the site is pretty much straightforward. Updates are done quite frequently in a week while the fresher ones are shown upfront for everyone to appreciate right away. There is a huge treasure trove of popular scenes, model's index and an exhaustive list of niches for you to choose from. Wrap your heads into the almost 800 videos made for you showcasing mostly Latina looking shemales out to knock your daylights [or nightlights, as the case maybe] off. Tagged along your membership is a free access across the Evil Angel network of other smut sites. With that alone, there is way too much value already going for you as a member. You will never run out of reasons to keep coming back to stream the flicks or browse through your tranny files when you feel like dirtying your hands again with some over the top tranny thingy to whet your appetite for shemale worship. Downloading is fairly quick and fast with neither download limits nor DRM restrictions.
Download all you want as the updates are done within days of each week and in most cases, full HD quality is observed by the porn producer to give its members exclusive indulgence of the freshest flesh of the tranny kind. MP4 and WMV formats are the ones to choose from for downloads while the Flash player moves your files if you prefer onscreen streaming instead. Sharpness of the resolution is all over in either downloadable formats such that details are never spared as you get to witness trannies getting fucked and pounded one moment then when it's their turn doing the fucking and pounding with the man in the picture, the view is just above anything else for T-girls followers. TranssexualRoadTrip eventually becomes a trip of a lifetime. Many decent photos accompany the videos with most of them crisp and delectable to keep your interest going. View them first as thumbnails and click on them to enlarge and download. You can enlarge the images into 1925×1280 picture quality and move around the images in a slideshow if that's what you prefer. Zip files are convenient ways of making these files portable as they are easier to peer through once you get horny wherever you may be. As the video scenes are into bite size length, you can always play the content and jerk off to gratify your craving when you get horny enough anywhere you are.
Shemales and videos
The scenes are mainly listed from the full-length DVD titles of the site. They clock in hours of pure transsexual encounters and are cut down into half an hour length to make it convenient for you to view or to stream. The content is exclusive for TranssexualRoadTrip mainly though you may chance upon it being shared in its neighbor sites upon membership. Titles include "Big Titty Transsexuals," where bobbing boobies of the shemale leads abound with equally hungry cocks proving to be quite a lethal combination. As they get drilled by men, just imagine being the one topping the guy in the next frame. Someone with big tits and a thirsty tool pounding on the newcomer fleshing out a fantasy like no other. Male pegging action is one fully covered area by TranssexualRoadTrip making it one good reason to give this website a peek to see what all the trip goers are talking about. Another title, "Don't Tell My Parents I'm A Tranny" explores the initial hesitancy of these round assed shemales of being discovered but eventually surrendering to the temptation of the flesh to get filled with man meat and drip wet with dick juices all over.
As they get heated up fast like anyone with a dick can, they get to do the sucking and rim job like anyone with a clit would too. Such is the combined worlds of trannys doing what they do best — to get filled and to fulfill as well. Adding up some femdom encounters, shemale acts being dominant over men and telling them what to do plus interracial add ons make this porn site a must watch for those whose main turn on is seeing shemales getting frenzy and doing their thing. When combined altogether, they ooze with all transsexual elements making you scratch your crotch in return. Some scenes prove to take you over the edge of your fetish for anything and everything transsexual. TranssexualRoadTrip will be your ticket to a shemale shindig with all your T-girl desires fully covered and driven to a spot.
Conclusion
TranssexualRoadTrip has truly defined several sexual galaxies colliding into one universe of an out worldly fetish the tranny way. TranssexualRoadTrip has become so good in what they do in showcasing these T-girls as objects of attention one moment and a mover and shaker of lust the next. The ongoing theme of a road side gone wet and wild is another major come on. The delight of being on the sly with the guy with them not knowing what they're ending up with plus the excessive suspense of male pegging situation in the other succeeding scenes can become a devotion for initial tranny goers to the more experienced ones out to delight their twitching cock one shemale at a time.
---
Looking for further info? Check these other porn review sites.