TeraPatrick review
m4rc0f
TeraPatrick review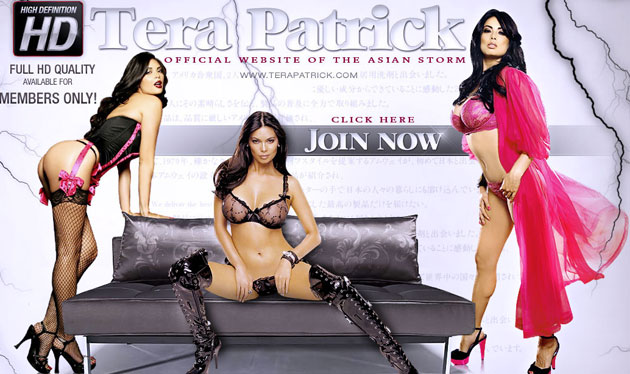 Positives
• full content archive • big tit pornstar • live shows
Negatives
• no amateur • no softcore
Site Overview
Tera Patrick is sexy. Her site is also sexy. And the things she does are also sexy. As you open the site you will find yourself in front of nice page, with lots of pictures of this erotic witch, who has dozens of videos and photos for you, along with some sweet extras. This site has been around since the end of the 20th century, and the update schedule was quite busy back then. They added one set and a video every week, but there is nothing new added since 2014. Tera lives an active social life, and she has an active Twitter feed on the site, where you can find out what's up with her, but currently it seems she isn't doing porn – at least not for this site.
According to the IAFD, she performed in non-sex videos recently. Nevertheless, the videos here are sexy, and this woman really deserves credit. She isn't just gorgeous, but she likes kinky, taboo sex too, and the collection of the 300+ scenes on this site is the ultimate Tera Patrick collection. Those who want more porn than they could handle will be happy to see that there is a full network for them to browse. Tera Patrick's official page is part of the FameDigital network, and by registering here, you get credentials valid for all 26 sites of the network. There are some other official star-related portals to enjoy, like Peter North's, Rocco Siffredi's and a few more.
The exclusive videos of the network cover all kinds of niches, which include interracial sex, gagging, rough sex, and monstercocks. Also, there are transsexual sites, and if you like it, you can also find a lot of bi-sexual scenes (guys sucking and fucking guys, while there are also girls in the action) on the WhiteGhetto. Most sites update regularly, so this already large collection continues to grow.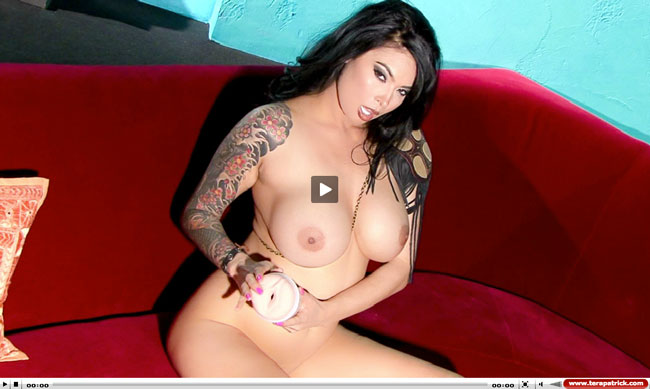 Design and features
We like those sites that keep up with the winds, and change their layout accordingly to the newest trends. Fortunately, the TeraPatrick has a modern company behind it, so it can remain up to date, without having to rebuild the whole site. Nowadays, big buttons, large slideshow-banners are the trendy, so this site has them. You can watch preview trailers during the tour, and that's the main thing the site can offer. As soon as you get to the inner section, you will find it that it's really similar to the tour. This way, you don't have to relearn to use the site. There is no search engine, but the content is tagged, and the models' list is also a kind of sorting option. Most videos open in a large player as soon as you land on their page.
Luckily, it doesn't start playing until you click on the player. There are usually three quality settings, and the WebHD (540p) is the best you can get. However, the videos are also available for download. You can save them as MP4 files, and where it's available, an HD version is also obtainable. The photo galleries are granted as zip files. This portal – and almost all in the network – is available via smart phones' and tablets' too.
Girls and videos
It's a fine career Tera Patrick has, and though she is not too active nowadays, with more than 350 of her exclusive porn videos collected on one site, it's really worth checking. She isn't too active on this site, but she adds a new scene now and then, so you can enjoy more of her work. If you want to know more about her, you should also check her Twitter feeds. In her last tweets she is making 'fun' of fans who mistake her for Asa Akira. Well this is really 'lol' because Asa doesn't have so huge breasts as Tera does, not even close.
The TeraPatrick is the real official porn site of this gorgeous award-winner porn star, but she doesn't work alone. She does her videos with cute models like Shana Lane, Nautica Thorn, or with the Canadian porn star (Sweet) Amy Lee. There are Asians, Latinas and Blacks too, so the models' list of Tera is long, and really sexy. There are two major types of scenes: the ones that come from actual DVDs, and the ones that were made for the only audience. They are all exclusive as far as online presence is concerned, but the online-only videos are a bit better in quality. You can enjoy here more than 350 scenes, and they are going to satisfy your every need. Those who like to watch hardcore porn and don't mind if it's a bit kinky and lustful, will love what they can find here. In her earlier years, Tera was doing straight hardcore porn too, but nowadays she seems to perform mostly solo and hardcore lesbian sex. Those straight videos are really nasty however, and they feature not just great sex, but also some juicy heavy elements, such as anal sex, facials, threesomes and group sex. The videos that originate from DVDs usually have a storyline, and 4-5 scenes add up to a full story.
Nowadays, the videos are just scenes, shot in an ad hoc basis, but they feature really hot sex. For example, the two latest movies featured solo sex – one of them was a Christmas gift. There are also HQ lesbian porn videos, and they worth watching too, they are very good material for some jacking-off.
Conclusion
Tera Patrick is hot, that's for sure. She did some really sexy videos during her heyday, but nowadays, she seems to prefer being a mother instead of a pornstar. Nevertheless, the archive you can browse here is large and sexy, and it's still recommended for the porn fans, especially for those who like their porn a bit kinkier. When you consider sites to join, the TeraPatrick should come in mind, if for nothing else, then for the great network sites.