TeenCreeper review
m4rc0f
TeenCreeper review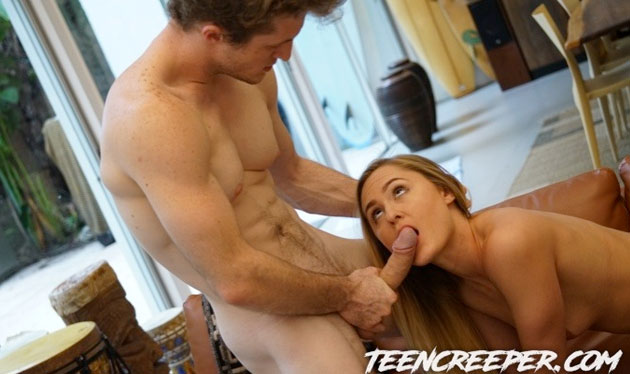 Positives
• full hd movies • exclusive content
Negatives
• no comments • no mature
Site Overview
Top HD fetish porn site to enjoy, TeenCreeper sure knows how to tug at the parodies string. If Hollywood has those creepy plots where strangers call from inside the house of a possible victim, TeenCreeper has this horny dude who calls from a nearby hideout. Of course, being a porn site, instead of feeling scared, the girls egg on the man and even bargains that if they do end up inside the house, they are willing to fuck him and vice versa. In next to no time, the man finds himself inside and with that a series of delicious and hardcore sex ensues, with a right punch of fetishes sprinkled and some other really good additions when it comes to delivering erotic and scrumptious porn.
TeenCreeper has only been launched very late in 2016 but it has built a solid foundation of awards and nominations. It is under the Fetish Network, a network famous for showcasing the most hardcore of fetish porn and more. TeenCreeper is no different as this porn site explores deep down into certain fetishes and delivering them in ways you would definitely enjoy. With niches that include all sorts of fetishes and hardcore porn, TeenCreeper is truly the best site to find fetish porn content.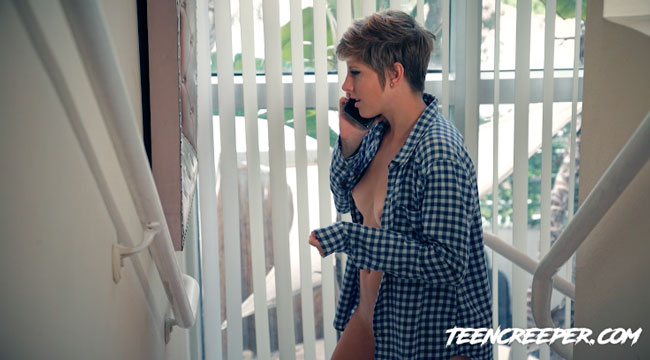 Design and features
Simple, minimalistic, yet trendy site design: that simplifies the description for TeenCreeper and its site design. The color scheme works really well with the theme they are aiming for and everything seems to be arranged pretty orderly and neatly. The links are easily found on the top menu bar, just below the site banner. All the links are also pretty straightforward. Navigation here is a piece of cake and the interface is definitely something I would consider convenient and beneficial. Interaction with the site is set at a maximum because there are so many features in here that you would want to indulge in. You can rate the videos as much as you want and although you cannot comment on them, you can add them to your favorites and bookmark them.
The site also has at least 15 photo sets. Each photo set contains around 80 to 100 high resolution photos with a dimension of 1280 x 960. The photos seem to be professionally taken and are airbrushed to perfection. The photos also depict what you expect to see here. You may download the sets in zip files, too. A model index is present and from there, you can find ample information about your favorite chicks. With your TeenCreeper membership, you will have free unadulterated access to several other hardcore and fetish porn sites under the same network. Make sure to check those out because you will also get full access to all their content. Updates here are happening weekly and exclusivity is something they truly value.
Girls and videos
TeenCreeper currently has more than 10 models in their site and each of them has their very own spunk and feisty personalities. Of course, these girls are semi professionals, with a few that already have graced a good number of porn scenes. You may see a couple of familiar faces now and then. The girls are all ethnically different but they all have that same erotic, lewd aura in them that makes it all the more better. For the most part, each scene starts out with the same idea and pans out differently every single time. Of course, each scene focuses on certain fetishes that I am sure you will enjoy all the same. There are a lot of tie ups and gags, girls squirming in ecstasy. As much as how the girls seem a little spooked of the situation, you would actually see that they are enjoying the entire ordeal. Everything here is hardcore, so you might want to brace for greatness.
The site is relatively new and so there is not much content. Right now, there are more than at least 15 videos present in the site and each of them lasts for a good 30 minutes or more. Each scene has its own trailer and its very own description. The descriptions are actually pretty graphic themselves and there are tags available for each. In addition, all of them are in glorious HD. You can stream them on your browser or download them in mp4 or wmv format. All scenes have a 1920 x 1080 pixel resolution and nothing less. Since the site is exclusive in all aspects, you will not find any of the content here anywhere else. There is no download limit and full HD playbacks are available.
Conclusion
TeenCreeper has only been recently launched but it has surpassed tons of other porn sites who have been in the business longer. Not at all surprising as this particular porn site caters to many different fetishes that will surely catch your attention and even better sex scenes that can only be described as hardcore. Sure, the acting is a little off but that is how porn sites are; in the end, only the sex scenes matter and trust me when I say that the sex scenes here are beyond amazing.
Their amazing scenes are also highlighted by the great quality they present them in. The ladies that are featured here are quite frankly, gorgeous, and have banging hot bodies to flaunt. The plot is somewhat unique and the scenes are delivered wonderfully. Updates are fast and the bonuses are superb. I am definitely recommending this to all of you out there who loves porn in general.
---
Looking for further info? Check these other porn review sites.