StudentSexParties review
m4rc0f
StudentSexParties review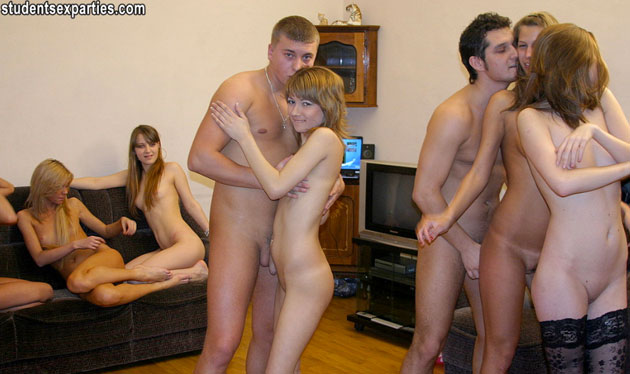 Positives
• sex parties • hd quality
Site Overview
I bet that you always wanted to be part of wild and crazy sex ventures. It may be part of your bucket list. And maybe you have not been kinky enough in your everyday life to witness the craziest fucking scenes. What if you found out that there was an adult site that was willing to put you at the front and center of all the action? StudentSexParties will bring you fucking scenes that demand your attention. If you have heard rumors of these girls and boys fucking like rabbits, you will surely enjoy watching them in action. I am almost certain that the last party you attended did not contain a lot of craziness. It did not give you the opportunity to tap into the kink that you always keep locked inside. Well, it's about time that you unleash the party monster in you.
Sex is not considered a big deal amongst these groups of fresh faces. That is why they indulge in it randomly. But then again, this sort of carelessness is the beauty of the site. The effortless attitude towards life, accompanying cans of booze and the lust-filled air is all that you needed to get you off. Even though the life of these boys and girls is not glamorous, the simplicity makes all of the special moments worthwhile. The fresh faces do not have to be serious at all times, they find different ways to get lose, including partying in pajamas. They also fuck while they are out on picnics and laid back Friday nights. They will show you that a bottle of beer and a can of whipped cream are the only two things that you need for an incredible sex night.
StudentSexParties was launched in 2016. As it has been an existence for a decade, the adult site has been able to maintain a good reputation in terms of the provision of content. There are only a few one on one scenes to enjoy. However, the group sex scenes will keep you glued to the screen. There's not much to be guessed about the site as it gives you a clear impression of what you will be enjoying right off the bat. All of the action features Russians and Europeans. They sure know how to indulge you, capture your attention and join in the banging action. The episodes offer good entertainment, especially because of the fact that they are very lengthy. This ensures that you get to savor the two to four hours of the action. You will enjoy all of the incorporated hardcore action and all of the different party scenes.
The scenes all come in HD version and they are available in numerous formats. This includes HD level AVI and MP4. Members of the site do not have any difficulty in making the scenes work. If you decide to make StudentSexParties your adult entertainment, you will equally enjoy full access to five bonus sites that are under the seriousPartiesNetwork. As you will realize, the network has an affinity for offering the best. Luckily, there is no download limit to the exclusive content that you will enjoy. Wild orgies have never been this exciting! The content is also original and because the site does not rely on any scripts to entertain you, the original scenes will keep you coming back for more.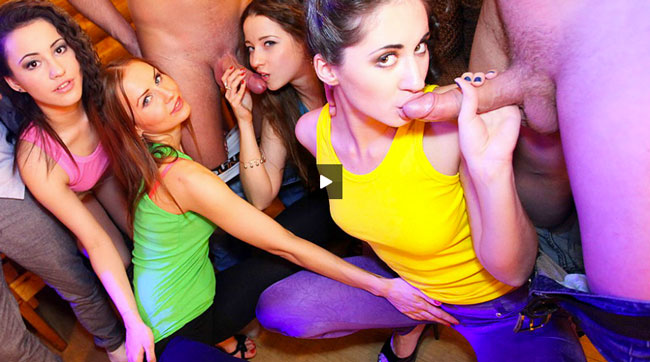 Design and features
As reality site that is filled with numerous scenes, you can only expect an eye-catching interface. The scenes will give you a mix of pure lesbian action and straight sex. Although there aren't many navigational features, you find it exceptionally easy to get around. The scenes are arranged from the oldest to the newest, thus, you can take part in the action base through the collection. Members can take part in the action by rating the scenes. The model lists will introduce you to all of your favorite performers.
Girls and videos
The girls on StudentSexParties are mirror images of each other. They may not look alike but they surely have the same intentions of having fun. Do not underestimate them, they will take you on a wild and raunchy ride. If you open yourself up to entertainment, they will welcome you to their world of lust. They are loud and noisy and they definitely command your attention. You will not have an option but to oblige. The fucking takes place everywhere and they show their diverse nature. The girls may be amateurs but they own each camera footage as if they were professional pornstars indulging in group sex scenes.
StudentSexParties will give you exactly what you are looking for. Let me calm down and fill you in on what the best girls have to offer. As any other porn site, StudentSexParties also sets its best apart. You will enjoy Mary, Rita Rush, Eva Ashanti and Aruna Aghora in action. They are careless in their demeanor but this is what will captivate you about them. They love having steamy sex sessions on Friday nights and nude barbecues on Saturdays. In some scenes, they hold up 'WTF' signs to show you that they really do not care about what your think. They have a good time stuffing cocks inside their mouths and they really enjoy them going deep inside their annals and asses. In some of the scenes, they kick things off with a dildo in efforts to make their pussies wet for the sole purpose of pleasure. You will have a great time with them.
Conclusion
StudentSexParties will make you part of the best parties of the century. They do not require any dress up or excessive preparations, the parties only require you, to be you. The site will confidently deliver high-quality scenes, images and whole lot of added value to entertainment.