StolenHomeFilms review
m4rc0f
StolenHomeFilms review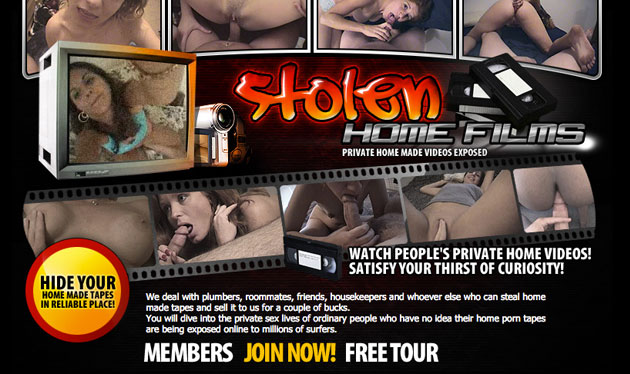 Positives
• free videos • real couples
Negatives
• no pornstars • no hd quality videos
Site Overview
It's quite certain that the videos here are not actually stolen, but the folks behind the site are really bringing it through, especially in the descriptions. These are fun short texts, though we all know that nowadays it's hard to steal a home-made porn video. Nevertheless, this gimmick is fine, and the site's content is really hot; these videos are also actual home-made sex tapes. Given the nature of the videos it's just not possible for them to be exclusive, and you might find them on other porn pages. This portal launched in 2007, and though the dates show daily updates, the count isn't going up, so that might be a setup problem (accidental or intentional, we don't know). At this time, the StolenHomeFilms has 137 hardcore videos for you. Most of them are quite long, and they feature a full intercourse. Though the site doesn't seem to update anymore, it's still recommended, because it has more for you. As a member of this site, you become a member of all 20 portals, and you have the chance to get your hands on some really hot porn. You can enjoy orgies, anal sex, reality-porn and some more amateur sex. You can view the videos of sites such as YoungLibertines, TeensAnalyzed, SellYourGF and more. Also, there are third party feeds from other hardcore sites, mostly offering you studio-porn.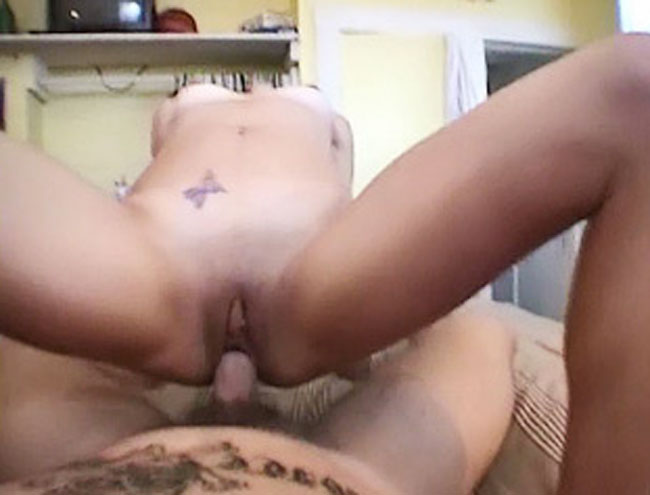 Design and features
At first glance, the StolenHomeFilms looks a bit shady, but they designed the site to like this on purpose. The tour offers you some large thumbnails and a short description about the videos. You will quickly finish taking the tour after a few pages of the videos. After you log in, you will find yourself in front of a quite similar page. The inner section has a menu on the top, where you can list the latest additions, the whole list or the top rated scenes. From this menu, you can also reach the members' bonuses the third party streams. Your credentials are valid to the bonus sites, so you can log in on them separately. There is also a search field where you can type in some criteria you wish to be featured in the scene you are looking for. The movies are available in two forms. You can view them as shorter clips, so if there are some parts you are not interested in, you can leave that out. As a member, you can save the scenes as a whole, and you can enjoy them from the beginning to the end. There are video caption galleries, which aren't the best in quality, but they can serve as a preview for the actual videos. You can download them too. All movies are yours to save, mostly as WMVs.
Girls and videos
The StolenHomeFilms seems to offer genuine hardcore videos with nasty-nasty amateur content. As far as we could decide, these videos are really amateur porn clips, with actual couples and cheaters on them. This gives the collection that chilling feeling you seek, especially if you are a bit of voyeur, who seeks the excitement in sneaking and peeking on others. Since the videos here are home-made ones, it's only expectable that you can find mostly amateurs girls in them, and that they are all natural beauties. And how gorgeous they are! It might look surprisingly, but there are lots of busty chicks, with large natural breast. While many men are used to see only fake big breast, the home-made porn always provides are nice relief concerning the natural appearance. There are so many mixed couples in the world, and the variety provided by them is present in the videos of this spectacular site. You can enjoy here the amateurish, yet exciting performance of Caucasian girls, Black cuties, Asians and possibly Latinas, so it's safe to say that you can find here all popular ethnicities. Given the nature of the site, you can't expect the girls to put on such loud and fake performances the pornstars usually do. No, here you can enjoy honest, but amateur girls' acts, who enjoy the sex, and they show it as you see fit: some are louder, some are just sighing with pleasure. You can read some silly descriptions for the videos, but we're quite sure that the folks behind the site made them all up. They probably tried to establish a fantasy, so you may find the videos much more varied, tough these are just plain hardcore scenes. Whether the descriptions are helpful or not, you decide for yourself. As far as it could be decided, the videos here don't seem to be scripted, though some are seemingly staged – at least, they were shot on purpose of online publishing. You can know which ones were shot for uploading because the girls stare into the camera as the pornstars do, however, they are not twisting their bodies in such freaky positions as the professionals do. The overall quality of the videos is hardly average, but they still offer enjoyable playback. The sex that takes place in these flicks is also quite good, and though the couples are amateurs, they enjoy what they do, and that gives the whole collection a sweet, tasty edge.
Conclusion
This site has a really hot collection. With more than 100 videos to watch it's a pretty neat compilation, and considering the fact that some of these are probably not available on other sites, make it a one-time deal. Though there are no mentions of bonuses, the site seems to be a member of a network running by the name of 18Videoz, and by joining you become eligible to browse the bonus sites. In fact, you can access more 20 additional sites with your credentials, offering you hundreds of hardcore porn scenes, and you get them all for the price of one.
This web page has been canceled, check out more hot movies xxx sites.