SpermGlazed review
m4rc0f
SpermGlazed review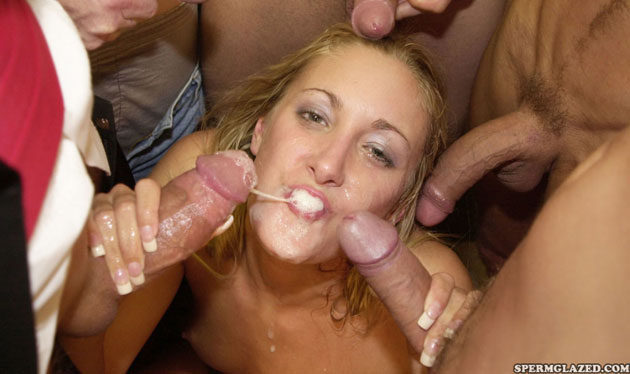 Positives
• hot pornstars • hd movies
Negatives
• no exclusive content • no softcore
Site Overview
What's up people? So there's this really good website for people who want to see really good hardcore porn. The name of the site? SpermGlazed!
SpermGlazed got its name from the content of the site, which is generally about girls trying to get as many penises as possible to blow their workload on them and get themselves thoroughly covered with it. They'd do anything and everything just to get cummed on. They suck, they ride, they squeeze, they pull, they'd do many guys just to get as soaked as possible. They get themselves glazed with sperm. Yeah, simply that's what it is about. Get ready to have the experience of a lifetime.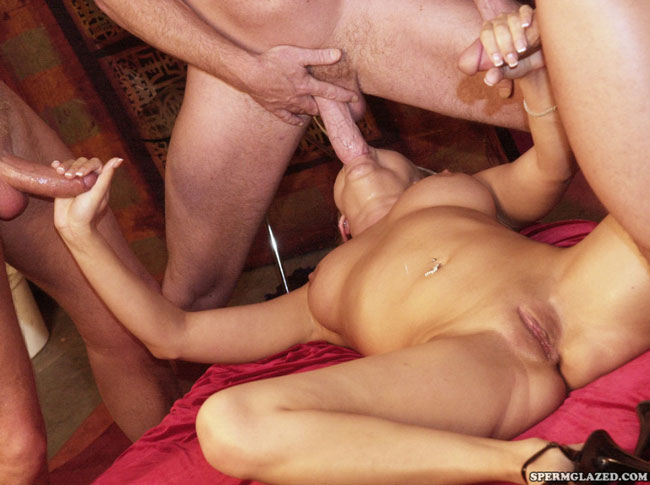 Design and features
So the first thing you see when you enter the site is something like a prompt, asking you stuff like if you are 21 or above, if you can already own adult material, and if you understand the laws of the community, all those kinds of stuff. To continue to the website, just click on the Enter Spermglazed button. You'll get welcomed by a red, black and white color-themed website, just like most other porn websites, with tons of pics about hot girls getting soaked in cum. The most noticeable feature of the main page is the big slideshow of pictures of girls getting cummed on the face, along with the site's name and the tagline. Below big slideshow on the top of the site you get to see different tabs indicating the different things you can see on the website.
There's a Home tab, you can click it to return to the Home page where you see the big slideshow on top, pictures of famous porn stars all covered in cum. You also get to see previews of videos in the Home page. Next tab is for the Videos, pretty similar to the Home page where you get to see porn stars covered in cum and previews of videos that can be seen in the website. In the next tab which is for the Photosets section, you get to see awesome photos of the hot girls get bombarded with cum by big cocks! The Bonus tab next to the Photosets tab is the one where you get to learn about the sweet deals you get when applying to be a member of SpermGlazed. You get to learn here that you can download up to 50,000 porn videos, get DVDs for really cheap, and be able to browse at least 50 other websites and get benefits from those other websites as well, all after becoming a member of SpermGlazed!

The membership fee is really cheap too, especially if you pay anally, I mean annually. There's also a free trial, where you become a trial member for a limited time, and it doesn't cost you any money. Pretty good right? The next tab is the Store tab, where you get to see all the other merchandise that this site has, from magazines, to videos and a live cam section where you can look up and hook up with girls. Check it out, you get to see really interesting stuff there. Finally there's the All Updates section, where you get to see all videos in the website, all 50,000 of them, fully downloadable once you become a member.
Girls and videos
Now here's where I get to talk about all the delicious stuff that can be found in the website. You get to see videos fully optimized for you, be it with low resolution to deal with low frame rate or low data or high resolution for the best viewing experience. You get to see major, major bombshells like Jenna Haze, Christie Lee, Victoria Sweet and Missy Monroe get screwed over and get covered in so much cum. Now, all these girls are pretty good, they have their own unique styles and techniques as well as their own charms to suit the viewer's taste, but Jenna Haze just takes the cake with this one.
She's hands down the best girl you can ever see in the whole wide web. She's just so good, the techniques she uses to pleasure the guy, sometimes guys, is just on a whole other level than that of her peers. The expressions she uses too just show pure delight, and her moans just literally scream pleasure. Her being a directress of her own adult films also help, as in her videos the camera angles and shots just show the best there can be in her films. She's hot, she can pleasure, and she enhanced it with her camera knowledge. She's just too good to be true!
Conclusion
So yeah, that's what's up. SpermGlazed. Personally, I'm in love with the site. The videos section is just really high in quality, you'll have trouble finding that elsewhere. They pick good porn stars too. I also love the Photosets section. Videos are common, good girls are quite rare, but quality photos like those in the site are simply hard to find you can equate it with finding treasure. Good angle shots, lighting and the masterful use of clothing, girls, and of course, the cum. Really, this site is a treasure trove for the horny.
Good site, easy to go through, exclusive stuff, good girls, high-definition quality movies, exclusive content, gets updated everyday, and it's quite cheap. Rest assured too, the site uses secure and private billing. The amount of content you get is also astounding. You even get to have access to other sites. Elegant Angel productions just outdone themselves with this site. It's primed to get to the top leaderboards in porn sites, along with the well known ones like YouJizz, XVideos and others. I'm sure as hell I will come back to this site, and I bet that once you visit the site and get to witness of how good it is, you'll end up like me, always wanting for more.
---
Looking for further info? Check these other porn review sites.