SmotherSluts review
m4rc0f
SmotherSluts review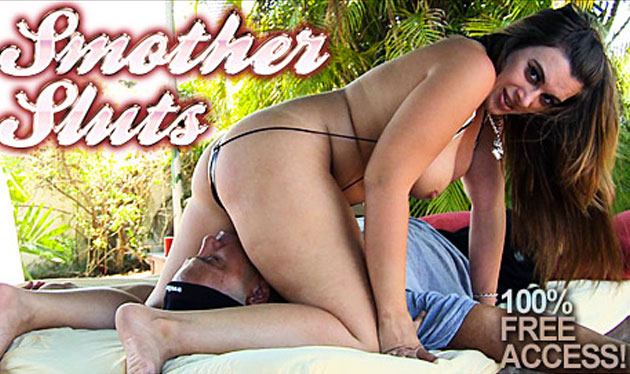 Positives
• fetish girls • live sex shows • hd webcam
Site Overview
When slutty gals come out and play, there is no stopping them. They are hot. They are aggressive. And they want you to smother their wet pussy or craving ass with all you got. If you can handle the excitement, then, SmotherSluts will make you cringe in a good way. You will see a lot of ass licking and pussy smothering on this site. Of course, the guys will only be satisfied if their sluts are shouting and moaning in ecstasy. Multiple orgasms required, by the way.
The whole film and the entire SmotherSluts site revolve around this fixation and for those who are tickled by the idea, they will be super thrilled that this site exists. In a world where the stress of everyday life can just fill you up, it is nice to have a little bit of fetish fantasy like this site. Judging from the videos on the site, I can say that most of the films are professionally made. This means that the female model is a porn star (paid to act as a SmotherSluts model). But, there are some videos on the site that make me believe of its rawness – some films are home made and may be user submitted. I think this is possible because at the bottom of the SmotherSluts home page, there is an ad looking for Fetish Network models.
Also, there is a tab which says: Create a Custom Fetish Porn Video Here. Brave and bold, yes. Speaking of advertisement on the page, there are images of the other websites under the Fetish network. If you are a member of SmotherSluts, then, lucky you. All the other websites of Fetish Network will be available for your full viewing. There are about 40 sites in the network all in all that a member of SmotherSluts can access. The site provides updates every day. These updates are pertaining to the sites of Fetish Network and SmotherSluts too. It can be a new video upload, new models, new websites, new niche or live shows. Only members are given the pass to enter the sites.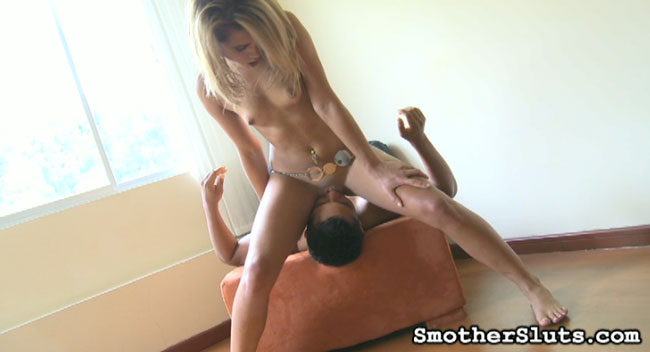 Design and features
The site is easy to navigate and it is complete with all the headings. You will see free trailers – three films with 2 minutes of the movie. If you are a visitor of the site, take advantage of this freebie. SmotherSluts has 20 pages of their films. Each page contains 5 of the films. These are just the recent updates. Each update is a story with high resolution pictures. The plot of the story is written at the bottom of the title picture. Pretty awesome films, I can definitely say.
Other features include live streaming in high definition; the videos are downloadable and you can save it for future viewing. The picture archive is in the millions. Each film has at least 100 photos and for a site, there are at least hundreds of videos, if not thousands. So, just do the math. SmotherSluts is also available for mobile or tablet version watching.
Girls and videos
As the name of the site suggests, there is a lot of sucking and licking happening on this site. The girls are professionals when it comes to sex and you can't accuse them of being inexperienced in bed. They will do everything to make their men happy and the great camera work which gives close-up shots of ass hole licking or tongue going deep inside into these pink pussies, makes the overall viewing experience really arousing.
The site also has a very nice collection of lesbian videos where two or more horny chicks are getting naughty with each other and playing with each other's hard nipples and tight pussies. Savanah is one of the hottest lesbian chicks out there. In one of the videos featuring this beautiful chick, you can watch her getting horny on pool side and she badly needs her ass to be worshiped. She calls her girlfriend for some fun and the action begins as soon as her girlfriend joins her. Savanah sits on her girlfriend's face and she starting licking Savanah's asshole and a lot of squirting happens out there. Both the chicks are screaming with pleasure and they can make you hard in no time. This is one of the best videos from facesitting collection of this site and there are many more such videos for you to explore.
Zoe is another chick on the site that has an ass fetish. She has a perfectly shaped body and tight ass and looks amazing in sexy lingerie and high heels. She loves it when the guy squeezes and spanks her ass. She stretches her legs wide apart to open her asshole for licking and we must admit this guy is doing a perfect ass licking job. You should watch her videos on her own if you want to learn something new and exciting in facesitting sex sessions. If you think ass or pussy licking are not enough to have an amazing sex session, you must become a member of this site to get the full access to the videos and you will feel lucky to watch the content this site has to offer.
Conclusion
SmotherSluts is a "fantasy" site. This is the purpose of any adult entertainment website anyway – to provide people with a sexual release – something to fuel the body of worldly pleasures. SmotherSluts can open your mind to something new and exciting. If you decide to sign up and become a member, I give you a pat on the back and a teasing grin. I will also say, way to go! The site is worthy of anyone's time and a good deal for all porn lovers that want something exciting and new in their porn collection.
---
Looking for further info? Check these other porn review sites.