SilviaSaint review
m4rc0f
SilviaSaint review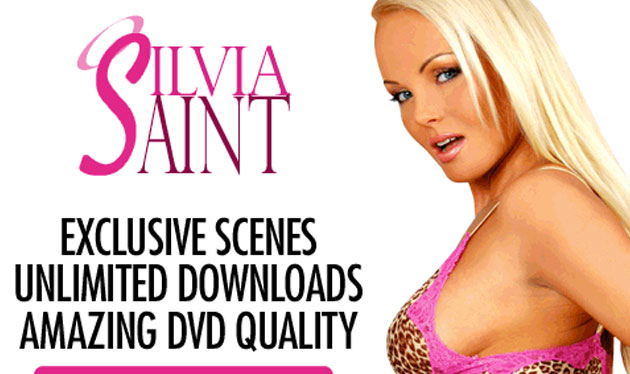 Positives
Popular pornstar Free content Promo offers

Site Overview
Silvia Saint is a porn site that showcases true beauty in abundance. It is like the kind of quicksand that pulls you under and does not let you come out to breathe. As soon as you sign up for this site, you will never want to log out. This is because Silvia Saint gives you a sexual adventure to behold with extraordinary encounters that are rarely seen on screen. Put together with a lot of finesse, the site features some of Silvia Saint's best works. Even though she is not part of every scene, she is spotted in the majority of the movies. The thought of seeing her and her fellow porn stars getting down and dirty is more than enough to get you excited. In efforts to connect with her fans, the Silvia Saint website tells the personal story of solo teasing ventures, masturbation scenes, hardcore action and even rough anal sex. Apart from the great quality, the single aspect that sky-rocketed the site to popularity is this porn star's experience in the porn world. Silvia Saint goes beyond limits for the purpose of pleasure. Membership grants access to 25 bonus sites inclusive of Terra Patrick, Squirtalicious and white Ghetto porn site among others. As one of the hottest Czech porn stars, Silvia Saint has created a sexual platform to rave about.  The live chat feature makes the site highly interactive and gives members on opportunity to connect with the porn stars. Before watching the movies, you can enjoy the interviews that will give you a sneak peak of who the porn stars really are. Silvia Saint is the perfect site for porn lovers.
Design and features
The sexual fantasy begins on the tour page of the site. Designed with every element of class, Silvia Saint has systematically organized everything that it has to offer in a unique way that will make you appreciate naughtiness and nudity. The site's colors are dazzling and will ensure that you do not miss any moment of the action. Everything pops out and is brought to the front and center. The latest updates generally show the newest movies that you can enjoy and what is yet to come. There is no short-changing to the movies that have been splattered all around the tour page. They are little snippets of what you will enjoy when you decide to join the site. Trust me; some of the previews will bring your tour to a halt. It is quite hard to surpass these beauties in action without stopping and taking a second glance. Most of the sets ooze with Silvia Saint's lust and romantic aura. The site has a lighter side which showcases the playful sides of these porn stars. It is a mixture of seriousness with a little twist that focuses on fun and play. The photo sets are just as sexy as the movies. There are thumbnails that will act as the ultimate guide to different movie categories. The box after box of cover movies will certainly cast a spell on you. All the movies are tagged with running time, along with the names of the stars and the category. The easiness of navigation makes Silver Saint one of the most commonly visited sites.
Girls and videos
As you may already know, the models on Silvia Saint are actual porn stars. Of course, birds of feather flock together. Silvia has already made a name for herself in Czech adult entertainment, therefore, she is only said to associate with those of her caliber. Silvia Saint is an extremely beautiful porn star. Her physical attributes will motivate you to do things to yourself that you did not know you were capable of. Certainly, you do not expect her to offer you any less in terms of the type of porn stars that the site features. With apparent beauty, these hotties are already professionals who know exactly what to do on screen. Simply put, there is no shortage of fine boobies and booties on the site. The stars go overboard to show you what they are capable for. The way they maneuver their bodies throughout the scenes will tell you that you need to work on your bedroom skills. Without flexibility being an issue, they spread their legs wide apart in order to enable their partners to lick their clits and finger them or even use sex toys. There are mixtures of the most exceptional lesbians and stars who are taking it to the next level with full-on sex scenes. Silvia Saint and Sue Diamond are the first beauties that you see on the site. Sue does a good job of taking charge of Silvia's pussy. They do not exempt anal toys from the scene. These two porn stars pull on all the right sexual strings. Needless to say, watching them up close and in action will give you countless boners. You will quickly realize that the tongue is the greatest asset that a woman can ever have. Other models are busy getting kinky in the garden, in the yard and even in jail! You can expect the best diversity of location sets on Silvia Saint. The 52+ movies have incredible porn titles such as 'Ace in the hole' and 'Christopher's obsession'. This does not give away a lot of what the movie is about. The movies can be downloaded in HD and MP4 formats while the 414+ picture sets enable you to use zip file function.
Conclusion
It does not take much to get to know Silvia Saint. She flawlessly portrays her true personality all across the movies and on the personal journal that you have exclusive access to through her site. The site is all about enjoying unlimited downloads official bonus sites and the most exclusive content. The regular updates will not fail you. Professional and classy, Silvia Saint is the perfect go-to-site.