ShemalePornstar review
m4rc0f
ShemalePornstar review
Positives
• hot trannies • exclusive content
Site Overview
If you have no idea what shemales are, you must have been living under a pretty huge rock after all this time. Shemales are like the new fad and porn sites are quick enough to take notice and apply it to theirs. As of now, I know tons of porn sites that feature tons of trans women and I love how hardcore every single one of them is. In today's generation, more and more people are getting open minded when it comes to things like these and of course, the porn companies are a few of them. As for me, I have had the opportunity to watch and see gorgeous shemales in action and trust me when I say that it is one of the most amazing scenes I have come across.
I have visited a lot of porn sites that solely feature these trans people and most of them are really good, some are a little horrible on the side, but a good number of them seem decent enough to warrant a recognition. Of course, there will always be those that will be beyond satisfactory and I am glad to inform you that I found a great porn site of that caliber. Let me introduce to you ShemalePornstar. Judging from its name, it is rather obvious what you will be encountering here. If it is some shemale action you crave for, then this site will surely deliver and not disappoint. The site launched around August 2000 and is under the ownership of Grooby Bucks network and the Grooby Corporation.
If you do not know Grooby Bucks, they are pretty gargantuan and quite famous for their amazing transsexual porn sites. So you could say that they know how to run a really good one. It is considered a mega site and their tranny scenes and photos are something to look forward to. You will get to watch countless shemale chicks that are beyond gorgeous and despite having a huge dick themselves, they are still the picture of poise and class.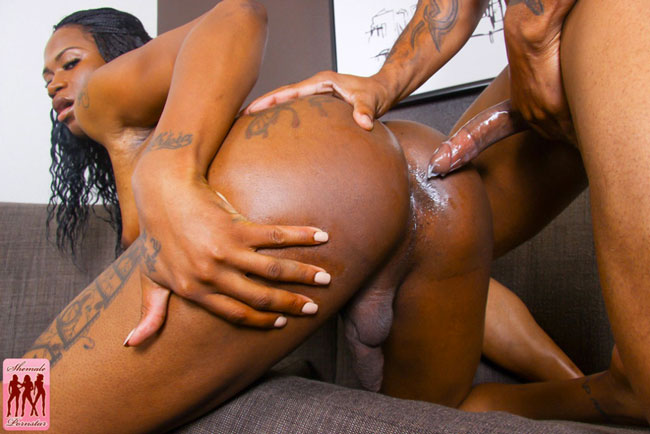 Design and features
ShemalePornstar has one of the few site designs that I can take simply because they look as basic as can be and I guess that is the best kind of design a porn network can give their porn site. With that, subscribers to their site do not need to suffer from all the confusing things going on when they decide to prioritize outward appearances rather than the content of their site. ShemalePornstars definitely has this simple vibe going on but that does not mean they do not have the appeal. They certainly do and they most certainly have more to offer that will not only lure you in, but to make you stay for the longest period of time.
In an overall sense, the site is pretty straightforward and very orderly. The navigation is easy peasy and can easily be understood. The user interface is something that is really user friendly and hassle free. The site arrangement is perfect and I love how they did not overboard with it. The links can easily be found on top and at the bottom of the site. The upper links consist of the link to the model index, the updates, and the member's page. The model index is where you will find the complete roster of transsexuals along with a short and lovely information about our gorgeous favorites. The updates page consists of the latest updates the site has come up with, may it be videos or photo sets.
The members' page is where you will find the log in page. The bottom links are made up for the movies' button and the categories' buttons. Clicking on the movies' link will give you access to the complete collection they have while the categories' one are made up of many different tags. These are the niches and stuff that you will be finding here like Mature, Big Dicks, Pissing, Bizarre Sex, and many more. On the very bottom, you will see links for customer support, their terms and conditions, their refund policy, their privacy policy, their webmasters, their wanted sign for models, a list of their photographers, and so on.
You can also get links to their social media accounts like their Facebook, their Twitter, their Tumblr, and YouTube. The site has photo sets as well and all 600+ of them have 45 photos inside and can be downloaded in zip files. Each photo is professionally taken, have hardcore content, hi res, and can be download in zip files. Unlike most porn sites, ShemalePornstar has no bonus sites that are attached to it, instead, they have extra videos and photo sets that can be accessed for free with your membership.
Shemales and videos
You can find tons of beautiful and hot shemales here and they usually come from different countries. You have Asian ones, Brazilian, Europeans, Americans, and a whole lot more. These shemales do everything from softcore masturbation to hardcore shemale to shemale fucking. It does not just stop there though because there are a lot more things you should be expecting from this site. All the shemales here are beautiful and just so damn gorgeous, even their bodies are something out of this world. Their perky and huge tits are great to fondle, if I must say so. Their tight little asses are great to look at, especially when they're being penetrated by a rather huge cock.
There are a lot of fetishes being taken here and I love every single one of it. The site as a whole is hardcore and very hard to turn away from. Every single thing here is absolutely exclusive and can only be watched or downloaded here. You can watch them via your browser using an embedded Flash player or download them to your devices (mobile devices also supported) in MP4 or WMV format. Most videos here are in HD and have a 1920 x 1080 pixel resolution or a slightly lower one of 1280 x 720.
Conclusion
I am recommending this site to all of you out there who love their share of great shemale action. ShemalePornstar will give you the time and ride of your life as you take a deep dive into this sinful yet glorious trans porn site.