SapphicLovers review
m4rc0f
SapphicLovers review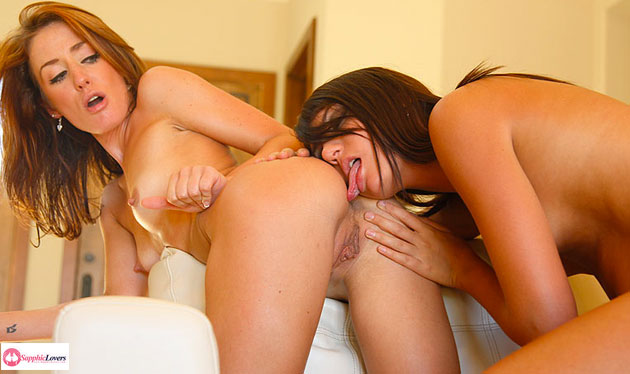 Positives
• hd videos • hot lesbians
Negatives
• no softcore • no men

Site Overview
Sapphic is another term for lesbian. Also, it seems more elegant when you say it that way because it brings out the sensuality of it all. Lesbians are like indispensible individuals in the porn industry and it is pretty hard to match their significance and worth. This is simply because women, regardless of their sexuality, are highly regarded in the porn world. They are breathtakingly beautiful, no matter what ethnicity they are or what shape and size they come in women are simply amazing and I revel at the thought of them.
Which is why girl on girl action always gets positive criticism and reaction from porn enthusiasts like us and which is why there are a lot of porn companies who focus on a variety of lesbian flicks with really arousing atmosphere. I really do not know anyone who would say no to a tactile and lascivious phenomenon that exposes and features a number of really gorgeous women, with only sex in their mind. Sure, there is an obvious lack of male parts but we, as men, have always reveled in the sight of women alone. I mean, what could be more magnificent and superb than seeing two, three, or even a group of women pitting on each other for best cunnilingus of the entire scene.
In this time, there are tons of porn sites that feature lesbians alone that it becomes hard to pick a more worthy one among a sea of unfortunate rip offs. There are really worthwhile sites though like SapphicLovers. Being around since November 2014, the Sapphic site has only a minute collection but is still pertinently growing with all the latest updates which come at a fast rate.
Design and features
SapphicLovers has a very minimalistic vibe to it when you get to see their website design. Although it is little bit far from totally being one, the white backdrop and the grey fonts are totally soothing to the eyes. The navigation is fairly simple, with links being provided right at the top of the page, just next to the site's logo (which is, by the way, adorned in pink). You can easily go back to the main page when you click on the 'Home' button while the 'Network' button will lead you to the ExtremeMovieCash network and their list of other available porn sites. If you wish to access all the existing scenes and movies, just click on the 'Movies' button and browse through it.
The is the 'Bonus' button where you will see the list of the free bonus sites that you can access with your SapphicLovers membership. A model index is also available, where you will be able to see the photos and the corresponding names of each porn star that belongs to this site. Below the links, you will notice the huge banner in the form of slideshows and they are mostly the latest updates. They also feature stills of girls in sexually compromising situations, much to my delight. Below this banner, you will see the site's latest movie updates and all, complete with video thumbnails and video details, as well as the names of the girls involved in the erotic and fleshly pleasure. The videos can be rated, with the usual one star to five star ratings, and you can add scenes to your favorites for future mobilization and applicability.
Aside from that, you can sort out the scenes by content tags for easier handling and browsing. Last time I was here, it was impossible to write comments and as of now, they stand on that ground. There is no advanced search bar but you can use filters to make things a little simpler for you. You can also access live webcams but you will have to pay extra for that. There are a lot of video caps to see but there are no available photo sets, to begin with. This is an all video site but the caps are there to serve as thumbnails and guides.
Also, a high number of bonus sites come free with your membership so that makes it very worth it. You will have access to other hardcore porn sites like Dirty Clinic, Latin Wild Parties, Mountain Fuck Fest, Whores in Public, Hot Party Sex, and many more. These sites are not necessarily exclusive to lesbian sex but they do feature quite a few. Plus, the contents are really hardcore.
Girls and videos
The girls of SapphicLovers love to lick, fuck, finger, and play with their girlfriends' pussies in erotic situations. There is the usual girl and girl action where scissoring is rampant, there are threesomes, and orgies, as well. Despite the difference in scene settings, these girls' aim is to bring pleasure to one another. You will see girls licking pussies and taking turns. You will see girls fingering each other in pool sides or a huge bed. You will see girls having toys shoved in their pussies and asses, as well as girls who scissor each other. Every scene is erotic and even without men, the girls have kept it pretty hardcore, to my surprise.
Right now, there are around 100+ videos present in the site and most of these scenes are filmed and can be watched in HD. You can either watch the video online via streaming, or you can download the video to your own device in an MP4 format. Streaming would require the latest Flash player and you can resize anytime you want. Both streaming and downloading support a 1280 x 720 pixel resolution. All the videos are exclusive, like advertised and each scene lasts for 15 to 20 minutes. You can watch full length videos and have a full HD playback twice.
Conclusion
I know there are tons of lesbian porn sites that are circling around these days but SapphicLovers is a notable competition and I am totally recommending this piece of art over here for all the right reasons. Good video count, great video quality, and fast updates, are among the reasons why this site is highly recommended.