RubATeen review
m4rc0f
RubATeen review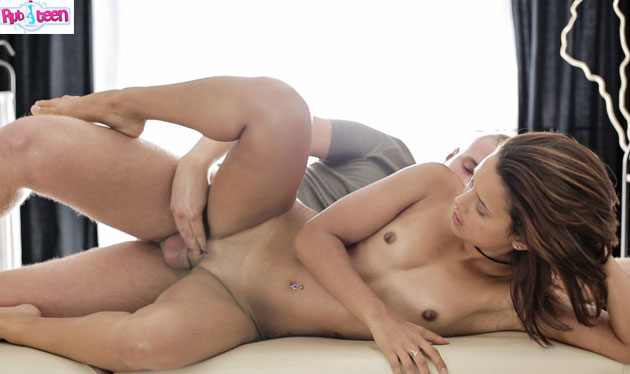 Positives
• hd videos • exclusive content
Negatives
• infrequent updates
Site Overview
Massages are relaxing and rejuvenating, the thought of someone rubbing your body with oil and easing the tension is somewhat sensual in a way, but what will happen if a simple massage turns into something else? RubATeen is an adult entertainment site that will show you how a simple massage can make someone horny and hungry for cock, these girls did not only get their backs and waists rubbed, they got their pussies and tits rubbed as well, it started from laying on the bed ready to relax to them being banged from behind and their mouth getting filled with massive cocks.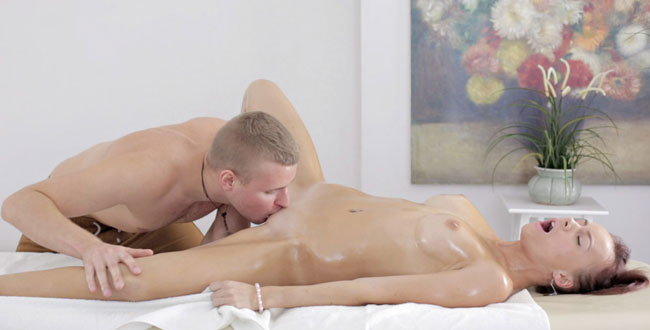 Design and features
You can watch their videos through your phone by using their mobile version that is as easy to navigate as the desktop version; you can also use their streaming option and choose from the different qualities that they have available like 1080p, 720p, 480p and HD. Not only are their videos downloadable and transferrable but their 50,000 high resolution pictures are downloadable and transferrable as well, they also have about 800 beautiful girls that you can choose from, they have blondes, brunettes, Latinas and more.
The site is updated 7 times a week and once you become a member you will have an instant access to 24 adult entertainment sites that are powered by Paper Street Media like TeenPies, TeenCurves, TeensLoveAnal, CFNMTeens, InnocentHigh, TeensDoPorn and many more. The site also have a 24/7 customer support hotline that you can call if you have any questions or inquiries regarding the site or the service.
Girls and videos
In one of the videos on the site it showed a man who was getting the bed ready for a massage, a woman who had a towel wrapped around her entered the room; as she took the towel off, she also took her panty off before laying on the bed, the man then placed oil all over her body and processed to rub her ass and massage it showing shaven pussy from behind. He then made her face him as he massaged her arms and then massaged her tits, her perky nipples says it all, she was starting to feel hot and bothered by the sensual massage that was given to her. The massage then turned into something else as the man's hand went down to her pussy, he rubbed the sides of her pussy and moved it to the middle, he then inserted one finger into her and he started fingering her, making the woman moan in pleasure; as his one hand was busy giving her pleasure and playing with her pussy, his other hand was busy flicking her nipples and squeezing her round, oily breasts, he did it simultaneously that it made the woman moan loudly and reach out for the bulge that was visible in his yoga pants.
She kept on rubbing his hard cock over his yoga pants as he kept on playing with her pussy using his middle finger and squeezing her breasts. After fingering her, she got on all fours as the man pulled his yoga pants down, she grabbed his cock and started sucking him, he grabbed her head to steady her as he thrust his hip so that his cock would go deeper into her mouth. She gave him a blowjob, licking and sucking his shaft and his tip, she also played with his balls as she used her other hand to rub it while the other hand gave her a handjob as she sucked the tip of his cock, and after a few minutes she bent over as the man positioned his cock on her pussy, he started pounding her from the back as he held her waist, he pounded her as fast and as deep as he could and his balls hit her perfect, round ass. Then switched positions as he lay on the bed as she went on top of him and she rode his cock, as she was riding him he used his one hand to squeeze her breasts while he used his other hand to stretch her ass so that he could get in deeper into her.
She used his broad chest as support as she rode him and bounced up and down on his massive man meat, after riding him he made her go on all fours again as he took control and banged her from behind while she was on her hands and knees, her breasts were dangling from the impact of his cock going in and out of her wet pussy in a fast pace, this went on for a few more minutes before he pulled out and hopped off of the bed, he then went in front and grabbed the girl by the hair as he made her suck his cock again, signalling that he was close into cumming. She grabbed his cock and gave him a slight handjob before taking his cock by the mouth and sucking every inch of it, she pulled it up and took his balls by the mouth as she sucked it, she licked the shaft before sucking the tip of his cock, the video then ended with him shooting his load into her face and hair.
Conclusion
RubATeen will make you look at massage in a different way; it has the perfect combination of gorgeous women with perfect bodies, men with massive cocks and an ambiance that is relaxing and quiet that it will really set the mood. The site has thousands of massage videos that have different scenarios that you will surely love watching, they also have about 800 girls that you can watch get banged and filled up while getting a massage.
---
Looking for further info? Check these other porn review sites.