RoadTripsUK review
m4rc0f
RoadTripsUK review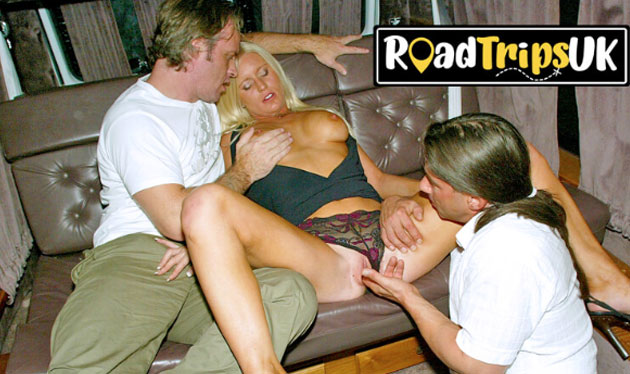 Positives
• download and streaming
Site Overview
Best hardcore porn site, RoadTripsUK is all about the horny and fetish-filled adventures of a guy named Super Marino. This porn actor turned voyeur producer travels around Great Britain to hunt and fuck the hottest British amateur models he would find along the way.
Together with his impressive technical crew, Super Marino brings you the most beautiful chicks getting fucked inside his van or in some high-caliber apartment, outdoor places, swimming pool, you just name it and pretty much this guy has already a hardcore movie ready for your viewing. If you love voyeur porn with a twist of BDSM and other sexual fetishes, head straight to RoadTripsUK to quench your carnal cravings.

Design and features
RoadTripsUK is a voyeur porn site brought to you by the Real Sex Pass network. From the name of the site, it's very easy to imagine what kind of movies awaits you inside. Well, why would you exert effort in imagining things when there are free trailers which you can enjoy on the official website?
The welcome banner shows Super Marino with a squad of sexy and hot British amateur porn models. Looking at their naked bodies, you can only get jealous of this guy. Using his natural charm and his big cock, he lures different sweethearts inside his van and fucks them in whichever position he desires. Sometimes, Super Marino holds the camera and gives the viewers the sense of POV. Other times he lets his crew film him as he is fucking several chicks simultaneously.
At the homepage, you would see that Super Marino is more inclined in engaging to group sex which is usually done on random apartments. It's just amazing how he can convince different chicks to suck his cock even without offering cash. Perhaps, it's his unrivaled sexual libido and hardcore passion that make him an irresistible lover to amateur xxx entertainers!
Girls and videos
Is there anything more thrilling that traveling the streets of Great Britain looking for hot pussies to fuck? This is what RoadTripsUK is all about! Meet a super hunk who can be considered as one of the luckiest guys in the world! He goes out every time he feels horny. He always brings his camera to film his dirty adventures.
Sometimes, he brings his crew to better capture whatever he is doing on the amateur models. With his natural appeal and unrivaled sexual energy, the chicks come cramming at his feet, waiting to be fucked inside his van. Whenever he is in the mood, he would rent out an apartment and fuck the willing chicks until his big cock is fully drained from multiple orgasms!
Conclusion
RoadTripsUK presents to you the high-quality and fetish-filled collections of a guy named Super Marino. This hot man travels the streets of Great Britain to pick up willing chicks who are also willing to star on hardcore movies. Super Marino is not just a talented hunter; he's also a great fucker so the sweethearts always end up begging for more. If you want outdoor sex at its finest, come at once and join Super Marino in his dirty and filthy sexcapades!