Pure18 review
m4rc0f
Pure18 review
Site Overview
On the Pure18 you will meet your expectations at least if you expect to find barely adult girls doing hardcore porn videos for your entertainment. These are not amateur porn scenes, so don't get your hopes up, you won't get the chance to meet the girls next door. The Pure18 grants you access hot compilation of reality porn, and in case you enjoy fresh girls going through some very heavy pounding, you have arrived at the best place ever. This is a long-running series of the RealityKings. Been online for more than 8 years now, the site has accumulated quite a collection, and the studio seems to have an endless stream of cute starlets who just want to have fun; and also build up a career.
Since the Pure18 is one of the main series of the RealityKings it is only natural that you gain access to complete network of the studios. That's right, by joining the Pure18 you become eligible to browse every scene of the main RealityKings sites. This means that apart from the site's own collection of over 340 scenes, you also get access to about 8-9,000 videos of this great reality-porn provider. This is one hell of a bonus, but if that's not enough, you can still enjoy more: there are live cams and promotional discounts in the members' zone.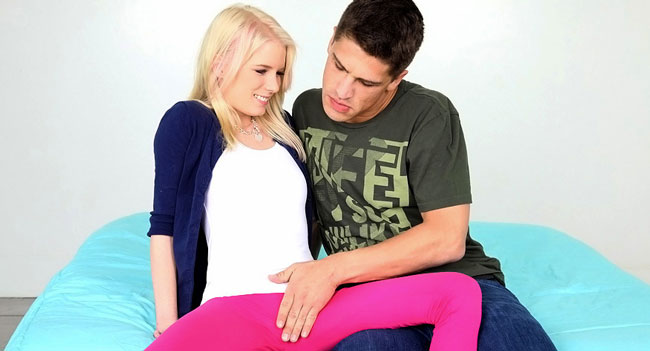 Design and features
After verifying your age, the Pure18 welcomes you with big thumbnails that show exactly what you want to see: cute girls doing nasty things with huge cocks. The first piece of the list, the featured video offers you a trailer too, and if you refresh the page several times it might change, and you can peek into another movie. The tour stretches only this far: you can watch those trailers and the thumbnails. When you log in, you will see in the first moments that you are the right place: the members' zone where you land is the main hub. You can reach out network-wide from here, so you will be able to browse everything you want.
The inner page has a main menu, where you can start to explore the content quite easily. Probably the most important option of this menu is the models' list and the sites' list. However, you can reach the extra content (cams, discounts, etc.) from this menu too. The search engine has only basic capabilities. You may download or stream every video you like, and this includes the bonuses also. Flash-video format is available for in-browser watching, granting you an average quality. Among the download options you can find WMV and MP4s, and the latest offers the best (up to 1080p) quality. All scenes come with a vidcap gallery. There is a nice mobile interface for the Pure18 too.
Girls and videos
Now, there are some hot girls on the Pure18. You are going to get horny before you knew it, and in case you enjoy watching hardcore porn videos of amazingly cute, barely adult cunts, you are just at the gates of heaven. Fortunately the site doesn't claim otherwise, so you won't find here amateurs, and you can rest assured that these models are the most gorgeous ones you can find around. As with most RealityKings sites, the focus on these videos is also on the girls' amazing body, and on the fact that those bodies have to be fucked hard and well. A really varied models' stable is available here, and probably many of you guys appreciate the fact that these are US girls, and this isn't import porn. However, among the girls you can still find Asians, Latinas, but no Black girls appear in these scenes. Most girls are short, so those big cocks look huge next to them, and their tight vagina and asses are just good to look at at first, then they are just gaping ruins. On the event that you are a fan of fresh body, and those mall-cat cuties who doesn't even have to the bathroom without full make-up, you may find some very nasty specimen here.
The videos here are really good jerking-materials. Probably the first thing you might notice that they are really lengthy, and many of them are shot in PoV style. It's quite a hot and satisfying fact, because watching PoV porn in HD and Full-HD quality is really feels like you are there. As far as the professionalism concerned, you can see that these videos are all studio-productions, though some of them are shot out-doors. Everything in them is clean, the stage is nicely built and the lighting is very good. The chicks are wearing make-up, and it's quite sure that the guys got some powder on their faces too. So, to cut it short: there is effort in these videos, and you will certainly appreciate it. The sex in the scenes is also amazing. The girls are getting on with the action pretty soon, and the guys just have to let them to what they want to do. However there are many scenes where the guys overwhelm (with their cock's size) the girls, and these cuties are only tools to fuck and nothing else. You will find here dozens of heavy blowjobs, along with threesomes, double-penetration and anal sex in one-on-one scenes.
Conclusion
The Pure18 is an exhausting site. Not just because the videos are long and very hot, but because these scenes are all about heavy sex. As you land on the tour you will surely get the drift about the content, and if that pictures are not enough, the trailers might convince you. It's quite certain that every porn fan will harden as they start browsing the videos here because these are some prime movies. Those who get turned on by quality or even by knowing that they have over nearly 9,000 videos to watch will surely appreciate this nice and hot porn site.
The website has been removed, discover other fine fresh girl pay xxx sites