PornstarNetwork review
m4rc0f
PornstarNetwork review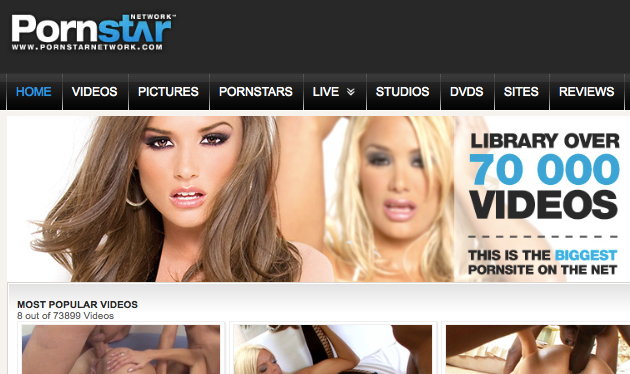 Positives
Huge collection of HD porn movies Many porn stars to choose from Very cheap
Bottom Line
Pornstars Network is great for men who love porn stars and want to see them in hardcore HD action.
Pornstar network
When you will first go on the site, you will notice a very calm and bright design, which isn't inspiring a feeling of intimacy, but it doesn't bother you either, so we can say that the black blue and white combination works of for anyone. The site is neatly organized and anyone could find his way through the huge collection of porn movies, no matter if they access it from their computer or mobile device. It's really easy to find your favorite porn star or a movie to have some fun on, because the advance search option works flawlessly, letting you search by keyword, porn star, category and so on.
The Content on Pornstars Network
The best thing about the Pornstars Network is that it offers 56 porn sites on which you can wonder and have some fun every night. There are lots of kinky videos and I'm sure you will find the porn movie that makes you horny on one of the sites, which care created with a different niche in mind. For example, you will be able to see some girls getting glazed while kneeling in front of a stud on Cover My Face and if you want some feminine orgasms, there is Real Squirt. There are also sites dedicated entirely for a famous and talented porn star, like Club Vanessa Blue or Kelly Summer. There is an impressive number of over 73,000 movies and all of them have over average quality, with length between 10 and 40 minutes. You will be able to find thousands of movies which are streamable in HD, or if you want the best quality, you can download the HD porn movies or anything else you want, because the Pornstars Network will allow you to get anything from their site in your computer. However there is a limit of 100 videos per day. Besides videos, you can have your eyes enchanted by amazing picture galleries. There are over 3500 picture sets, in high resolution and available for download in zip files.
Pornstars Network Has Some Pretty Hot Models
With so many videos, it would be weird for this network not to have so many porn stars, but they impressed everyone with their 11,127 porn stars. When you will go ot the porn star secti0on of the site, you will notice that the girls are displayed based on a rating system, and the most popular actresses are on the front page. Of course, Miss Sasha Gray is the first one, followed by the busty Gianna Michaels. Once you will become a member, you will be able to rate your favorite porn star and help her reach the top. Each porn star has a profile, where you can find out more about a girl and check up her entire collection of movies and pictures available on the Pornstars Network.
The Membership Fees
If youa re interested in becoming a member of this huge network, and I don't know how you couldn't be interested, you should know the prices and offers available, which are listed bellow:
$2 for 2 day trial access
$29.95 for 30 days access
$89.50 for 365 days access
The two days trial has limited access, but the rest of the membership offers will grant you full access on the entire network. There are no cross-sales, so you won't have to be worried about being charged for services you don't want.
Conclusion
With so many HD porn movies and a user friendly site, Pornstars Network is one of the best choices for the men who want to have access on a huge source of hardcore entertainment. There are plenty of reasons for which you should choose this network over others, like the perfect security or prompt and professional customer service, but after all, the decision is yours, so take a look around the site and choose for yourself!