Obsessed with myself
m4rc0f
Obsessed with myself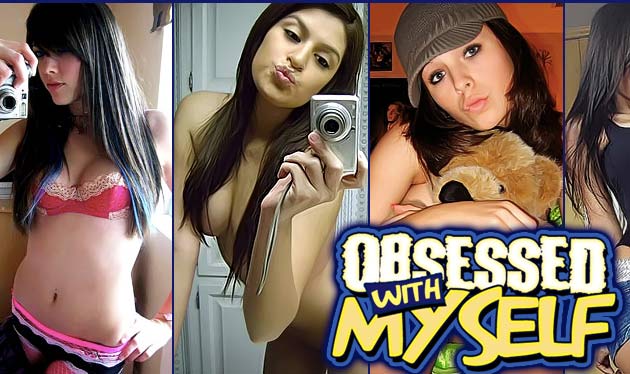 Positives
Pretty big collection of pics and vids Access to additional sites Hot girls obsessed with themselves
Negatives
The quality of pics and vids varies
Bottom Line
Best pay porn sites for GF solo action.
Obsessed with myself review
Pretty girls do like to look at themselves, which just boost their ego. Obsessed with Myself delivers hot and attractive girls who take pleasure in taking photos of themselves and doing pretty much anything which involves their solo action, which ranges from taking selfies to playing with themselves and it's hell of a nice to look at that gorgeous chicks, obsessed with themselves.
Great pay porn site from the GF Network
Hot and pretty next door girls are so confident about their appearance and they know it when they walk in yoga pants, seemingly oblivious to the fact that almost all males are staring at their great looks and hot bodies. You'll find a lot of girls like that in here, and more! Girls will be rubbing their pussies, or playing with themselves, and sometimes having the good old rough sex. The majority of material here is not so tough in nature, it's more mild, but nevertheless there are some very very pretty girls.
For example, there was this blond cuties with big breasts which she was playing with, and it seems she's been doing that for some time, since it looks she's experienced in that. She would be tossing them around, twisting nips, pressing those huge melons, and having the look of a innocent seemingly yet at the same time passionate wild cat. She looks so like a turn on, and she know is and it is obvious she enjoys in that fact.

If you become a member of Obsessed with Myself, you'll get at your disposal some three hundred and twenty vids available in Media player and in online streaming. The quality varies, so you can find vids that are in 320×240 and in 640×480 res. This is understandable, since this is amateur site after all, so there ain't gonna be high definition cameras and crystal clear pictures and directed shots. So, you'll stumble upon some vids that are relatively good in quality and some that are not and rather shot in duration. Also, there seems to be some technical difficulties with Mac devices, while trying to play some vids. 
As for the number of content, is really great in size. You'll find that there are some one thousand and five hundred pic galleries with about ten pics in each. The pics are better than vids but are far from HD. Still, this only adds to the amateur vibe and feel of the pics and it really seems like they've been taken by every day girls. There is an option of viewing them in slideshow or simple downloading them as zip folders.
The design of the site is quite nice and simple and it's easy to find your way around the place. You can check the newest updating, and they tell you when some new stuff is going to come out. This site is a member of Amaland Network, so get ready to see extra sites with similar amateur based genre, like My GF Loves Anal, Me and My Asian etc. Like stated above, the updates are being done on a regular basis. You'll find plenty of hot girls who are ordinary persons and not some big shot porn stars.
The girls at Obsessed with myself are certainly make you come back and look at exposure of their juicy pussies, red lips, big eyes and huge boobs. They're into all that stuff too, you know.
Pricing
$1 you get trial version,
$27.95 one month access,
$59.95 three month access.
Conclusion
This site delivers some pretty nice amateur egotistical and ultimately hot and attractive girls who are aware of their own beauty and sex appeal. It's entirely amateur made and submitted, updates are regular and the volume of content is very big.