NuruMassage review
m4rc0f
NuruMassage review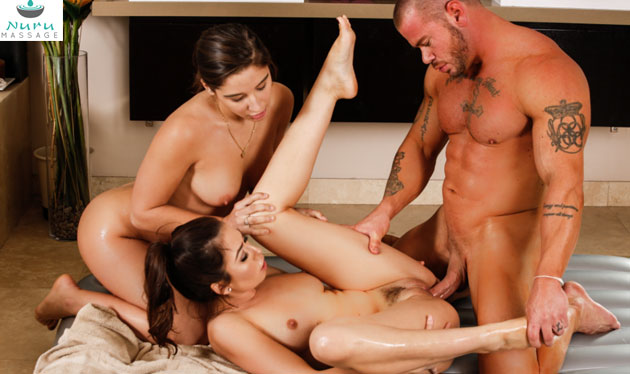 Negatives
• no group sex scene
Site Overview
When you fuck a girl, it is not enough to strip her clothes and ram your dick into her pussy. To fuck the slut, you need to set the mood, and prepare her mentally. What best way do you have other than massage her with soothing aromatic oils and relax her as much as possible. Massaging your chick will also get you into mood, help you get intimate with the curves of her body, and enhance your sensual quotient. You will experience the same sensuality and heightened sexual quotient when your chick gives you an equally sensual massage. Whether you watch this foreplay in a porn video or experience it first hand, there is nothing that can compare to it.
Based on what I have observed, I find that most porn sites do not focus on this intimate aspect of having sex. Most porn sites want the actors to get into the act of fucking within a few minutes after meeting each other. The sites dismiss the intimacy between the male and female actors and porn becomes plain vanilla. Is there any site that is different and offers you intimate porn content? Yes, there is and the answer to your question is NuruMassage.
If you seek a sexual outlet that involves intimacy, NuruMassage is the right site for you. If you read the review provided below you, you will learn about what makes the girls on this site so amazing, as well as how the design of this site creates an ambiance that would turn you on.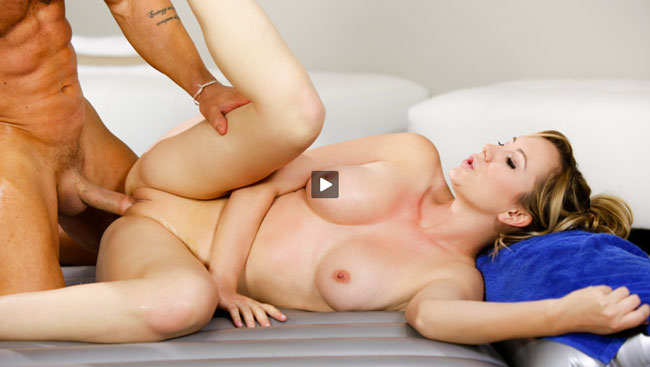 Design and features
The design of this site plays an important part in helping you make the most of the sexual experience it offers. Before proceeding to the details, I would like to comment on the color scheme of this site, comprising of cyan and black. This creates an erotic and relaxing ambiance, akin to what you would find in a massage parlor. These colors come together very nicely to provide a balanced theme, accentuating the porn videos featured on this site.
Navigating this site would be extremely easy using the tabs provided in the upper left corner. With a tab for videos, girls and bonus sites you would never feel lost while you are here, and in the upper right corner you would see a big yellow button that says Join Now. You can use this button to view the various subscription packages this site offers.
Next to the Join Now button you would see some purple text that says "Submit A Fantasy." This is probably the most innovative feature on this site, and when you click on this site you would be taken to a form where you can submit any fantasies that you might have.

These fantasies are voted for in the user forum and if your fantasy gets enough votes, this site would turn it into a sexy porn video for you to jerk off to! Subscribing to this site is a highly-simplified process. The subscription packages offered are highly affordable, and I would strongly recommend that you opt for the annual package. This is because this package offers you an amazing discount that can save you a great deal of money in the long run. If you have any concerns, you are recommended to sign up for a 3-day trial membership.
Girls and videos
The porn featured on this site will relax your mind, and your sex tool will be ready to take anything, be it a pussy or a dick. The sight of the oiled and massaged girls is very erotic to watch, and we are sure to that you will be turned on instantly. A general theme that runs throughout the porn involves a guy or girl coming seeking a massage service. The settings could vary for the massage, based on the actors featured in the video.
Nuru massage involves the main characters stripping, and going in for an erotic shower. The masseuse is a female character, and she gives her client the shower, lathering every inch of her client's body. Dicks and cunts are given special treatment, heightening the sexual experience. Applying Nuru oils, she makes their bodies slippery. Now comes the best part. Instead of using her hands to give a massage, she uses her naked body to massage the guy. Pussy eating and blowjobs are wonderfully erotic, to say the least. When you watch two girls oiling and rubbing each-others' cunts your jerk-off experience will be worth remembering for a long time to come.
The threesome videos on this site will take you out of this world. Inspector-Grab It is a video that I liked very much. Massaging two studs, Seth Gamble and T. Stone, Maya Divine needs to save Keisha's face as a masseuse. She steps into Keisha's place and strips to show what a great body she has. Turned on, the guys have nothing to complain about. Maya showers them and lathers their dicks. She then oils their bodies, and works their dicks up. The guys take turns to fuck Maya Divine, in all her holes, as they oil her breasts, nipples, ass and pussy. Watching Maya Divine get fucked by these studs is divine, and the video ends with Maya slurping the cum oozing from their dicks.
Conclusion
If you want to invest in porn, you should invest in a site like this. Featuring muscular and sexy studs to sluts with bodies to drool for, this site has it all for your pleasure and enjoyment. Diverse in the porn it provides, you have all kinds of porn to enjoy, be it gay, lesbian and straight porn.
The commitment to diversity is commendable. The colour scheme, design and features of the site enhance your porn viewing experience. With the affordability tag and high quality porn, do you need any further reasons to subscribe to this site? No! Then, what are you waiting for? Quickly click on Join Now and become an instant member.
---
Looking for further info? Check these other porn review sites.
| Website | Trial | Monthly | Yearly |
| --- | --- | --- | --- |
| topporn.net |  $1.00 |  $19.95 |  $95.40 |