NakedMarine review
m4rc0f
NakedMarine review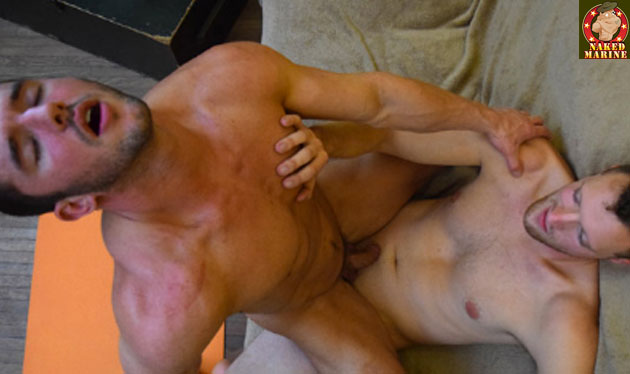 Positives
• hot muscle gays • exclusive videos
Site Overview
I do not know what you heard about the military but whatever it is, I doubt whether it involved military officers running naked. While we may commend the men in uniform for standing up for us amidst the face of crisis, the gay marines on NakedMarine show us that even these men have time for play. As only other gay men would, the marines have needs that need to be fulfilled and on this adult site, they show you all of the sexy lengths that they are willing to go to. When they are not out in the battlefield, the naked marines pleasure each other in loads of hard and fast action. Brought to you by the DirtyDucatsNetwork, you will delight in the best of the best guy action.
 The guy/guy hardcore banging on NakedMarine will leave you only with the dirtiest thoughts.
There are also plenty of solo jerking off scenes that let you tap into the other side of pleasure. As you will have a lot of emotions to go off on, you will realize that NakedMarine is the best adult site for you. All of the action of the site is military-themed, therefore, you not only get to enjoy the uniqueness that comes with watching a military man in desperation but also introduces you to exclusive hardcore action in a way that you can only imagine.
With over four years of existence, NakedMarine does not only let you explore its collection of 36+ videos and an equal number of galleries. While this may sound limited, do not fret, all members get full access to the whole network at large. Bonus sites also feature similar action and in case you want to diversify, the extra flicks will come in handy.
Joining this adult site comes with a lot of benefits such as many enjoyable moments that will involve all of the marines showing off their sexual process to the world. They do not care if they have to lick balls, suck every inch of cum out of each other's cock or sneak off to do the nasty, you will be keeping your eyes out for a lot of pleasure and enticement. The site goes a step further to showcase military men of different ranks demanding coital pleasures. This creates interesting story lines that you most definitely want to be a part of. NakedMarine was created with the intention of giving a go-to place for those who want to have sexual encounters is that are out of the box. It removes the monotony of normal sexual encounters and introduces you to the world that shows you everything is possible if you truly want to delight in pleasure and satisfaction.
Design and features
There is nothing sexier than a man in uniform but how amazing would it be if you were to be able to watch these sexy men in crystal clear HD viewing. The member's area may not be large but it gets the job done. You will highly appreciate the intricacy and intimacy that NakedMarine has employed in its site's pages. The member's area comprises of 36 scenes that welcome you to the site but NakedMarine in its entirety has 41 videos.
Although these are not hundreds of scenes, you will still be able to get the entertainment that you desire. The videos are available for both downloads and flash streaming, therefore, you can be able to enjoy the flicks in WMV and Mp4 formats. The site has a standard viewing size of 640 ×360. In comparison to other sites, this is pretty decent. The galleries are also filled with excitement and enticement, therefore, you will always have a blast anytime you log in here.
Guys and videos
NakedMarine features amateur fresh faces who want to get out of their uniforms and have a good time. The site does not say if these are real marines or not but this is beside the point, we are here for entertainment not the men's occupation, so we will gladly receive all that we get from the platform. However, from the look of things, the men are only fit enough to save us from burning fires. They look really sexy and dapper in the military uniforms and this is just about it.
As the models are not professional, they do not take pretenses in front of the camera, therefore, the action is as real as it gets. NakedMarine is not one of those platforms that promise to over deliver but they do not do this accordingly. They enjoy one on one action, duos and group fucking scenes that involve a lot of facials, fellatios, and rimming.
Despite the fact they are not professionals, they sure know all that goes with sex and satisfaction.
If you think that naked marines get down and dirty with hot women, you will be rarely shocked as NakedMarine is an all-gay platform. The sergeants fuck each other silly in ways that showcase them playing out all of their fantasies. Their big cocks are waiting to be around, the naked marines decide to masturbate and give themselves the satisfaction that would come with a full-on sexual encounter. All of the men are incredibly handsome and will leave a lasting impression on you. Fucking and sucking are all that happens amongst this group of horny men.
Conclusion
NakedMarine is one of the best porn gay sites. Established in 2011, the site has been in existence long enough to fulfill all of your needs and desired in the most amazing way. The site is all about the best of gay porn and you will be glad that you secured a membership on this platform. The content is exclusive as well as hardcore and they are jerk off worthy. NakedMarine is a good as gay porn will ever get. Check for more gay premium porn sites because this one isn't available anymore.