MileyMason review
m4rc0f
MileyMason review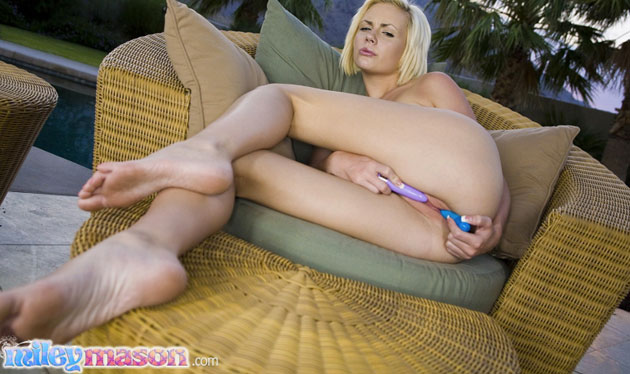 Positives
• great quality • hot fresh girls
Negatives
• no threesome sex • no recent updates
Site Overview
Us men differ in a lot of tones, even when it comes to certain types of girls. Despite that, we still manage to make it seem like we are all drooling for anyone who is in a skirt or has smooth, shiny hair, and that makes us, well, men to say the least. I admit to being interested and enamored by different types of ladies and I certainly am not ashamed to admit it; yet despite this certain attraction to contrasting and distinctive women, I always end up getting a little bit more pulled in by a much more alluring, beckoning, and bewitching type. Blondes. I love blondes, no joke. I remember ogling at Reese Witherspoon for an entire day after watching Legally Blonde and no, I feel no tinge of shame after saying that. Blondes have these certain auras in them and when I do look at one, I just get really into it and attracted for all the little reasons.
I like how their hair glows in the sun, or how their freckles are neatly and perfectly stacked in their bodies, like little specks of dust, and in all, manly honestly, their sex appeal is just tremendous to say the least. I once came across this blonde woman in a grocery store and spent nearly an hour just staring at her. Suffice to say, I was late for something and I realized that there is just something about these blonde bombshells that seem to hit me in the right spot, if you know what I mean. Now, if you are like me in the slightest of way and blondes are your thing, then you will love every inch of MileyMason. Yes, MileyMason is a porn site that introduces a fresh faced blonde bombshell named Miley Mason. With the sound of her name you would think she could be a Disney princess but she is far from that tag. She might be a princess, but she sure is not something meant for Disney.
Going over big, she seems like the perfect blonde to get attached to, even if it was only meant virtually. This porn site, which is being managed by Cyber Trend, has been around since March 2010 and is actually one of the few other solo sites that the company produced. Of course, despite being a solo site, MileyMason has a lot of things that would enamor, bewitch, and enthrall you in different ways. For one, it showcases plenty of scenes where our resident blonde girl, Miley, masturbates to different sorts of sex toys.
The bombshell likes stripping down for her audience and spreading her fine legs open in front of a camera, as she fondles her breasts and her pussy for her own personal pleasure and for the pleasure of those she knows are watching her. You would think that despite being a solo site, this one right here could be a flop, but that is a big fat no; this site is so much more than you would ever imagine and it has plenty to give out to those out there who love blondes. The scenes are erotic, slutty, smutty, and would typically strike an erection. If you are looking for a good fapping material, then you got it right here, my friend.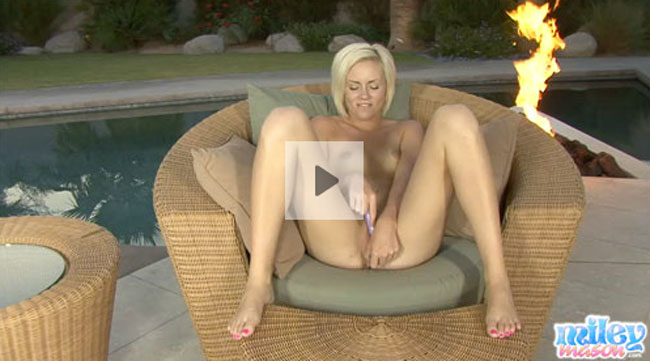 Design and features
Miley Mason is a sweet girl and so it would only be proper that her very own solo porn site would exude the same kind of vibe. The website design is quite girly, with grey wallpapers, sky blue sub wallpapers, and pink tones to match her already feminine site. Above the page, you will immediately greeted by a huge banner of Miley only in her underwear, flashing that plump, gorgeous ass for everyone to see. You will immediately notice how much of a blonde bombshell this chick is and you realize that you have finally hit the jackpot with this site.
The navigation in here is reasonably and averagely simple, uncomplicated, and easy as pie. With that in mind, the user interface is as unmistaken, self explanatory, and will be no sweat to all of you. Every single thing around here is as simple as ABC and you once you have taken your first swig of the not so forbidden blonde fruit, your very own adventure begins. The site's most important links are found in a menu bar just below the huge blown up photo of our blonde vixen. They are the usual and you are familiar with all of them including the home page button, the link where you can find her collection of videos, a link where you can find her photo gallery, her 'about me' page which did not exist until now, and a members page where you can log in from there.
Now, if you have not subscribed or joined the site as a member, you will notice an extra 'Join Now' link. Click on that you will be prompted to a page where you can choose a payment plan and everything. Take note that if you are not a member, you will not have access to anything in here, except the tour. The site's main page does not have much but from there, you will see her latest updates: the latest videos she uploaded and the newest photos she has posted up. You will also see several video thumbnails of our blonde chick shoving things inside her pussy. I know it riles me up in a lot of ways, how about you? The features are not the only thing you should be excited about as you will also be given access to a lot of bonus sites under the same network for free.
Girls and videos
Miley Mason is such an attractive lady that all her 100+ videos are never boring, despite her going solo. No matter if she strips, she giggles, or does the nasty, she completely has you in the palm of her hands and she will keep you there for the longest period of time.
She is a grade A sultry vixen and she never fails to show it in her videos. Her photos are no different, too, as they show a very slutty side of her. Both photos and videos can be viewed online or downloaded to your desktop in certain formats. They are all in very good qualities and no download limits apply to any of the content around here.
Conclusion
If you wish to find a site where you can ogle at a seemingly gorgeous blonde, then this site was obviously made for me and you. MileyMason is not only good in content number but of quality, as well. This chick might be going solo but that does not make her less of a sexual threat, if you know what I mean.