MeAndMyLatina review
m4rc0f
MeAndMyLatina review
Site Overview
Does dark skin attract your wondering eye, is the girl for you a spicy latina with an equally saucy attitude? Then Me And My Latina is the site you want to look into! It was started back in 2010 as a subsite under AMAland which is a network that features twenty sites all with the hottest girlfriends around. They offer hundreds of videos and pictures to view on Me And My Latina, thousands of videos and only getting high by the day. Each of the videos and pictures is user submitted, not the best quality but the best of the best amateur Latinas you can possibly want to see. AMAland goes all the way back to 2008 having started Me And My Latina two years later, they also supply a variety of different sites specific to different races. They don't only race specific, though, there is also a site dedicated to BDSM and another sort of user specific needs. Not only will you have access to other sites but you can stream and download videos to your hearts content. You'll be able to view their live webcam girls for absolutely no extra cost. All the girls are available with just a click of your mouse. You'll have thousands of videos that get added daily and endless hours to view the girls of Me And My Latina.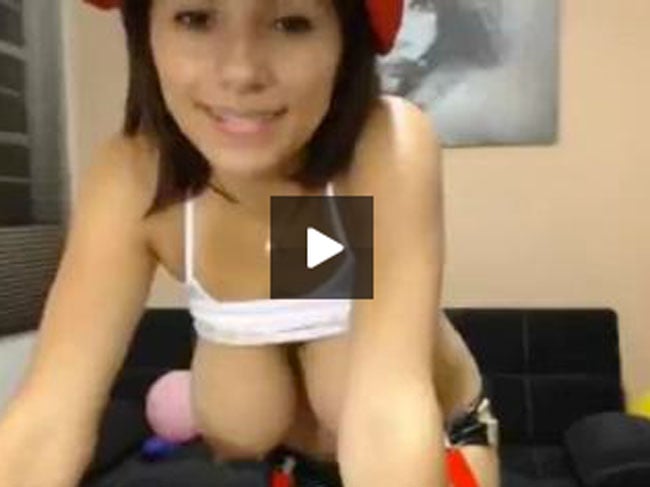 Design and features
The site is short and simple, straight to the videos, you'll have to dig to find what you want as there are no search tags to chose from but just numbers of what page you wish to travel too. The most recent ones being on the first page and older as you keep going. But if you find one that you really enjoy and wish to see again, don't let it get lost in the sea of content, download it straight to your hard drive so it'll never be lost and will always be readily available for your eyes to view. Fast streaming videos with no lag even on a slow computer, and easy downloading you'll find the site makes up for its lack of search tags with it's other features and it's overflow of sexy curvy latinas. Each video conveniently shows how long it will be and has a thumb to help you decide if it's the right video for you. Depending on your screen size it'll have a row of 5 videos across and travels down quite awhile before it asks you if you want to go to the next page. On the first site, you'll see the highest number of pages shown is 60. You can see 75 thumbnails per page so that is over 4.000 hot latina girlfriends waiting to please and tease you.
Girls and videos
Seeing as these girls are all amateur who send in user submitted videos to the site there are no specific names to offer you to check out upon gaining access to the full site. But the girls on this site give true to the usual latina bodies with curves as far as the eyes can see. The slim waists complimented with large breasts and asses are perfect for you to gawk at while you strive to reach your climax. The girls on the site know what they got, most of the thumbs featuring boobs sticking out, or the girl half turned around so you can get a good site of how big her ass really is. These latina's don't play around when it comes getting you off, clearly only the best of the best are accepted and published. As stated above, there are thousands of videos on just this one site for your viewing pleasure, all the girlfriend sites being user submitted as well meaning by subscribing you'll not only have access to this few thousand of content but the few thousand on the other sites as well. Leaving you with most likely over ten thousand videos to choose from, that is an offer that is hard to pass up and even harder to find. The videos all length anywhere from fifteen minutes to over a half-hour, none seeming too long but all seem equally appealing. All the girls on the site are shown to be real girlfriends and ex-girlfriends. Stream through days of different content, or hours of the same one on loop, the choice is entirely yours. Categories vary just as these frisky Latina's do, featuring an array of kinks and fetishes to spice up sex lives and personal viewing time. You'll find a Latina just for you and your preferences don't fret about it!
Conclusion
Since Me and My Latina showcases real user submitted content, sifted through and only the best published onto the site you are always promised to enjoy a good time with both the new and old streams at the touch your button. Offering literally thousands of videos on the site there is no reason to look away from this offer, if curves and latinas are what you aimed to look for, or you even wanted a little more than just latinas you can get both by becoming a member today. No other website out there offers this much content of latina's for their viewers, you are guaranteed to have a good time every day you sign on. And no one will know when the time comes for your credit card to be billed, AMAland understands your embarrassment or simply not wanting a spouse to know what you are doing in your free time. What you do with our Latina's is entirely your business and your business alone.