LoadMyMouth review
m4rc0f
LoadMyMouth review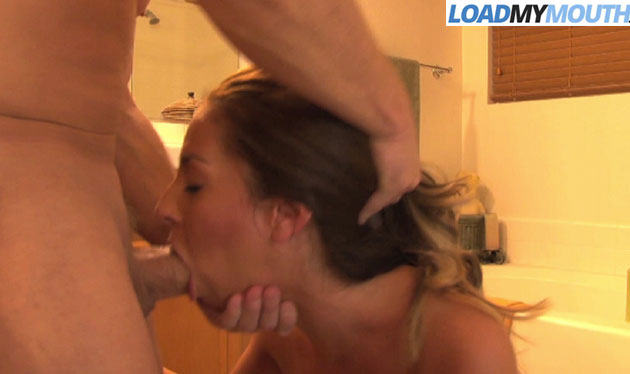 Positives
• exclusive content • hd videos
Site Overview
LoadMyMouth is a fine porn site in the cum swallowing niche. Some ladies need a hardcore face fucking that will leave their mouths quivering under the pressure and have those shots of cum that they are a danger to anyone within several miles radius. Size of the load of sperm matters and matters a lot, it should be said! LoadMyMouth is a porn site that proves it vividly in every HQ exclusive scene that it presents to you. Once inside the site, we can tell you that when LoadMyMouth claims to provide the best cum shots and cum swallowing, they're not exaggerating by much.
This site scores brownie points, and a benchmark for any site in this genre. Presented by the PornStarNetwork, the site is updated frequently and you can count on them to add numerous new scenes each month. We don't often get the chance to say this, but this is one of the rarest sites that you can go back to again and again and feel so satisfied, that you're getting a good return of new material for your money. Whether you've always been a fan of cum swallowing or you just so happened to stumble upon this review, chances are very high that you'll become an instant fan of the LoadMyMouth. It's a site that gives you access to some of the best porn sites in this niche as a bonus. And that's not an exaggeration. Don't just take my word for it, though. Read on to look at what you get.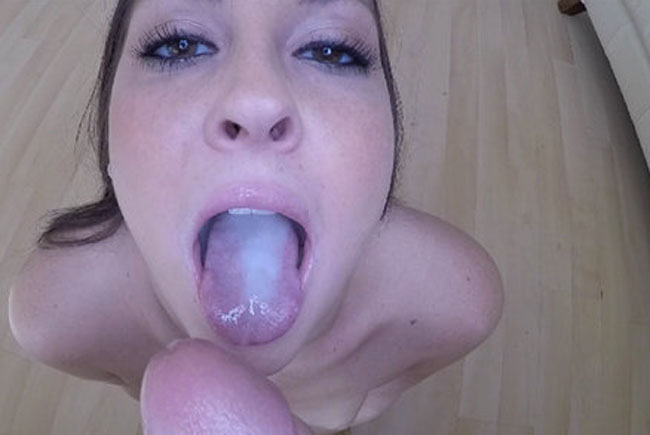 Design and features
LoadMyMouth is an outstanding porn site because of two major reasons. The first reason is something we've described in the overview, and it includes the awesome cum shots, cum facials and cum swallowing compilations that it offers. The second is that there is only one guy who engages his dick for the kinky pleasures of the bitches featured here. The guy is Brandon Iron, and his dick is no stranger to bitches sucking his rock-hard boner and swallowing his cum. The sluts aren't the regular pornstars you come across, and they are handpicked by Brandon himself, as he entices them to suck his dick and swallow his cum. And mind you, swallowing is compulsory. Thus, he gets to mouth-fuck first-timers as well as expert deep-throaters.
The homepage comes with a set of five scenes, but this is only a sample that is available to you. Altogether, LoadMyMouth boasts of over 950 cum shots and cum swallowing scenes, which can get your dick the necessary food for going erect and hard for a long time. Navigating through the pages is very easy, and you can quickly go to the page of your choice without any effort. Even in the absence of a search tool, LoadMyMouth is super-easy to use, and you can jump to the page of your choice in a jiffy, jumping back and forth by up to 20 pages, and there are 195 pages to navigate on LoadMyMouth.
The videos come to you in HD resolution and excellent quality. The pictures and videos are well-shot, and the action is awesome. Members can download the images and save them on their computers. All scenes are accompanied by photosets, with each photoset offering a good deal of photos, each being a screenshot of the video.
LoadMyMouth also offers exclusive blowjob, feet porn and dancing with the porn stars videos, which can offer you enough additional contents to jerk-off, as if there's no tomorrow. Your membership to LoadMyMouth is light and easy, and offers you free access to 50+ sites in the PornStarNetwork. The membership plans involve a one-day trial pack, a monthly, a quarterly and an annual plan as the regular plans. The annual plan is the best, offering you significant discounts.
Girls and videos
Every porn site is famous for the girls in its rolls, and LoadMyMouth is no different. This is the most interesting section of this review, because we will describe the sexy sluts who grace this exquisite porn site. The sluts are hot and sexy, and include the girls next-door, amateurs you find on the malls, traveling in buses, or in your neighborhood. There are professional dick suckers while there are others who are first-timers who are fresh into blowjobs, cock sucking and cum swallowing.
One of the compulsory aspects of the videos on LoadMyMouth is that the bitches must suck the cocks hard, and take the entire gooey load into their mouths, and swallow them gleefully. These goo gobbling bitches are ever ready to go down and get dirty with Brandon Iron's dick with amazing skill, till both are satisfied immensely.
The bitches are amazingly sexy, and can give you a great time jerking-off to glory. The sluts have naturally endowed bodies, which are not altered by any surgical means. Whether it is the amazing pair of breasts, or the pink cunts, hairy or trimmed or clean-shaven pussies, or tight asses, you will want to explore every sensual and erogenous zone of these bitches. But the best part of these bitches are their beautifully shaped lips and wet mouths that want to suck a dick like there's no tomorrow.
All videos begin with Brandon introducing himself to the slut or the slut coming to him and introducing herself to Brandon. The sluts are invariably scantily dressed, or naked, and are ready to spread their legs to show off their pink cunts and tight asses, or expose their exquisite breasts. After customary introductions, Brandon explores the sluts' bodies, spreading their legs, inserting his fingers into the bitches' assholes and cunts. The sluts are fucked hard in their asses and cunts, while they end up taking the dicks into their mouths, and give hard blowjobs and deepthroats, finally taking the cum into their mouths, swallowing them with immense satisfaction. This is the highlight of this awesome porn site.
Conclusion
LoadMyMouth is an outstanding porn site and you will love to follow every video that this exquisite porn site presents to you. With 971 videos in high-quality in HD resolution and tons of photos in high-resolution, you will want to watch more of it every night, till your dick runs dry. Affordable membership also provides you access to 50+ sites in the PornStarNetwork. Now, that's a deal you should not miss out on.