LethalPass review
m4rc0f
LethalPass review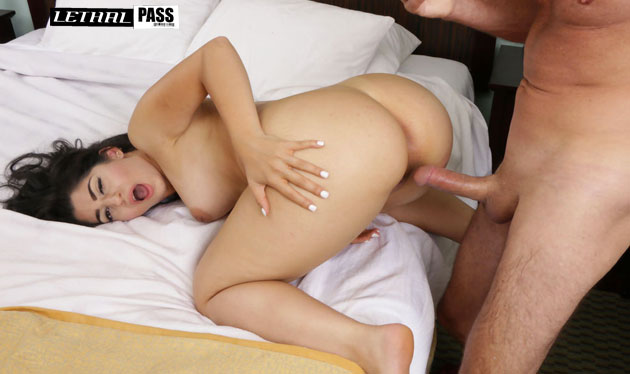 Positives
Hd videos Exclusive content
Site Overview
So, what do we have here? A pass with a strange name, that makes it look serious, and we go that far to say even dangerous. The LethalPass has a lot in store for you, and if you don't want to actually feel bad, you must pay attention to how much time you spend here. This warning is real, and by just opening the home page of the site you might get the drift about how serious this is.
The LethalPass is fun, sexy and it has everything porn-fan needs to be able to jack off and enjoy reaching the peak of excitement over and over again. On its own accord, the LethalPass has been online for over four years now, as it launched back in 2012. However, there is content dating far back in time, because some of the sites have been online before the network has been created. In fact, you are going to access about 10-15 years' worth of updates.
This is a fact which also foreshadows the varied video quality you will encounter if you care to join.
Regarding the frequency of updates, we noted that some of the included portals are not updating, but there are about 3-5 scenes added network-wide every week. These videos are exclusive, so you shouldn't be able to find them on any other, not PimpRoll-powered porn sites.
When you join this portal, you automatically gain access to those sites, which means you are going to get here quite a lot of hardcore fun, and a truly great variety of porn: there are sites with interracial sex, fetishes like swallowing, rim-jobs and there are reality themed sites too (e.g. stepsiblings' sex). Apart from the network content, a bunch of other things is yours too, such as access to the AdultDVDSpot flicks, live cams, and tempting discounts.
Design and features
This tube-like tour page is the average nowadays, and a site that keeps up with the competition must have at least something similar to what the mainstream big-shots use. Naturally, some customization is present, but it has been a long time since we saw a truly unique build. Never mind our whining, though, the site is usable, and that's what's concerns you the most at least we think so. To gather enough information about the porn inside, you have to rely on our word, and on the thumbnails, as there are no preview clips available.
Those who are looking for some good porn should give the site the benefit of hope, and after signing up, they will see that those hopes were well-placed. In case you are looking for some really juicy porn, the collection is going to be satisfying, and the access to it is quite easy. Everything you might need is placed at the top, where you can find the links which can take you to the models, bonuses and the videos' page. Also, there is a sites' list, where you can pick a name you find interesting. Those who have specific needs should use the search field (also on top).
There is a really fine variety of formats here, as the site offers you not just the regular MP4 format, but also a selection of others. This variety is mainly due to the fact that the videos have come from a decade-long range. You will find here WMV for example, but not the modern one, the older, 480p resolution ones – however, there are some more recent updates with HD WMV download options.
Basically, the Flash video format is the one that's still available, but it's really for the oldest scenes. As at almost every porn site, you can play the videos without downloading them, by opening them in the browser. The embedded player is based on Flash, and it gives you that fine playback you probably hope to get there are not many quality options, only SD playback is possible here. You should check out the outstanding photo collection too, as it grants a different angle of insight on the content. If you like a set, you can find a download option for it, and obtain it as a zip archive.
Girls and videos
The models appearing in the LethalPass videos are all gorgeous professionals, who have been doing their business with the site for a long time. But don't worry, the average age range is between fresh chicks and 40 years old ones, which means you are going to find here fresh hotties with natural bodies, and horny Cougars and MILFs with big fake breasts on their chest. These hotties are mostly US models, however, we've discovered some who seems to be European, and by looking at their names, our suspicions turned into certainty. We loved this variety because all of us found their preferences featured, which means that you are going to find a hottie (at least one) who fits your taste.
As the videos are coming from studios, you can expect some of them to feature a story, or at least a fetish-like situation, such as stepsiblings fucking, or girlfriends trying out lesbian sex. There are hundreds of vanilla hardcore videos, but we couldn't avoid noticing that almost every site or series of the LethalPass features some fetishist bits, such as interracial sex, cum-swallowing, rim-jobs for men, and gloryhole cock-worshipping. Some scenes are quite long, as they go on for nearly 45-50 minutes.
Conclusion
The LethalPass isn't just any old hardcore network, but it's one of the most warmly recommended one. It's not exactly a mainstream portal, which means you might find here models whom you've never seen before and after again, while it still offers the most popular niches and fantasies.
The level of kinkiness is also quite high, and if you love squirting or creampies, you can find some heavy scenes to enjoy and fulfill your fetish. The LethalPass is a recommended website after all, and it would be foolish not to give it a chance.
---
Looking for further info? Check these other porn review sites.