LesbianFactor review
m4rc0f
LesbianFactor review
Site Overview
There is nothing hardcore about it; the site explores the 'softer' side of sex. It's the gentle stroking of breasts and tender licking of pussies until they submit to an out pour of orgasm that makes it special. It contains sex movies that you would want to watch over and over again. If you are a man, masturbation is not off limits. It's completely acceptable to stroke you hard cock as you enjoy the sexual action with every passing minute. Lesbian Factor features real lesbian content. Some scenes have been acted out or modified in order to be more appealing. However, the girls on the movies are real lesbians. When you sign up for the site, you will automatically get free access to porn collection from the Frame Digital and Evil Angel networks. The site lives up to all its expectations, you will not be disappointed, most especially in regards to access to the sexual content. The number of movies is quite enough to keep you going. The content quality is also of HD version; therefore you can count on clarity that will guarantee you do not experience a blurry minute of the action. The content on the website is not updated frequently but when it is, you will have most thrilling porn movies at your disposal.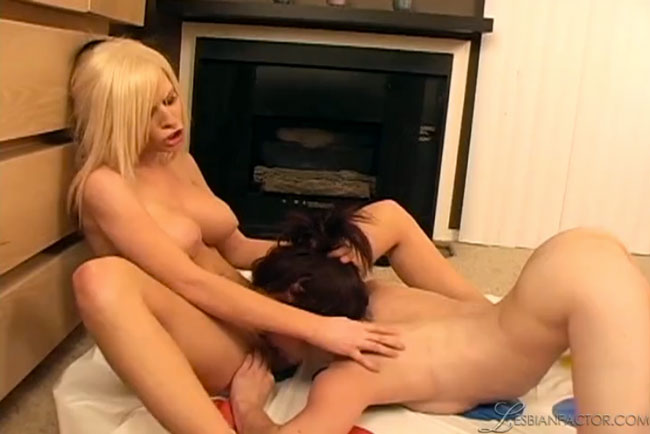 Design and features
Lesbian Factor has a good design where everything is sexually appealing. The site in its wholesomeness will immediately excite you. The pink color sparks up everything and makes the idea behind the website a very creative one. There is a lot of information about the lesbians and this makes the site a very personable one. There is a 'girl's category' that provides a drop down list of all the lesbians in action. The categories will also enable you to change your preferences in case you want to go for pussy licking or dildos in asshole scenes. The interface is equally unique in its own way even though navigation may be a little bit tiresome sometimes because of going back forth. Slow download speeds will not really be a problem when it comes to Lesbian Factor. The streaming speed of 2200kbps will make for fast downloads. The flash stream is completely reliable in all the download processes. To top it off, you can download the movies either in HD or low definitions WMV files. There are no download restrictions to prevent you from enjoying all of the horny lesbian love. The site has over 108 photo galleries, each that contain 50 pictures each. With all the high nude action going on, it's a wonder that there are not many more pictures in the gallery. On the other hand, there are over 234 movies for your ultimate pleasure and enjoyment. At any given time, you can choose to download the videos in Flash, MP4 or WMV format, depending on what suits you best. The movies also come in a mobile version. Lesbian sexual fantasy is most certainly a popular niche. Therefore, you would not expect anything less than a steady amount of viewers. It is especially more popular among many men. Lesbian Factor has many similarities with other porn sites out there. The only major difference being that this site specifically focuses on the passionate side of lesbian sex. This is because; most lesbians partaking in the action are in real relationships.
Girls and videos
Make no mistake; Lesbian Factor is all about sex and women who are passionate about each other. The women are very mature and have a lot of experience in the porn industry. There's no doubt that they have enacted the scenes very many times before. There are those with big tits and others with perky tits. Generally, there is a lot of diversity on the site. There are blondes, red heads and brunettes who do a good job of entertaining. The groans and panting will make the hair on the back of your neck stand up. The site doesn't have love fests only in two's. There are numerous threesome scenes as the women love spicing is coupled with tense orgasms. The shots of some of them having making love while others just fucking can be viewed from any different angles. The girls are certainly not amateurs. They have been at it for long time. The crispiness and color tunes are perfect through-out the scenes. Everything has a realistic outlook. The clarity of the videos is undeniable. You can never miss all the exciting moments of top-notch lesbian action. The 'I Screwed My Stepsister' movie pulled on all of my sexual strings. The women's perky breasts will absolutely make you wet. The fact that they change acts and fucking styles is what really got me. Two women fucking with legs up in the air while the other is busy rubbing her partner's pussy is very exciting. The women also dress in the most sexy, seductive clothes. The skimpy skirts and panties will keep your eyes glued to the screen even before the real action begins. They also dominate each other in the sexiest way. It is no surprise that most of the women always surrender just a minute of foreplay. Zoe Britton is the brunette porn star on the site that does it for me. Her perfect body made me wants to jump into the screen and fuck her while caressing her long hair. There is something Gothic about her because of the dark tone of makeup that she wears, which makes her a sensation to be reckoned with. She fucks her partners like her life depends on it. There are also fresh faces like Ginger Redd who brings new excitement to all the scenes. Her naughtiness will make you obediently watch. Some of the better covered Lesbian Factor categories include big butts, blondes and big tits amongst others.
Conclusion
Lesbian Factor is a great site for anyone looking for real sexual excitement-straight or not. It has a good choice of content and some of the most genuine dykes. There is no better way to explore pussy than through this site.