KristenBjorn review
m4rc0f
KristenBjorn review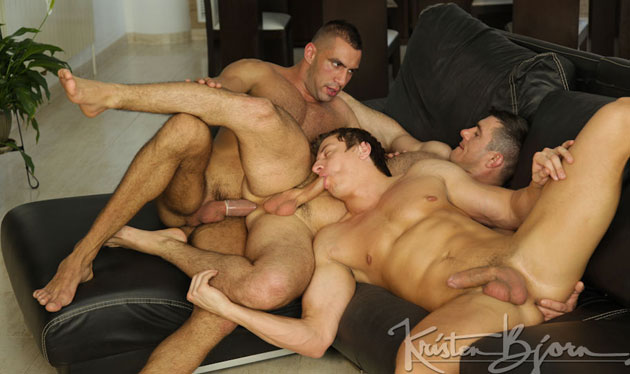 Positives
• bareback videos • muscles gays
Negatives
• no softcore • no asian
Site Overview
One of the best gay porn sites to meet the most valiant gay porn stars in the adult entertianment world, Kristen Bjorn porn website can meet your expectations without any problems. It is definitely a site worth subscribing to simply because the videos and photos here are all of high quality. Moreover, there are bonus contents that will improve your porn viewing experience. Kristen Bjorn porn site is the epitome of quality!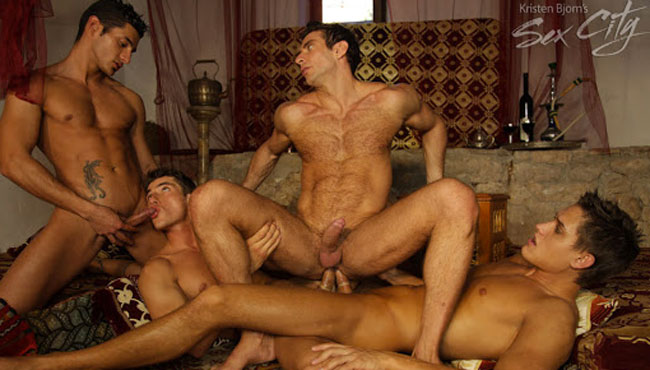 Design and features
As you are looking for a good gay porn website to hang out at, Kristen Bjorn porn site should come into mind. This is a site that has been in business for more than two decades. The said site is just the online extension of a popular DVD company dealing with DVD gay porns. It is through the efforts of popular director Kristen Bjorn that the porn site with the same name as him stands where it is right now. Looking into the porn site's layout and design, you'll be happy to see that they're well-designed. The layout is done so that people won't have troubles navigating around. It should be easy to find where the Home page, Video Archive, Photo Gallery, and Model Index are located. Links are placed conspicuously too so you shouldn't feel lost when you already have full access to the porn site. Aside from feeling happy with the optimized website design and layout, you'll surely appreciate the videos and photos in the archive. Starting with the videos, there are more or less 1000 vids collected in the video gallery.
The videos, the same with the photos, are exclusive to the site. Their playback quality is good too. It is up to you to stream them or download them. In case you want to stream the vids (which usually have a size of either 760×580 or 1000×580), you can do so through the site's in-browser video player. You can even watch in full screen. Downloading the videos is also possible but you are only limited to downloading three videos in a day. The size of the vids can either be 320×240, 640×480, or 1920×1080. The videos that are newly released usually have better quality than the ones released way back. Of course, there's also the photo sets. Currently, the site boasts of more than a thousand photo sets. There's a lot because these photo sets usually come in pair with the videos. Multiple photos are included in each photo set. The photos are categorized according to whether they are solo posing, group shots, or behind the scenes. The photos have varying sizes. There are ones with 400×600 size while some others are currently in their 1365×2048 size. Viewing these photos through the in-browser's slideshow is easy. Downloading the photo sets in a zip file is also possible. In addition to the photo sets and videos, you should also know more about the models.
There's a model index available in the site where you can read through a model's bio and stats. For those who are featured here in the Kristen Bjorn porn site, you have ones that offer complete details about their bio and stats while others withhold some information. Currently, you should be able to read more than 7000 model profiles here in the Kristen Bjorn porn site. The details included in these bio and stats include nationality, dick size, height, weight, and sex position. As long as you become a full member of the Kristen Bjorn porn website, you should be able to get your hands on at least two new vids a week. These new uploads are showcased in the home page. Lastly, look forward to the bonus content such as the model interviews, casting couches, and even the streaming bonus videos from different production studios like Titan Men, Falcon, and Lucas Kazan.
Guys and videos
Director Kristen Bjorn is not a popular director for show. His works are the evidence that props his name up in the pedestal of glory in the porn industry. For his works, he prefers to use amateur models. These amateur models are very pleasing to the eyes. They are mostly Spanish hunks from Barcelona and Madrid with gay tendencies and love to engage in bareback sex, threesomes, orgies, and blowjobs. You should be able to view them in the Casting Couch and Lover's Lane section of the site. The Casting Couch is mostly an interview like scene while the Lover's Lane is that of real couples getting it on. While you should be able to meet lots of gay models here in the site, you should still be able to find some straight men trying out gay sex here.
If you want to meet some of the studs here in the Kristen Bjorn site, then try searching for these models: Craig Daniel, Max Toro, Viktor Rom, Hans Berlin, and Letterio Amadeo. Aside from the models, try searching for popular vids here in the site too. Some examples of what you should search include Hungary for Men, Amazon Adventur, or Carribean Beat. Most of these scenes are shot in venues such as gyms, warehouses, country homes, condos, hotel suites, estates, and the likes.
Conclusion
As a gay porn lover, you will surely want to check out the site that gives the most value to your money. That is what Kristen Bjorn is all about. With Producer Kristen Bjorn in the lead, you can definitely get your hands on lots of high-quality hardcore gay porn content here. The models are good to your eyes too. They can make you feel hot and bothered all over as you watch them moan and groan in the pleasure of sex. Signing up to the Kristen Bjorn porn website should not be a big problem to you then.