JoannaAngel review
m4rc0f
JoannaAngel review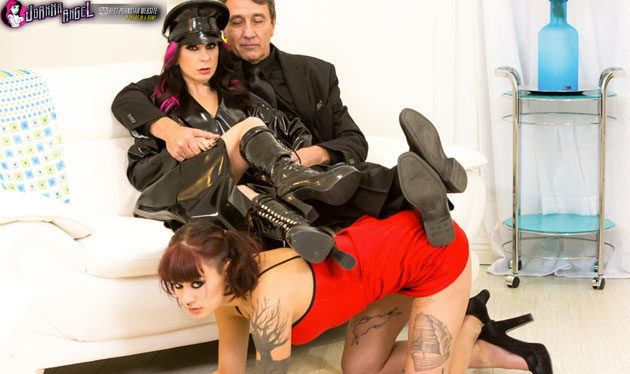 Positives
• weekly update • live webcams • best pornstar
Site Overview
Joanna Angel is a site that serves as an extension to Burning Angel's owner, Joanna Angel. Just like she describes it, it's the next best thing to carrying her around your pocket all day. The site does not only give access to the best of Joanna Angel's porn action, but it also features every aspect of her life, porn parties, behind the scenes shots and the best of tattoo girls sex content. The tattooed porn princess has always been a household name; she proves exactly why she is well known through the site. As having direct access to this hottie through her social media pages and blog is a dream come true for many of her fanatics.
The site is a one-way trip to the land of many orgasms. It also clearly shows that good porn does not always have to be about typical models; tattooed chicks also have a good footing in the business. Joanna Angel is not called a punk porn princess for anything, her great set of tattoos and hardcore nature spices everything up on the site. This is not to say that she does not rule out toy masturbation, sexy uniforms and costumes. This site is the whole package deal.
The Joanna Angel site is of decent site. There are over 250+ photo galleries and over 250 of Joanna's best movies that take front and center. Each and every scene steals the show by giving you the best of the porn star can offer. The content is original, unlike scripted scenes; she shows offer her best skills. It's obvious that the movies have definitely been shot in-house. The quality of the movies does not falter. Joanna Angel has embraced HD quality viewership on all of its content. Joanna Angel has certainly set the sky as her limits.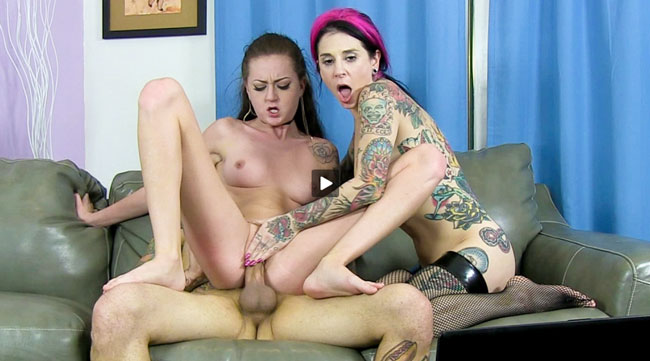 Design and features
Joanna Angel offers you the real gifts from porno heaven. With a member's area that is radical, it has a sporting design that makes everything look amazing. The black and purple color scheme is perfect for the professional feel that the site embodies. Membership means that you can also access any site on the network. Due to this porn star's status, you should not expect a half-functional site. All the elements are interactive, user-friendly and on flick. The site has a good number of advertisements that feature the best of Joanna's other works. You would think that this is a summary of everything that goes on in her life. The members' area has been upgraded to have a modern feel.
This only goes to show that Joanna Angel has the best in mind for her loyal fans. A quick look through the archive will show you that the site has a well-maintained update schedule. The previews are anything but dull solo scenes. The movies come with choices such as slew of formats and an option that will give you access to your mobile device. The excellent play back quality will ensure that you get the most out of this site. Despite the magnitude of scenes, making a selection is quite easy.
Girls and videos
The only girl to marvel at on this site is Joanna Angel. As a solo-site, she strives to show off her best skills. To begin with, she has a banging body. Apart from the tattoos, she typically does what ordinary porn stars do; the only difference is that she is exceptional in her craft. Generally, I always find a lot of tattoos unattractive on a woman, however, Joanna proved me wrong. She is all about her business. Her slender figure and full tits will cast a spell on you. In her nudity, she is all that you can look at. Even though some of her porn star friends make appearances in a couple of movies, she is still second to none. They are equally gorgeous and have well-toned bodies. .Joanna does not exclude many of her friends from the scenes. They are also hotties that will leave you horny and randy.
However, you can only catch sight of them when Joanna stars in threesome scenes, where she happens to be the center of attention. The additional porn stars are also tattooed beauties that represent what Joanna is all about. Through her numerous mingling scenes, you can tell that Joanna is quite social and personable. She also does not choose between hardcore fucking and pussy licking, she is open to anything with anyone who is ready to get down and dirty. She dominates most scenes with sexy costumes before getting down to business. When she wears thongs, you will not know what hit you. Joanna Angel's movies are tagged with creative titles and the upload dates. Some of the scenes are more graphic and others. Either way, she does a good job of holding her foot down.
In the movie, 'She looks familiar,' Joanna Angel, well known porn star, Nadia styles and their handsome partner in crime put on a threesome show like you have never seen before. The trio bumps into one another and tries to remember where they met. Everyone is horny and it seems like a good time for a fuck. Inside the house, they decide to get kinky by pleasuring their pussies and the big cock that was desperately seeking attention. Porn stars like Karman also make a grand appearance on the site.
Conclusion
If you thought Joanna Angel had made her biggest move by establishing Burning Angels then you need to take a good, long look at the movies on this site. She shines in every sense of the word and has the kind of confidence that is not easy to come by. Need I say more? Membership will be breezy. Do not waste time joining in the fun, sign up today!