JamesDeen review
m4rc0f
JamesDeen review
Positives
• hard pornstar • exclusive content
Negatives
• no amateur • no softcore
Site Overview
Now I've seen lots of porn stars do lots of kinds of stuff online, but I don't think anyone has reached the level of diversity as James Deen has. You see, this website, entitled Jamesdeen of course, is about porn and everything else! You'll see fans here, you'll see porn here, you'll see behind the scenes, play fucks, dude you'll even see some cooking here! I'm not joking man. This site is all about fun and intense hardcore.
And if you're a girl reading this, you might even get a chance to fuck him personally. Now other than the fact that he's an actor and a porn star, he's also a world renown model.
So we're gonna see a lot of hungry girls gunning to fuck this guy. Now, what I love about this site is how James does his scenes. Since he's a guy, he knows what we guys want. He knows when to do the hardcore stuff, he knows when to unleash that animal inside him, he knows when to destroy the pussy and give you that climactic hardcore ending! So I hope you're ready. This one's not gonna disappoint.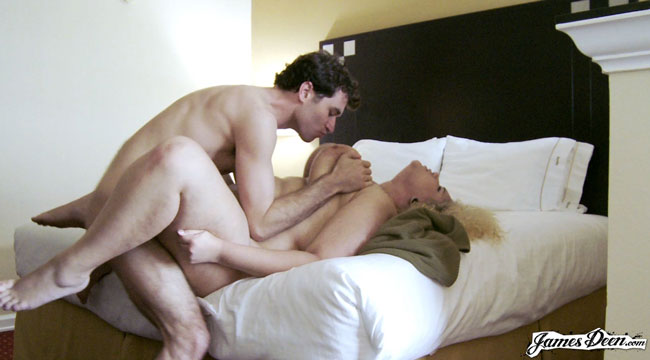 Design and features
So this site has a one of a kind homepage. From the very start, you'll be presented with the latest and hottest video thumbnail previews for each month. This is presented in a kind of slideshow flash type of animation. Really sleek. The site is also decorated with white themes. Back to the flash slideshow. These models that are fucking James are damn hot I'm telling you. They don't mind licking James in places you never could even imagine! Seeing this just makes things even more intense! you know what I mean? In the lower portion of the homepage you'll see updates off all sorts of categories in his page. But I would like to commend James for this one category he made.
Oh, sorry, did I say category? I meant PAGE. Yup, he made a whole PAGE for HARDCORE! I don't know if you get what I mean but in other sites, you only usually see hardcore as one of the search options or category, But in Jamesdeen. He made it an entire topic, or page if you will. So you'll be enjoying all kinds of Hardcore in the main Hardcore page. I know that's what men really enjoy. That's why I'm giving Jamesdeen some huge points on this one. There are also updates for amateur videos, fan fucks and a button that says APPLY NOW. I'll explain more about it later. Now on this other page you'll see in one of the main pages up there called FREE. Now I know most of you are skeptics when an Official Paid Porn site talks about FREE stuff, ESPECIALLY now that there's a page that says FREE on it. You might be thinking, "I don't believe it, I'm sure those videos are just short ones or previews", some would even think "this is just one of those teasers to get us to register and pay them valuable money".
First of all, there aren't a single review you'll find on the website that would say anything negative about this site. Second, IT IS TOTALLY FREE! I wasn't talking about the entire site; I'm just describing the page that says FREE on it. In this page once you open it you'll see categories such as Behind the Scenes, Between the Two of us, Photoshoots, and even Free cooking porn. All these videos vary in duration. Some last for 8 minutes while others last for more than twenty. The content is just crazy. I mean it. You'll see James cooking stuff in a really sexy manner. I know what you're thinking ladies, but before you race off and open it, hear me out on the other contents of the FREE page. You'll also spot some behind the scenes conversations and even some extra fuck sessions. I mean it. Some of these hot girls would just let James fuck them all over again. So the producers would go just like, hey why don't we just film it? And then there you have it, free contents! It sounds crazy but it's true!
There are also practice porns on this page and some awesome photoshoots! I'm loving the photoshoots by the way. Now we have our Apply to fuck page. Girl, it doesn't matter if you're busty, from other countries, or even a simple girl on the street! James would love to have scenes with you wherever you are! On this page you can actually send James your address, your complete biography and a simple photo of you. No need to add some filters or other stuff. James would just want to see the REAL YOU! Now that's a fantastic guy right there! Well I guess we've talked about most off the stuff on the website, let's check out the models!
Girls and videos
The women on Jamesdeen are exactly what you've expected and more. This guy is getting lots of letters and calls from celebrities and porn stars alike my friend! No joke! You'll even see some of your favorite porn stars being fucked the way you like on his page! But what would really shock you is, remember when we talked about James giving his fans a chance to fuck him? Well he actually POSTS IT ON HIS SITE!
That's freaking awesome! Authentic legit amateur fuck from the fans themselves! You'll see all these on his Hardcore page! Try and open it dude! You won't regret you did! The video count also reaches the thousands and all videos are on HD!
Conclusion
I've been watching porn all my life but I have never stumbled upon a porn site as complex and as crazy as this one! I actually fell in love with it the moment I saw the fan fuck sections! So basically James Deen is the main man on this site and you'll see him fucking all these wonderful and amazing girls JUST THE WAY YOU WANT IT! Hardcore and everything is all here! Enjoy guys!