HappyEndingSpycam review
m4rc0f
HappyEndingSpycam review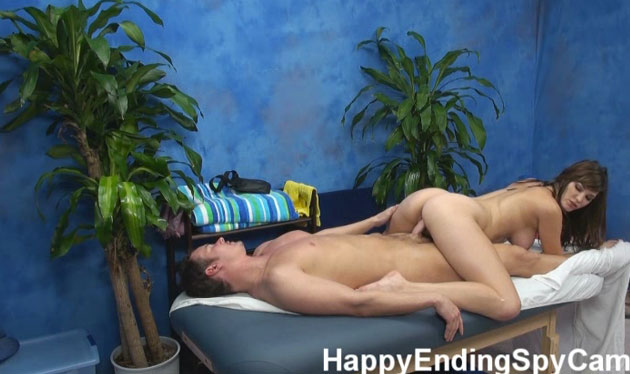 Positives
• hot massage • hards blowjobs
Site Overview
While porn has started getting more and more mainstream, people have started to realize that there is a lot that can be done. The mainstream sites have started to create videos that are pretty basic with standard positions and a stock storyline, but some of the more intriguing porn rests in the hands of special websites.
One such website is called HappyEndingSpyCams.
This site is one of the sexiest on the internet because it is fantasy based. When you watch porn you usually want to see one of your fantasies fulfilled, and if you have ever had a sexy woman give you a massage odds are that you wanted her to fuck you as well. There is just something so erotic about the way these girls make you feel relaxed, the way they make you feel good. If you can't control yourself during these massage sessions, then this site is most definitely for you!
An interesting fact about this site is that it is actually not all that expensive. When you start to head into the realm of special websites that offer higher quality porn, you usually end up getting ripped off because they are so utterly expensive.
However, when you sign up for HappyEndingSpyCams you are going to be amazed by just how cheap this site is. It is without a doubt one of the best porn sites on the web as far as price goes, but does that mean that the porn drops in quality?
In order to ascertain whether or not the porn on this site is up to the mark, this review analyzes the site and presents, in detail, what can be seen if you really go in depth into what this site has to offer.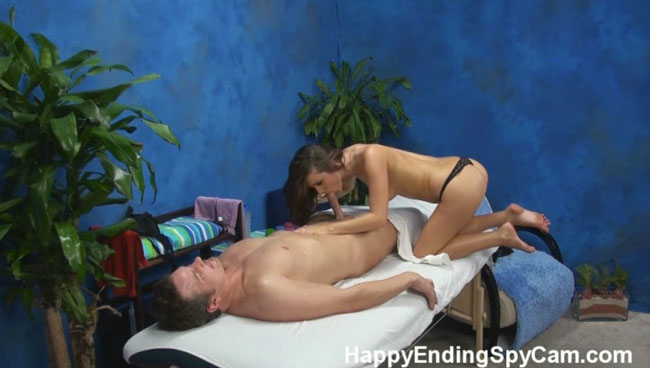 Design and features
The layout of this site is very sexy indeed. You are given a lovely view of some of the videos that this site has to offer, but it is the arrangement of these suggested videos that is really commendable. The reason that these videos are so well presented and nice to look at is the simple fact that the creators of the site have spaced them out well. Instead of a grid of as many videos as possible, this site has provided about a half dozen select videos on the main page. This is to give you a nice choice as far as variety goes, but not too much choice because that can end up confusing you. The variety is provided in the videos section where it is much easier to go through each and every thing that this site has to offer.
The previews that are shown are pretty much perfect. You see a large thumbnail that shows the actress taking her clothes off, a description of the video itself, and you have a profile pic of the girl as well so that you can get an intimate understanding of the way this girl looks. This helps to make the porn a lot better than it would be otherwise, because when you go into a video you go in expecting something that will actually be provided. You don't have to choose your videos hastily at all, instead you can take advantage of this sites excellent layout and make an informed decision.
The highly streamlined color scheme of the site is also a very commendable aspect. When you actually get into the site, you will start to feel like you are in a high end environment, and this is simply because that porn that is provided has been provided in a grey context, and this grey is a very sexy color indeed.
Girls and videos
When the girls in the videos that you are watching are not as hot as you want them to be, it can result in a very bad viewing experience for you overall. Instead of getting horny you will end up feeling frustrated and would not want to watch the videos that this site has to offer. One thing that really stands out about HappyEndingSpyCams is the girls that are in the videos. They are unbelievably sexy, and they do not have the sort of standard porn star look either. They look enticing and slutty, but in spite of this, they seem real too, they give you a sense of being a part of the universe of the site, as if you are the one that she is pleasuring instead of the guy in the video!
The women in these videos are absolutely stunning, so much so that you are not going to be able to believe your eyes.
As for the acting, the girls really make you believe in the story. They are filmed secretly so they do not feel the need to pretend at all. They just genuinely get horny when they see a hard cock, and they want in on that action. The sex is marvelous, with some of the most natural orgasms that you can find on the internet. Without a doubt, this site has managed to create an ambiance of realism within its domain, and this is something that not many sites are able to do at all. It's all because of the amazing girls that have been chosen to represent the videos in this site!
Conclusion
In conclusion, if you are looking for something that is naughty and something that fulfills some of your wildest fantasies, you are going to love HappyEndingSpyCams. This site has gorgeous girls, some of the best in the business, and the effort that the site has put into casting these women is really going to be appreciated when you are exhausted after jerking off so much. When you take into account the fact that this site is almost unbelievably affordable, you are going to realize what a bargain it is to subscribe to it.
---
Looking for further info? Check these other porn review sites.