GirlsInLove review
m4rc0f
GirlsInLove review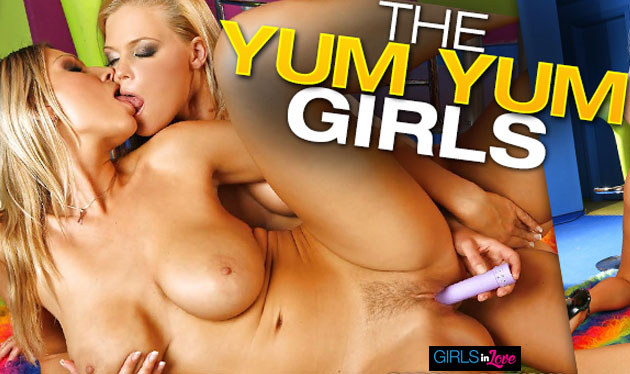 Positives
• hd movies • excited lesbians
Negatives
• no men • no softcore • no live shows
Site Overview
It is not a secret that female porn is the very best. I mean why would it not be? Girls In Love is an erotic, emotional, and sensual site. It is clear that the girls who are shown in these flicks are not here for their singing skills, they take matters of pleasure seriously. There is time for everything. As you may occasionally enjoy rough, hard fucks, it is great to break the monotony with some great acts of satisfaction. The models will really make you appreciate all of the sexual skills that they portray on your screen. This is exactly what passionate lesbianism and lesbian acts of pleasure are all about. Girls In Love is an example of a site that takes soft erotica to the next level. It comprises of great amateur girls who are not really afraid to show what their bodies urge them to do in order to get pleasure.
If you like real couples, solo play or beautiful girls who are enjoying what their nookies have to offer, then you will definitely find the best sexual encounters here.
When it comes to beautiful and erotic porn, Girls In Love will not fail you. It will ensure that you always have something to look forward to. Aimed at showing you empowered girls enjoying their sexuality, the good quality porn in Girls In Love lets you know that the fresh-faced niche has not been beaten to death.
The kind of coital pleasure that you will witness on the site are not your sexual 'Wham-bam-thank-you-ma'am' encounters. They are interesting, fresh and naughty in all senses of the word. As a site specially made for women by women, Girls In Love also invites men to the parties. After all, true enjoyment here is inevitable.

Design and features
Girls In Love has nothing less than a welcoming design. As soon as you log in here, you will realize that you are home. The black and white background is for the sole purpose of capturing your attention. It ensures you will be highly fixated on the content without any distractions that may come your way. The 'latest updates' are the first part of the site that you will be able to explore, showing you that Girls In Love indeed harbors a growing collection. Right after this comes various videos that have been uploaded on the site. From the look of things, the collection is quite interesting and you will most definitely have a blast here.
The videos are well- tagged with eye-catching titles. For instance, 'The devil and Mrs. Toes' does not give too much information about the action that you are about to see but you will have an idea that foot fetish action will also be begging for your attention. If you love long legs that are adorned in stockings then you will have a good time here. Apart from the great titles, the fucks on Girls In Love also comprise of the model names, the number of views, the run-time, and category. Most of the videos run for a total of 20-26 minutes, giving you enough time to enjoy what is on offer.
There is also a 'Most Popular Pornstar' category that enables you to know much more about the models who will be entertaining you. As on any other adult platform, you will also be faced with choices to sign up or log in. From what you are reading here, I have the feeling that you can't wait to check out this site.
Girls and videos
These are probably the hottest models that you will ever find on any adult portal. Some of them are a bit famous while others are simply getting their feet wet by making a debut on your screens. There is simply nothing to complain about as far as these beauties are concerned. While they may all prefer to be pleasured in a different way, the commonality between them is that they all are exceptionally beautiful and it does not take much to fall in love with what they are dishing out. You will also fall prey to their big boobs, as these models have proven that silicon is the way to go. Their cushiony chest will only make you feel like there is one thing missing- a sexy lullaby.
There aren't any big cocks to be ridden here but the girls surely will make the most of their wet pussies. For instance, Chintia Flowers and Michelle Monaghan put on a show like no other. On top of a pool table, they showcase their naughtiness in the most incredible of ways. Chintia, who is more aggressive gets on top of her girlfriend Michelle and kiss her until she surrenders. The blonde and brunette prove that there is nothing hotter than two women on the heat. They are not afraid to push the limits if they have to. They do everything to make you entertained in the very best of ways.
On the other hand, Valentina Rusiini and Rihanna Samuel are a bunch of curious fresh faces who are enjoying exploring each other's assholes. As they do it, they maintain eye contact with you proving that they know exactly what you want and will do anything to give it to you.
Conclusion
There is no disappointment here; the girls on Girls In Love seem to be truly in love. You will not be disappointed by the nature of the content because the network behind the site has ensured that all you see here is truly worth your attention. As we all know, girl on girl action is the most exciting type of porn and as such, you will be excited by what each and every episode that this site has to offer. The kind of selfless passion here is truly out of this world.