FuckingMachines review
m4rc0f
FuckingMachines review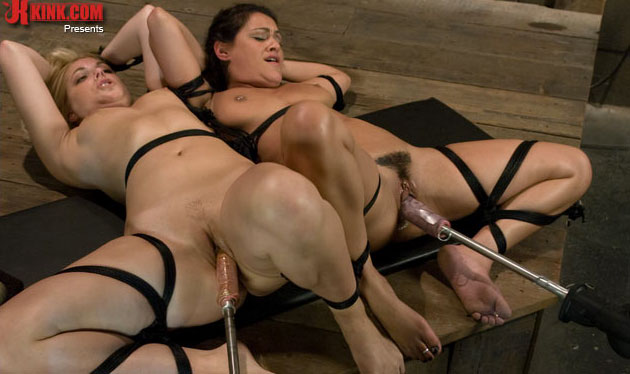 Positives
• live shows in HD • amateur girls • extra content
Negatives
• no pornstars • only fetish videos
Site Overview
A lot of times, just watching good ol' regular sex can get boring. There usually comes a time when you have watched a lot of porn movies already that you get tired of the usual scenes and routines, and don't worry because we go through that as well. If you are in that stage of your porn life right now, then we have a surprise for you. Allow us to introduce you to something new: where girls don't get pounded by men. They get fucked by hardcore equipment and different machines. Hence, the name of this site is Fucking Machines. Following the tagline of the site, Fucking Machines is where "hot girls, fast machines, (and) epic orgasms" happen. Other porn sites in the channel are Everything Butt (obviously for those who love anal sex), Foot Worship (dedicated for people who have feet fetish), and Ultimate Surrender (where hot women wrestle), just to name a few. If you have a weird fetish, you will probably find it here so we invite you to explore the network and see for yourself.
The Kink Network started way back in 1997 so it has established its collection and porn sites already. The archive is massive as well, so we also need to look into that further. Speaking of numbers, Fucking Machines alone contains more than a thousand shoots or scenes, almost six hundred hours worth of videos, and finally, more than a hundred and fifty thousand high-quality photos. If that is still not enough for you, then the site offers four new scenes every Wednesday, and a live show every Friday, both guaranteed to be in high definition. If you want to experience the action, it is required that you sign up for membership though. Exclusivity is one of the priorities of the site. Sure, other porn sites label their videos as exclusive, but a lot of them just provide you a chance to view the scenes before they get released on DVD a few months later. On Fucking Machines, and the entire Kink Network, you'll only get to view their videos here and you won't find it anywhere else, even on DVD. Allow us to provide you some information about the membership options. There are four premium account options: a month, three months, six months, and a year. Signing up for one of these will grant you access to all the site's videos and photos, the latest updates, and the live shows. Finally, you will also get to participate in the forums.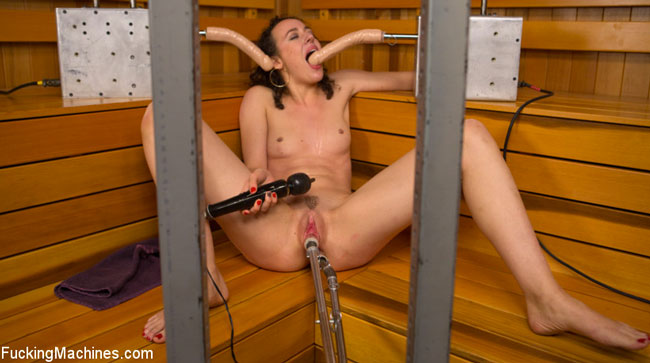 Design and features
The website design is in a sleek blue theme. The layout is really simple as well. Upon landing on its homepage, you will get to see a big preview of the latest video. They offer five free previews to those who are not members yet. Scrolling down, you will get to see the other videos. One thing that we like about the layout is that you get to choose how to see the videos. There are different views available: all, full, brief, gallery, and feature.
The thumbnails are really helpful and they contain some important information about the video. Here, you will be able to see the date when the video was uploaded, and the model starring in the video. Of course, the title is also included. The title already gives you an idea of what the video is going to be like "All Natural Blonde Bomb Shell Does Anal and Screams For More!" Finally, you will see a five-star rating along with how many viewers have voted already. Another nice thing about the site is that it's proud of its speed. Their servers are ridiculously fast that makes downloading and streaming easily at speeds up to 360 RPM. Well, it's not surprising since the porn site does value technology right?
Girls and videos
There are basically two types of girls in this site: established porn stars and first-timers. The porn site does not necessarily focus on a certain type of aesthetic or nationality, so you get a nice selection of everything: from blondes with tight pussies to Asians with unbelievably big boobs. Fucking Machines got them all. While it might be a natural thing for us to always check out the famous porn stars first (because they have a lot of those here as well), we suggest you watch the new stars first, for a change. They have scenes where they feature amateur first-timers auditioning, so more or less, it's their first time on camera.
These ladies don't know how to act yet so you are a hundred percent sure that they are not faking any orgasm that you'll be witnessing. Not to mention that they are also given full control with the machinery. Yes, that is right. Fucking Machines allow these girls to pleasure themselves fully while they get it all on cam. One of our favorites is the video starring Valentina Nappi. The brunette beauty got fucked hard in her ass all day! How she last that long, we will never know, but it is truly unbelievable how she got to stretch that hole with the size of the hard machine that was pounding her faster than any human being can.
Conclusion
Overall, Fucking Machines is a real must-see for those who are looking for unique porn sites to watch. It is also highly recommended to those who get turned off watching other people's dicks you won't see those here! All the videos star only girls, giving in to the out-of-this-world stimulation brought about by these amazing machines. Another thing worth mentioning is the studio. It is very true to the theme. It actually looks like an alien space ship. It is a nice touch that shows you that the network truly cares for their craft and their viewers.
---
Looking for further info? Check these other porn review sites.