FootsieBabes review
m4rc0f
FootsieBabes review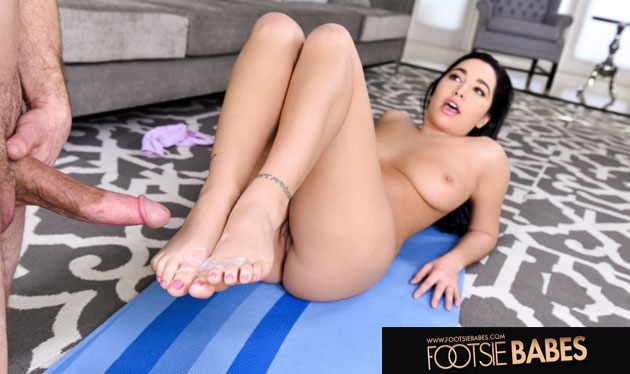 Positives
• famous pornstars • fetish content
Negatives
• no softcore porn
Site Overview
Most horny women really love their boyfriend toying their feet while having sex. While other girls really love their men doing that before the action begins. Indeed, guys would do anything to turn on their gals and I am so sure about that. Before making love, some dudes will kiss their girlfriend's foot nice and slow. Moreover, dudes love giving their penis a rub using the girl's feet. This kind of arousal technique is called a fetish.
It is enjoyed by both men and women when making love. In fact, women love a foot massage, foot kissing and rubbing while or before having sex. Seeing a gorgeous girl railing the guy's huge dick using her feet is exactly what you'll find at FootsieBabes. In here, you will find lots of fetish hardcore porn scenes with overflowing crystal clear images and videos.
Design and features
FootsieBabes brings high-quality hotties from softcore to hardcore fuck. It includes sucking, fucking, and most of all, foot worshiping. Perhaps you heard about lots of techniques when It comes to the art of sex. There are boob jobs where the girl will use her boobs to ejaculate the cock, an ass job where the girl uses her fine kinky ass, and the one and only blowjobs. But, you ain't seen nothing yet. As mentioned the site features foot worship like sniffing, sucking the toe, kissing and rubbing. There are also lots of straight hardcore minus the feet. But, all in all, the site brings your pornographic experience to the next level of fetish sex. The first thing that I notice about the design is that there is some kind of gobbledygook. I really don't understand if I'm at the homepage or not, since the site features lots of ads and links.
I have to click the link Footsie in order for me to get into the actual site. Anyways, there are over than 400 videos with 30 minutes each streaming and ready to be downloaded at embedded formats such as Flash and MP4. There are 500 galleries where you can see more than a hundred images featuring the most sophisticated fuck scene that includes feet. The videos and images are well organized, well categorized and good looking. Yet again, the links and the ads are still available on the right side of the main menu where it will take you from their bonus sites by 21Sextury Network. There's another menu below where you can access the actual site of FootsieBabes with exclusive content. At the top of the homepage, you can see the remainder page where you can see their up to date scenes and news.
The images feature foot jobs with long-legged hot chicks and most of the models are blonde chicks, sizzling brunettes and Latina beauties. So, aside from foot licking and sucking, there will be ass fucking, blowjobs, love making on the couch and everything under the sun that features sensual yet hardcore sex that involves feet. I never knew what to expect when watching some videos. All I know that the sex videos include tender tootsie sucking and licking. You'll see lots of footwear such as shoes, sandals, and high heels. There are some pouring oil or lotion to the foot as well before the action begins. There are some videos that the dudes use their foot to pleasure the models by jerking them off with their foot.
Girls and videos
I'm happy to tell you guys that there are lots of selections you can choose. It really does not matter if you are looking for a long-legged model, slender, or dainty. Apparently, it seems that the site has them all, I also found a scene featuring few girls with flat feet. It's like a sexy chicks' feet paradise where you can make the most of out of them. One thing I love about this site is that the designer manages to combine hardcore action and sensual feet love making. The site focuses on what they are up to and that is featuring too much sex and too much fetish. Indeed, you are going to see lots of models get their pussies and asses fucked by huge dicks and their holes are kinky and sweaty. The camera guy did a wonderful job and not neglecting the women's feet even there is an intense action. Regardless if the girl is riding the dude doing the cowboy stuff, reverse cowboy, or just fucking them from behind.
All the scenes will deliver the sole and toe into close-up shots. The lack of background music is really helping me to focus on the action. It's like I'm hearing more sound through my eyes instead of my ears. There are only a few dialogues on the scenes. Moreover, they (the models and the lucky dudes) actually made a good job by portraying their characters. I've seen lots of dudes that worships the gal's feet. But, there's a particular scene which I love to watch the most. Instead of the guy kissing the girl's nice and smooth foot, this time, it's the girl who kisses the guy's foot. She licks it nice and slow, sniff it a lot, suck the toe and even lick the entire foot of the guy. After doing so, the foot worshiper becomes a dick worshipper. She sucks the life out of the dude's dick literally and kissed the balls. What's really entertaining about this video is that the dude is actually doing nothing at all. In fact, the girl did all her efforts in order to unload that warm jizz of his. Now that's more like it!
Conclusion
The site is ideal for horny guys and even gals who appreciate the sight of a fine woman's feet. Needless to say, it's a site that features jam-packed hardcore sex that involves foot worshipping. The site is well organized as they feature their latest fuck scenes with weekly updates and provide multiple bandwidth formats. The site alone would be enough for me to satisfy my cravings. But, the additional bonus sites and perks what makes all my money's worth.
---
Looking for further info? Check these other porn review sites.