FlowerPanties review
m4rc0f
FlowerPanties review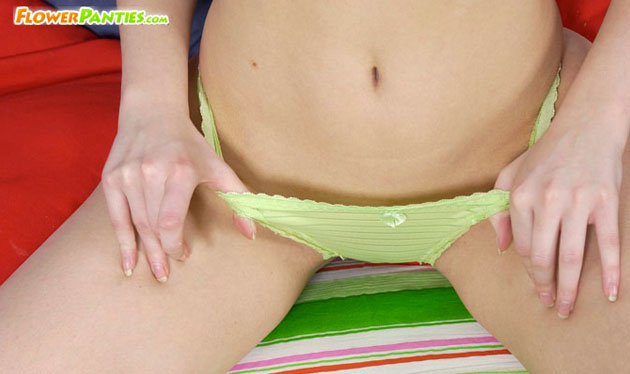 Positives
• bonus sites • hd videos
Negatives
• no recent updates
Site Overview
When I first stumbled upon porn, I admit I was quite aroused at how they made the women pose almost nude. Their styling and photography was a form of art that was classic. I would save up my allowance and stealthily purchase any men's magazine that featured these lovely ladies. But now, you do not see them often anymore. Saturated by internet porn and how incredibly accessible it is, all the romance in adult porn has gone and just been replaced with cheesy seven minutes in heaven kind of deal. As a porn connoisseur, this saddens me greatly.
So, I take it upon myself to look for the best porn that porn connoisseurs like me are after. In my search, I not only need to find the good porn, but I need to find quality good porn that is not all wham bam thank you Madame. Luckily, I stumbled upon this dainty and enticing website called Flower Panties. Flower Panties is a voyeur website that not only gets sexy, but erotic as well. It is a rather refreshing take than the delayed gratification porn that is rampant in the porn market nowadays. Dive into a world of erotica and fulfil your every panty related fantasies at Flower Panties.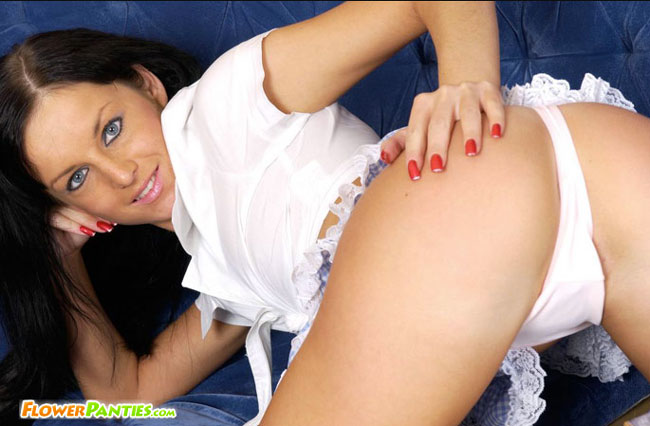 Design and features
As the name implies, Flower Panties' main focus are cute girls showing their lacey underthings along with some sexy stories guaranteed to make it one steamy night for you. As the website boasts, most of the girls featured here are fresh and nubile ones. Most of the girls are amateurs and first-timers, but all are willing to show everyone their lingerie collection on their round bottoms. But the beautiful part of it is, how this website romances you like a real person. Flower Panties is a type of erotica porn where they do not just get down to business, they have a physical conversation. Girls often submit steamy sex stories that majorly revolved around their underwear and if you are lucky, you get to see the ravenous damage done to their delicates.
There are at least 1,400+ erotic stories uploaded online for your reading pleasure, all ranging from sweet, innocent encounters to lusty and intense one night stand in a fancy hotel. One story features this sweet girl. Her lover's cock was rubbing against her damp underwear, so hard that it pierced a hole and in the end, it was torn off her wet pussy and stuffed in her mouth to stifle her loud moaning while they proceed to make deep, sweet love against a wall in an alleyway at a crowded apartment area. But erotic stories aren't the only services they offer, in fact the three main features of this website are its exclusive content, high definition videos and bonus websites.
Flower Panties makes it their best to have their content be exclusive to their website only, and cannot be found anywhere. They have a team dedicated to keeping their content as unique and exclusive as possible. Why wouldn't they, especially with the second feature which is high definition videos? The videos can be viewed in glorious high definition either online or offline and if you live in an area with slow internet, you can opt to view the videos in medium or low resolution. If that doesn't get your panties in a twist, Flower Panties will give special access to their 15 bonus niche websites such as Pee Hunters, Plump Mature, Cuties In Tights and a dozen more websites, all for free! If you think that is good, wait until you see the girls and the videos.
Girls and videos
The women in Flower Panties are a bevy of beauties, all ready to show their plump rumps laced in the finest of ribbons and silk. Featuring the bustiest of brunettes, ravaging red heads, and beautiful blonde, these nubile girls will show you a good time and tell you their sexiest conquests. In the "Movies" tab, your will fine at least 100+ videos of girls ranging from solo masturbation, sex toy play, some stripping, and the occasional lesbian action. Additionally, under each of the girl's preview picture is a number, this signifies how many movies are related to this girl. The numbers vary but I have seen as much as 6 movies per girl and that's quite a lot.
The best part is the unlimited streaming and downloading. Yes, you read that right, all are unlimited. Unlike other adult websites, Flower Panties will not charge you extra for unlimited streaming or downloading. As if that wasn't enough, Flower Panties threw in a high quality high resolution photo gallery as well. There are at least 300+ photo galleries containing a minimum of 50 high resolution pictures of our lovely ladies. The pictures are downloadable as wellm either individually or as a set, packaged in a neat TART file, which can be opened with any ZIP file reader.
Conclusion
When I first looked at Flower Panties and its reminiscent80's color theme website, I thought it was a scandalous scam. But as a porn connoisseur, I knew better than to judge a book by its cover and man, was I wrong. They have exclusive content, high definition videos, huge image galleries, unlimited streaming, unlimited downloading, and to top it all off, they give you access to more than a dozen adult porn websites. Their content may not be a huge library, but it is a manageable and intimate collection that will make your personal time more sensual and relaxing, compared to the fast-paced "cum now" videos they post online.
There isn't anything wrong in videos of girls getting banged like animals, but it is a little refreshing to see cute girls being coy and innocent with their first foray into the porn industry. Flower Panties' tagline is "All the panties you can image. Cum satisfy your dreams" and right now, my dreams have cum true.
---
Looking for further info? Check these other porn review sites.