FemaleAgent review
m4rc0f
FemaleAgent review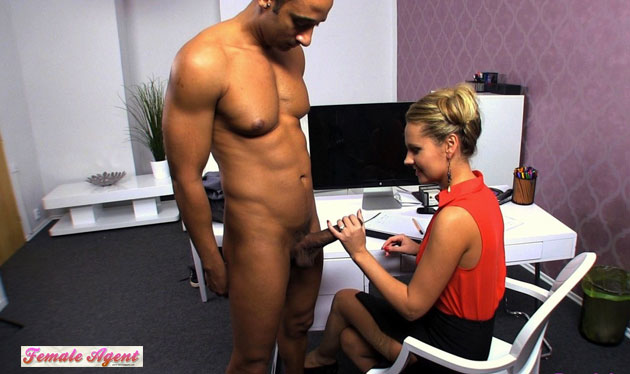 Positives
• free video • pov scenes
Negatives
• no threesome action
Site Overview
Do not only expect to watch hot studs in action, female encounters are also not out of bounds. FemaleAgent is not your random casting site; instead, it shows what female domination truly means. It got me thinking, how amazing would it be if I went for a casting call where agent supposed stripped and asked me to fulfill all of her sexual fantasies?! This site is the closest that I have gotten to this. This site gives you a lot to speak of. The sexual scenes that are shown on the site are truly one of a kind. For the first time, the ability to fuck, eat pussy and suck boobs is what will put them on top of the roster. The site may offer a really simple premise but it works really well. You do not have to look further to find memorable sexual encounters. Launched in 2012, Female Agent is the combination of hot fun, pleasure and everything in between. The sexy, agents Silvia, Celine and Cynthia will bring to you scenes that will live up to all of your expectations. The site is under the Really Useful Ltd and gives access to 22 bonus sites. FemaleAgent is also fully accessible with membership to Jim's Pass. The site may not have any images to show, but it has 292 scenes to boast of. The fake porn audition gimmicks do their best to embody what happens in real life situations. There are HD videos that guarantee you of the best viewing clarity of all times. The updates are made twice per week, and this keeps the content coming. Even though these are just gimmicks, the amateur costing content is 100% genuine as well as exclusive. There couldn't be a better way to show appreciation to a casting agent even before you get the job they are qualified enough to know if those auditioning are truly entertainment FemaleAgent reminds us why adult porn entertainment matters.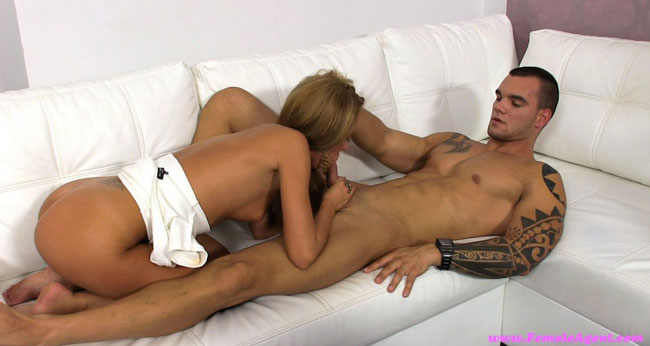 Design and features
Everything on FemaleAgent comes across as highly natural. It may be hard to believe that these gimmicks acted out. The scenes begin with a couple of interviews and a few chats before the raunchy action begins. It doesn't matter whether the models have heavy accents; there are subtitles that will explain what they are saying. When you log in, you will find yourself amidst the content. First, you will not be able to see few advertisements from the Really Useful Ltd. Sometimes they may be too many for your liking, but they will certainly not destruct you from enjoying the content. You can still freely go from page to page in search of the scenes that you want to see. There are sample pictures and scenes that will give you lengthy descriptions. Downloads are in WMV, MP4 and MOX formats. The scenes are very large in size (up to 400Mbps). For forty minutes or so, you will be able to relish in the company of these horny agents while they are doing the nasty. The movies provide crystal clear images. To top it off, the site comes with multiple viewing options to ensure that you access the videos in the way that you please. Everything is accessible by way of clicking.
Girls and videos
The hotties on the site are most definitely hot and they are in charge. This will result in the most pleasant viewing moments. As those auditioning are amateurs, you can expect a mix of professionalism and a little incompetence. This makes all of the scenes highly unpredictable as you will not know what you will be able to see next. The agents are good looking Czech models who prove to have greater skills than those auditioning. Apparently, they do not call them agents for nothing. All the models are highly sexy, regardless of whether they pose as the agents or those that are auditioning. In the video, 'Fit redhead likes her hair pulled', you will be able to see Chrissy, a bonafide cool chick who has long, beautiful red hair and a care free attitude. When she notices the agents stealing glances at her and, making advances, she gets really excited because it seems like she has not had sex for a long time. The video starts off with strip teasing and then goes on to a lot of pussy eating. Chrissy's pussy is eaten and licked without any inhibitions. The two naughty chicks then get into doggy style position. When they get tired of this, the agent lies on the couch with her legs widely spread apart. Her clitoris then becomes the subject of desire. It is licked to an untold orgasm. You will enjoy every minute of this action. Fucking by dildo is not also out of the equation. The agents are into sex toys as they are into big cocks. They are already dressed in sexy costumes. This shows that they obviously came prepared for the part. Even the full on sex scenes are truly epic. They will begin with blowjobs and the rubbing of balls and culminate into rough fucking encounters that often end in gag or cum shots. On FemaleAgent, anything goes.
Conclusion
FemaleAgent has the best exclusive content that you will ever find on the internet. It introduces a new niche of porn that has not been fully explored. The videos have varying specifications but this means that you can always enjoy videos that are naturally filmed. The entertainment that it brings is one of a kind and this will culminate into the best sexual experiences that you have ever been part of. The site is highly recommended.
This site is no longer active, find other great pov pay adult sites!