ExtremeGangbang review
m4rc0f
ExtremeGangbang review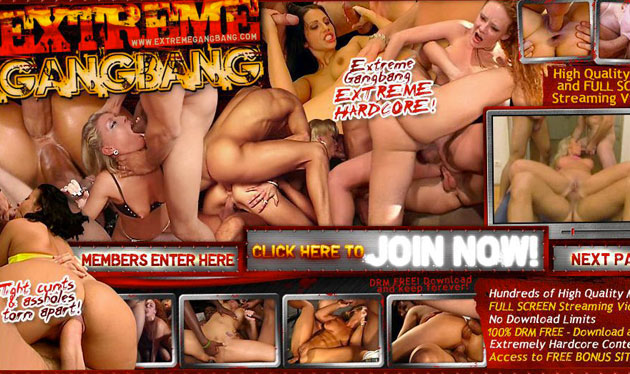 Positives
• hard actions • streaming videos
Site Overview
There are lots of gangbang porn sites out there, however, most of the "authentic" gangbang sites feature Black guys (and a lot of them) on white girls. On the ExtremeGangbang, you are going to see hot chicks banged by white guys, and to make it more interesting: most videos of the collection come from Europe, so it's almost as nasty as Japanese porn! We hadn't really known anything about this site before started to do our review, so it took some digging to get to know it better. As it happens sometimes, the site's launch date isn't clear, but it's certain that it started to provide porn back in the early 2000s'.
The collection of the ExtremeGangbang is in the lower area, as there are ca. 150 scenes, and it looks like new ones are not coming anymore. That shouldn't concern you too much because there is much more porn inside for you to watch.
The site isn't part of a network, so we can't name it, but there are more than 1000 extra porn videos to watch, coming from sites like GermanGooGirls, BudapestHardcore or the BukkakeFetish. One of the main positive features these sites have in common is that they offer you exclusive porn you can't watch anywhere else, just on this company's sites.
Design and features
Those who open the ExtremeGangBang's home page could easily depict its age because it has a bit of an outdated look, which was common in the 2000s'. Most sites upgraded since then to modern and mobile friendly pages, but this one didn't. Never mind. As a simple visitor, you have the option to view a few pages, and there are few trailers to watch too. The inner page looks fine, and though nowadays adult sites useless wild colors, it felt good to be in the members' area. The site doesn't hide the numbers: there is a statistics box where you can see how many videos this site has, how many bonus clips are there, and how much stories and photos you can browse.
The number of pictures is astonishing, be sure to check out the collection. From the menu on the top, you can reach out for the bonuses, and you have the option to check some promotional offers and live chat too. As a member, you can benefit from the streaming feature of the ExtremeGangbang: the videos are streamed in Flash video format, and there are usually three quality settings. The best is a high-end SD at 480p and 1200k bitrate. In most cases, the downloadable files are in WMV, but QuickTime and some .avi files are available too. The photos are for viewing only, but it's easy to browse the gallery.
Girls and videos
The ExtremeGangbang has many hot chicks, who have a loat of things in common. For example, these models have great stamina and are capable of standing the siege of three or even more guys, taking those cocks in every hole, including butt and mouth too. The "e-word" in the site's name suggest that you are going to see here a lot of heavy hardcore stuff, and though the truth is a bit different, it's almost certain that you are going to love what you will see happening in the flicks. As a matter of fact, the girls are all professionals, and apart from having great stamina, they are also quite wild and seem to love to perform.
There are two types of gangbang scenarios here: European and US. Now, the European ones are quite nasty, and if you know what kind of porn Germans do, you surely know what to expect. Regarding the girls themselves, we can only say that they are fantastic and wild. These girls will show you how porn is done, and as they bend and twist, you get the full picture of their body sometimes you can see as their butthole remains wide open after a thorough fuck. A lot of natural models appear in these videos, but as they are mostly real hardcore stars, you can see several huge fake pairs and upgraded lips.
Every scene you will find listed in the members' zone come from professional porn production studios, and there isn't even a bit of amateur porn here. However, the level of quality is a bit inconsistent, and there are scenes which are hot, but the performers seem to come from the semi-pro arena.
Also, as we realized after some browsing, the gangbang part of the videos gets a bit reduced after a while, and instead of real group sex, you are going to find mostly hard threesomes. Nonetheless the videos truly worth watching, and there are many exciting things happening in them. As you are going to find out quickly, the videos cover some juicy niches that some would even call dirty. For example, ass to mouth actions is almost a basic element here, and if dirty things turn you on, the videos with the ass to vagina action will satisfy your needs. To ease your hunger for hardcore gangbang porn, the ExtremeGangbang is a good choice. When you feel you are getting bored of the group sex, you should check the bonus content for other hardcore niches and sexy girls.
Conclusion
On the ExtremeGangbang, some really hot chicks await, and though the gangbangs are mostly threesomes, the fact that it is all exclusive make the site appealing. We have seen worse, we can tell you that, and in case you would like to watch something different, something interesting, and you don't really care about the resolution, the ExtremeGangbang is a good place to be at for a time.