ExtraBigDicks review
m4rc0f
ExtraBigDicks review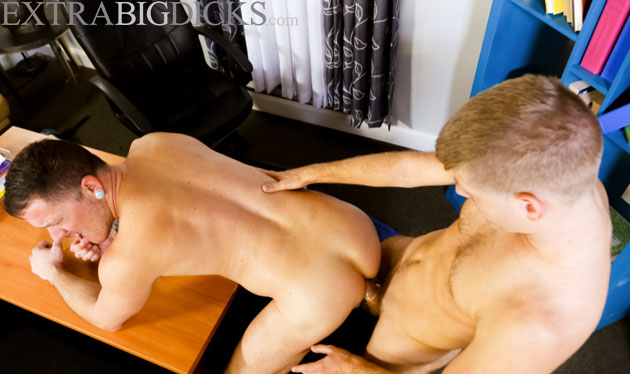 Positives
• big huge cocks • weekly updates • extra bonus
Site Overview
On the ExtraBigDicks you will find a really neat collection of hardcore gay sex videos, which feature guys who have large cocks, and they seem to like to stick it into tight assholes. When you open this page you will see what this is all about. When we dug deeper into the history of the ExtraBigDicks for our review, we found some facts about the site, which can help you decide if it's trustworthy or not.
This page launched in 2005, which means that it has been online for more than a decade… and that's a big word in the online industry. It also provides exclusive hardcore videos, which were produced solely for this series. The company and the studio behind the ExtraBigDicks have some other sites, and they are all updating. The update schedule of the ExtraBigDicks is really good, it's based on a weekly frequency, and there are usually 1 or 2 hardcore scenes added every week.
It really looks like that the site doesn't have any problems with the updates, because during our review there were more than 520 hardcore scenes, so the one flick per week was kept during the site's years of operation. We hope they will keep it up. There are 7 porn sites included in your membership, so you will surely like what you get. You can enjoy on the network sites videos of men over 30, but also of twinks, and some raw scenes are also available.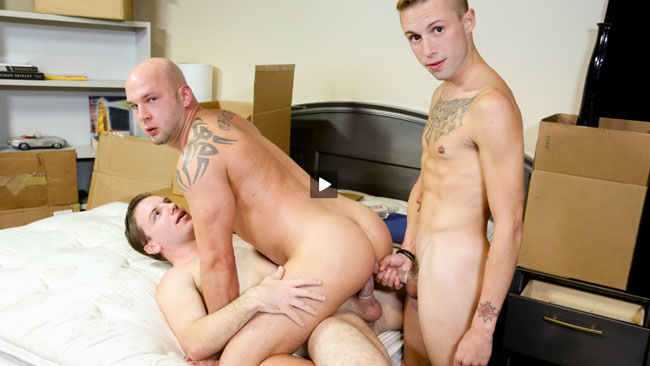 Design and features
Taking the tour on the ExtraBigDicks is a pleasure. The home page looks good, the pictures are sharp, the menus are working, and there are some extra features in tour mode. If you are just visiting the site, you can still watch five free preview trailers. One would say that it's not much, but today the studios are really playing the cheapskate and don't offer too much insight. Here, on this nicely built site, you can get a decent amount of info on the content. You can even browse the first pages of the photo galleries. When you log in, the design barely changes, and you can easily navigate, because it's not just handsome, but it's also simple.
They use large buttons and fonts, so it's easy to read all texts on the site. There isn't any search engine implemented, but the content tags are useful if you are looking for something in particular, and there are always suggestions on every videos' page. The site streams the videos into your browser and you can play them in the embedded Flash player. There are different quality settings, and you can even enjoy them in 720p HD. Only MP4 files are offered for saving, but you can choose from 5-6 different resolutions, up to 1080p (where it's available). If you like to watch porn on mobile, you can do so easily, since the ExtraBigDicks has a neat mobile interface too.
Guys and videos
The ExtraBigDicks isn't joking. The site has a large selection of videos, and in these videos, it has well-hung guys banging other – usually also well-endowed – lads. This gay porn portal is something you should try, and if you enjoy viewing videos with hard gay sex, the collection here will become your favorite quite soon. Let's take a look at these guys. One thing is certain, they are all professionals. You might have seen their names on other porn sites, because they are not the newest men in the industry. Thus being said, it's important to highlight, that these guys are all good looking. It's up to you which of them you find handsome or less handsome, but you have to give them credit for their amazing body. As far as we could see this site doesn't have too many twinks, so the majority of the guys are over 25, and they are hard, experienced blokes.
They are all worked-out, some are more muscular than others. There are guys who don't have tattoos, the majority of these guys have tattoos all over their body. This also means that if you have such fetishes, you can fulfill your desires. Also, there are dozens of lads who are quite hairy, so another fixation can be fulfilled. The videos of the ExtraBigDicks are studio productions, and they are nicely staged and scripted. Every scene here has a story it tells, and that's usually a gay fantasy. There are everyday situations featured, which turn into hardcore sex at a certain point.
You can see here a shower turning into nasty ass-banging, but there are other wishes coming true. Now, the site's name isn't a joke. At least one man of the actual couple of the scenes is pretty well-hung, and the other one always gets the whole rod in his ass. It looks like that some guys here are prefer to be bottoms, while others are versatile, and they like it both ways. As far as the heaviness is concerned, you might notice on the thumbnails, that this studio plays safe, and there are hardly any bareback scenes on the ExtraBigDicks. However, the sex on its own account is quite hard, simply due to the fact that the guys have big cocks and tight asshole. If you want something more heavier, there are scenes where the horny guys are getting a big black cock deep down their buttocks.
Conclusion
It's really exciting in fact, and gives the site a safe impression while the content remains amazing. Since the videos are really good in quality and the lads are hot, the site is warmly recommended. You can also make a good bargain with joining, because you get access to other site's content, so you can shake your cock dry.