CumBang review
m4rc0f
CumBang review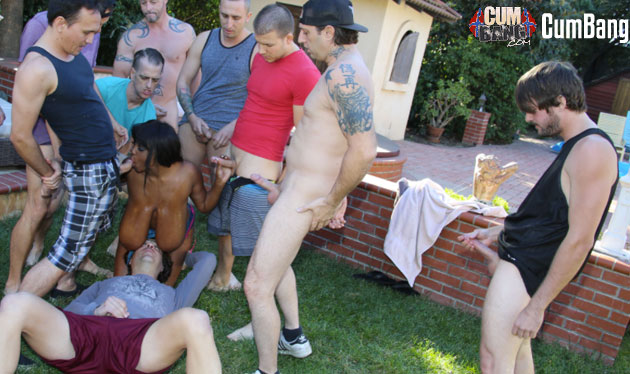 Positives
• full hd movies • exclusive content
Negatives
• no caucasian chicks • no frequent updates
Site Overview
CumBang is a hot cumshot porn site that shows ebony beauties getting drilled by white, horny rednecks. The majority of the action on the cumshot xxx scenes features blowjobs, however, there is also a decent amount of gangbangs that are taking place. The end result? Splatters of cum all over the models' faces. Brought to you by the DogFartNetwork, you will highly appreciate the interracial action that will take you to cloud nine and back.
Design and features
CumBang promises and delivers no less than well-filmed videos and high-resolution galleries that will treat you to the very best of adult action. The tour is simply memorable as the site's main theme is the bukkake fetish. As a site that was launched in 2009, CumBang has done a brilliant job of keeping up with modern technicalities. You would think that the site was designed yesterday, because of its exceptional features and specifications.
On a monthly basis, CumBang adds to its 80+ cumshot HD videos and galleries. Each flick is 20-30 minutes long, guaranteeing you only of the very best of gangbangs. The site holds an equal number of galleries and each one of them contains about 200 high-resolution pictures. When it comes to quality, the content on CumBang does not really suffer. The site's producers have made great efforts to make this a platform that is worth visiting.
CumBang movies can be streamed as MP4 (1280×720) or also be downloaded in MP4 and WMV versions (1920×1080). As far as the viewing specifications are concerned, there is really nothing to complain about. Galleries present photos with a 5000×2000 resolution. For any porn site, this is indeed crystal clear. They may not be downloaded as zip files but the eye candy that comes in form of the images are worth any kind of download. Your membership will give you undisputed access to all the cumshot porn videos.
There is no download limit, thus letting you know that you can enjoy all you see to your satisfaction. Everything on the platform works together to ensure that you get to kind of tour that you have always wanted. The DogFartNetwork is really not a letdown. There are a lot of cum-drenched scenes that will offer you absolute satisfaction.
In order to contribute to the site, CumBang enables its members to cast their vote for each set of flicks that is provided. From the look of things, all site members are in after enjoyment and only have good things to say about the sexy cumshot porn. It is quite amazing to find an over the top site like this one that does not fall short of your expectations in any way
Girls and videos
The models on CumBang make what they do seem easy. It is almost like what your girlfriend does every night for you; drops to her knees and opens her mouth in order for your throbbing cock to find relief. The only difference is that these hotties have to pleasure groups of men at the same time. Don't be concerned for them, they are enjoying every minute of the action.
These beauties are exceptional and are confident in all that they do. This is one of the best things about them. They will knock your socks off every time you see them because they will find a way to leave a lasting impression. Each minute will be hornier than the next. So careful, only let these models into your world if you know that you can handle the heat that they bring.
They are devoted to hardcore dirtiness and when it is all said and done, they get rewarded with a massive explosion of cum. You will forget yourself anytime that they are around. They are like an enigma; so near, yet so far. They will warrant your jumping through the screen. The beauties provoke all kinds of sexy emotion in you. The cumshot porn videos that they are featured in are the very best that you will ever see anywhere. These sexual moments should certainly be revered.
Jaden Aspen is simply one exceptional model who will be very hard to forget. The hot golden brown beauty proves that ebony girls are represented by many shades under the sun. Her appearance sets her apart from the rest of the crowd. With a bubbly and natural personality, she does her best to bring entertainment in the way that you deserve.
Jaden is featured in many cumshot hardcore videos. Her talent is what has been able to get her this far. Even if you will want to bang her, however, the redneck named Chad will beat you to it. While it would be great to only watch the two of them getting down and dirty, in no time, a line on eight hillbillies will be standing right before her, all of them looking to be pleasured in one way or another. Just as this model holds her own, other models will do the same. Trust me, you have to see to believe. The girls are simply amazing.
Conclusion
If you are up for a change of pace then this HD cumshot site will be highly convenient for you. The black girls, white guy concept has been overdone but CumBang proves that it has not been beaten to death. The site takes the concept and turns it around in a way that you will simply enjoy. As part of the DogFartNetwork, there are a lot of exciting things in store for you. The models can hold their own any day of the week. Watching them in all of the great scenes is truly a dream come true.