CodyCummings review
m4rc0f
CodyCummings review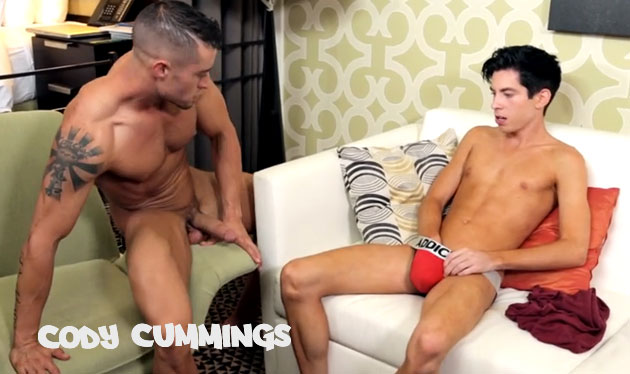 Positives
• hot models • extra content
Site Overview
The CodyCummings features a professional gay actor, who performs a large variety of sexually explicit things in front of the camera, while he also shows everything he has. As a top, he always get to stick his cock into other guys' ass, and though he is a quite dominative person, he likes to give nice blowjobs. The videos of the CodyCummings are quite long, so you will be busy with them for a while; most scenes are over 20 minutes. Also, the quality is really hot, and as you might expect from a modern site, there are lots of gorgeous Full-HD videos too. Probably the only issue with this site is the update schedule, which simply seems to be non-existent.
The videos are coming in randomly, sometimes weeks, other times months pass between two videos. We're positive that the site is an opened one, so there will be new videos added now and then. The site has a collection which is quite large, but for those who just can't get enough, we would like to introduce the NextDoorWorld network. This portal is a member of that group of sites, and as a member, you can get access to all of them. There are about a dozen hardcore sites included, and they cover some heavy things too, like interracial sex. All exclusive videos of the site and of the network are yours to browse.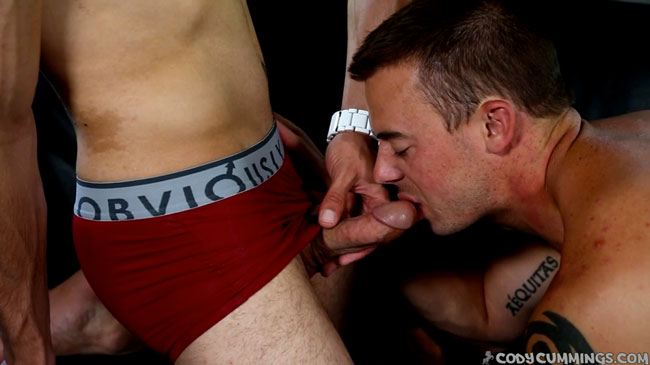 Design and features
If you really want to explore the content of the CodyCummings, you should take a few minutes (or more) and use the features of the tour. This way, you can get familiar with the layout and the navigation, and you can also get an insight on the videos. There are five trailers for you to enjoy, so choose carefully. Taking a thorough tour is the best way to really get the hang of the navigation here, because the inners section isn't much different. As you will see, the menu will be on the top and has the usual options. Also on the top, you can find the dropdown, where you can switch to any of the network sites. Along the videos, they added picture sets too, containing photos and video captures. Zip files are available for download. As per the bonuses, you can enjoy here a number of third party feeds and cam shows too. The site is full mobile-friendly by the way. There is a large player window on the each scene's page and you can start playing the video by simply clicking on it. Under the player, there is some extra info on the video, and the different options for the stream and for downloading are featured here too.
Guys and videos
As you may have guessed from the site's name, this portal is dedicated to one star. His stage name is Cody Cummings. He is a hot Caucasian male, with an 8.5" long cock. This guy has an amazing body: he is worked-out, but not in the big puffed-up way, so his body looks tight, yet he is cute. In case you like to watch hardcore porn, you will find here much to enjoy. So, Mr. Cummings is the main star here, but he is not alone. He usually have someone to fuck, and he takes advantage of every situations. It's important to mention that he is a top, so he doesn't get his ass fucked, and he is a quite a dominative person. Though he doesn't fucked in the ass, he gives out exhausting hand-jobs and blowjobs. The partners of Mr. Cummings are the real stuff, they are responsible for the variety. They are usually Caucasians, but the ethnic variety they represent is also good, so you won't see here only White guys banging White guys.
These partners are usually coming from other sites of the network, and they are not amateurs. Some of them are debuting in the site's videos, but they have prior experience, so they know the drill really well. You can't expect to find here amateurs, who don't know what to do. Every video of this site is scripted, and they are all focusing on Cody Cummings. You have to give them credit for camera handling, because they usually find the best angles, thus providing you not just a good view of the action, but also you can explore details about the guys' body. There is usually one-on-one sex in these scenes, and in a few flicks Mr. Cummings is just playing with himself, thus teasing your fantasy. Since he is a top, he rules the stage, and he is the one who controls the events. Of course he makes sure the other has his fair share of fun too, but he never spreads his leg to get fucked from behind. These scenes are quite exciting, even if the guys are not versatile. Each video of the CodyCummings features a situation or fantasy. To make a short conclusion about the content, we would say that they well-worth watching. Cody looks great, he does his job nicely, and his partners are also mind-blowingly hot. In case you like watch hot intercourses of cute guys, these videos will become your favorites.
Conclusion
Cody Cummings seems to have changed a bit since he started his career. As you can see on the site, even some straight sex is featured, and the hot chicks in those scenes, seem to like his big cocks. However, the major content is still gay, so we recommend the site for the bi-curious and the gay readers. Also, the network this site is part of consist of gay-focused porn site, and if you like this kind of porn, you shouldn't pass by this site.