ChanelSantini review
m4rc0f
ChanelSantini review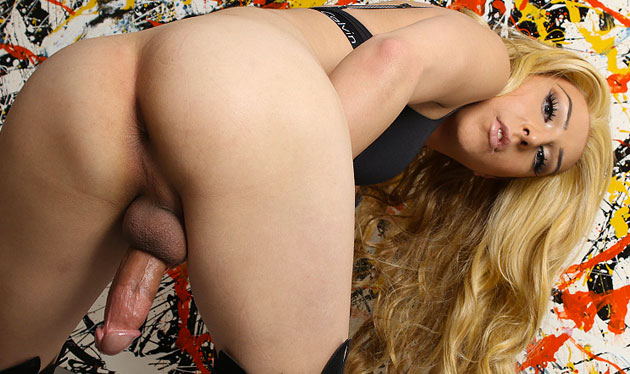 Positives
• hot shemale • hd videos • exclusive content
Site Overview
The ChanelSantiniXXX is a quite new website, where you can find a collection of hardcore porn videos, in which this hot transsexual performer, Chanel Santini shows off her skills and has sex with another tranny, another girl and by herself. At the time of this review, the ChanelSantiniXXX did not offer any t-girl banging guy or guy banging t-girl action. But what's late does not necessarily not expectable. This porn portal is new, so it doesn't have such a huge collection for you, but the updates are recent and are in pretty good shape: most scenes are basically in HD, though there are many download options. You are going to love the videos of Chanel Santini because she is hot, handsome, and ready to rock your world. The videos seem to be exclusive, and this is Chanel's official site.
Naturally, a recently launched site can't offer you too much on its own, so to soften your heart, the company behind it put the portal into their network of transsexual-focused sites, the TE Network. So, if you become a member of the ChanelSantiniXXX, you gain access to all videos of the network sites. This means about 400 hardcore bonus flicks, all featuring hot, mostly never-seen-before trannies who are horny, sexy and seemingly keen on getting banged or bang others. Throughout the network, you might find some non-exclusive content, but that's not too significant.
There are live cam streams in the members' area, and if you are lucky, you might get a show from your favorite tranny for free, just because you are a member. We have to say, we were quite satisfied with this bonus, and the access to the TE Network (TransErotica Network) was more than enough to keep our tranny-lovers hooked to the monitors.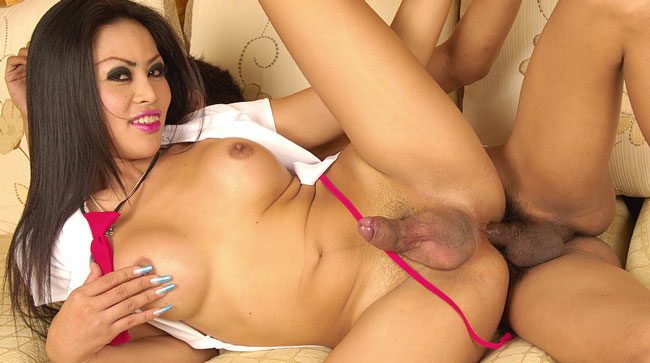 Design and features
The ChanelSantiniXXX looks fine, and it grants you all the nice features you need. The tour itself isn't much, but there are short previews for the listed scenes, and they cover some of the juicy action too. We advise that you watch those first, and then decide if the videos fit your taste or not. The member's area was a real surprise for us: a fine, clear site with a menu and some sorting options. What we found to be an issue were only the ads on the pages, though those were related to content: other tranny websites' ads are placed in the members' area. The videos are available in Flash video streams, but if you access the site from mobile, you can enjoy the HTML5 streaming too.

The playback of both methods is really good. There are many download options: MP4 files mostly, with low and medium settings too, and two low-resolution WMV options are offered too. Some reported that there is a download limit on the network, but we haven't noticed it, so we are not quite sure. One sure thing is that you can save the scenes and keep them, and with the mobile formats, you can enjoy them whenever you like, and you have the option to browse the site on most mobile devices too!
Girls and videos
Chanel Santini is a really hot, fresh transsexual. This T-girl will certainly blow your mind because she is tight, hot and has a well-sized cock. On this site, the ChanelSantiniXXX, you can find a handful of scenes from her, in which she shows off not just her skill in drilling, but she also gets her fair share of ass-drilling too. We must say, Chanel Santini is one hot piece of tranny: she doesn't have that masculine face most trannies have, and it looks likes she didn't want the huge breast. Instead, she has some perky tits and a large schlong which she usually shoves hard in her partner's pussy or ass. What we found really cute about her is her face, because that's something that can melt and make a hard man humble. She was probably a really handsome guy back before she became Chanel Santini. On this porn site, you can find several videos of Chanel, and she has a few partners.
There is a girl who appears in two scenes, she goes by the name of Jasmeen. She has a lust for girl-cock, and it looks like she is into trannies on some level. You are going to find that she has big fake tits, and Chanel seems to like drilling her wet pussy. Another tranny appears too, she is Alexa Scouts, and she scouts Chanel's tight ass thoroughly.
The videos are captured in one apartment, and the action usually takes place on couches or on a bed. There is usually some story behind, like when Chanel and Alexa shots sexy pictures which eventually turns in on kissing, feeling then sucking and drilling.
We don't think there is a large crew behind the videos, and there is usually one camera in use: the guy who handles it has a firm hand, though he (or she maybe) moves around a lot and captures the action from some interesting angles. The sex itself is varied and quite exciting. Those who are looking for tranny drilling girls in hard porn videos will certainly feel satisfied on the ChanelSantiniXXX, because these girls are hot, and the t-girl fucking them is really well hung, and seems to know what girls need.
Conclusion
The ChanelSantiniXXX will satiate your lust for t-girl pornography; this is something we are 100% sure about. Though this portal itself doesn't offer you that much porn, the scenes it actually has are amazingly hot, and Chanel is a really fine t-girl. Those who would like to see new trannies and also like fresh content should join the ChanelSantiniXXX, especially because the network access brings you more t-girl pornography than you could handle. So, get the lotion you use, shake it up, and start browsing through this fine tranny porn selection!