BrutalCastings review
m4rc0f
BrutalCastings review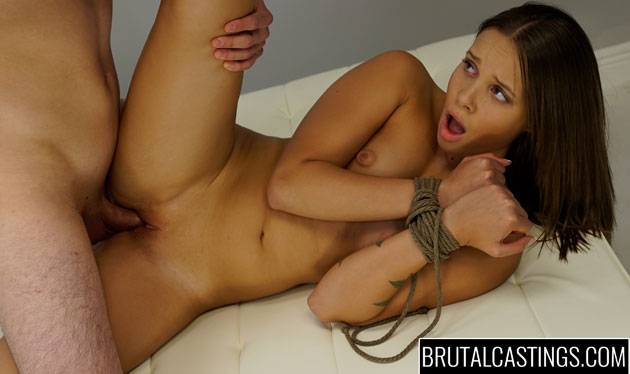 Positives
• casting videos • fetish content
Site Overview
Though this portal isn't old, it has to make it to all rough-sex and BDSM fans' list of must-see porn sites. The site promises a lot, and you know that it's always hard to live up to these promises, especially when it's not just about regular updates and high quality, but also there are claims of castings-videos with hot chicks and rough, fetishist-satisfying sex. As it's our job, we took the site apart bit by bit in order to give you a thorough and full BrutalCastings review with accurate and relevant information. So, put up your glasses and read on! It looks like the site is a year old, and it's one of the newest websites of the ever-popular fetish network, called the FetishNetwork. Launched in 2015, the BrutalCastings started out strong: HD and Full-HD scenes have been added on a regular basis, coming at an average length of 20-25 minutes.
The folks behind the site seems to keep up with the weekly schedule, so you can find here over 50 scenes and that's a fine number considering the nasty nature of the flicks. These fully exclusive videos are not available on other websites, no matter what they claim, and if you like rough sex, you will be happy to see that the usual rough-sex loving bastards are fucking the hell out of the girls here. We have good news for you concerning the bonuses too. A new site could hardly stand a chance nowadays if it was only a standalone heavy-hardcore provider, so this one also has some good stuff up to its sleeve. As it was already stated, this site comes from the FetishNetwork, which means that you get a network-wide access.
You can enjoy a whole lot more of fetish porn, including more BDSM, stranded-girl fucking, pissing, foot fetish and more. The quality of the network-wide available videos is a bit inconsistent, but we are certain that you will love them, especially if you have a few fetishes. Live shows are also available, where you can find hot chicks who eager to your bidding and satisfy your fixations and urges.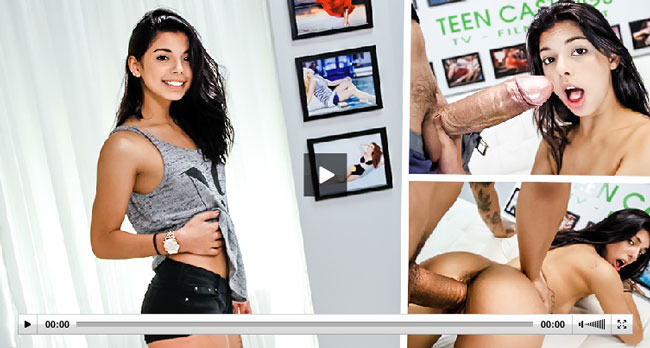 Design and features
This website has a fresh look, which really fits to its age, though the main color is definitely not in harmony with the nasty videos. There are large photos placed throughout the page, which serve as one of the main elements of the tour. In case you are interested in the bonuses, you should click on the 'our sites' option on the top, where you can access the network pages' list. As the best feature of the free tour, you have the option to watch some preview videos. These are nicely done clips with all the action you may be interested in, and they are teasing enough to make a man become interested in these sexy scenes. The members' area is not exactly a standalone one, since apart from the banner of the BrutalCastings, all menu options offer network-wide access.
It's not exactly an issue however, because this way you can see some fine kinky porn without actually leaving the members' page. You will find the videos of this series listed under the menu, and each thumbnail takes you to the video it's been taken from. You can perform keyword/model search, which may help you to faster get to the content you might be interested. There are many options for you when it comes to playing the videos. Everyone who prefers to watch porn in the browser will be glad to see that they can get MP4 or Flash-video streams, coming at high qualities – almost all videos come at a maximum of 1920×1080 resolution.
Naturally, if you have a slower machine, you can exchange some of the quality for better performance, thus making the playback smoother. We also advise that if you insist on watching the videos online, wait for them to load fully, so it's far better and is without lags. MP4 files are available for download, and they look pretty good. Each of the scenes is added with a set of matching HQ pictures.
Girls and videos
We love when a site offers fresh girls, but you shouldn't always believe everything you see. Though the models here are all cute girls, really fresh, they are certainly not amateurs. Most of these hotties appear in reality porn site, and there is probably a reason why they were eager to do fetish-porn. They appear as fresh as they claim to be, and that's a good thing. Fortunately they are all naturals, and it also looks like they come from different background.
Also, ethnic variety is present. You can find here girls from the cute, innocent-looking ones to the wild-looking, half-shaved haired or tattooed dastardly girls. The videos are all staged, and though they are not real casting flicks, they are done good enough to fulfill the fantasy. You can see the girls' interview, and this what turns into rough sex after a few minutes. Naturally, all girls came to the office to be models, but what they get is an unexpected siege of 7-9 inches long cocks. The girls get their hands tied, then they get their face fucked, also their pussy gets its fair share of the large meat-rods. There is constant verbal mistreatment too, and in the end, the girls all get covered with cum.
Conclusion
The BrutalCastings is fine site, and though the niches it provides is old, the fantasy is really juicy. Girl getting taken advantage when they are the most vulnerable is a fantasy we all have been imagining, and though most of us don't really like to go so rough, these videos are still fascinating. Kinky sex-fans should give the site a chance, and if they find it hot enough, remain here. And don't forget to enjoy the kinky content of the FetishNetwork's other sites.
---
Looking for further info? Check these other porn review sites.