BigJuicyJuggs review
m4rc0f
BigJuicyJuggs review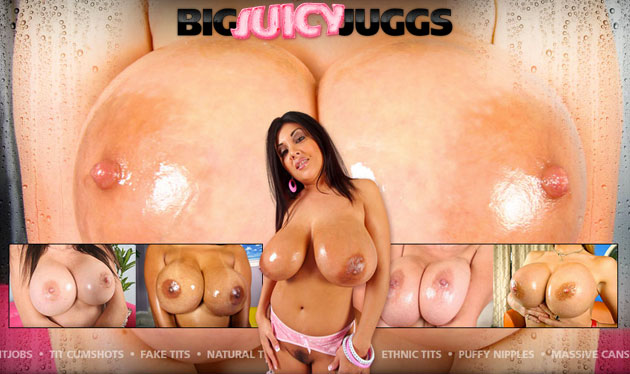 Positives
• hd movies • exclusive content
Site Overview
The BigJuicyJuggs is not the regular big-tits portal because here they don't accept fake breasts, so what you can see in these videos are real, juicy, natural boobs. The girls have seducing tight body, and you will surely love them. We loved their hard acts and they really seem to get the hang of it. This site is an older one, but the models were fresh when the videos were shot, and nowadays some of them are actual pornstars, working for the big industry-leaders. The BigJuicyJuggs launched in 2010, and it was updating for a while. According to our experience and some user-reports. The counts are not increasing, and the dates of the videos are false – they just show that the last scenes were added yesterday. Also all you can find on this site is exclusive, so you won't really find them familiar if you hadn't been a member of any sites of this company.
Speaking of company sites. You are going to access a load of porn portals if you join the BigJuicyJuggs. There are dozens of hardcore series included in the membership, and you are also going to get some other fun stuff as bonus too. The website you can browser with you credentials are all hardcore porn video collection (or rather archives) and they sum up to a significant collection. The site says it has access to the world's largest collection, and it's not exaggerating too much. Apart from the content the company produced, there is a collection with non-exclusive hardcore porn, in the form of DVDs. If you like your porn live, you will certainly appreciate the live shows, but those who are looking for a hook-up should visit the dating site which they get a basic membership granted to.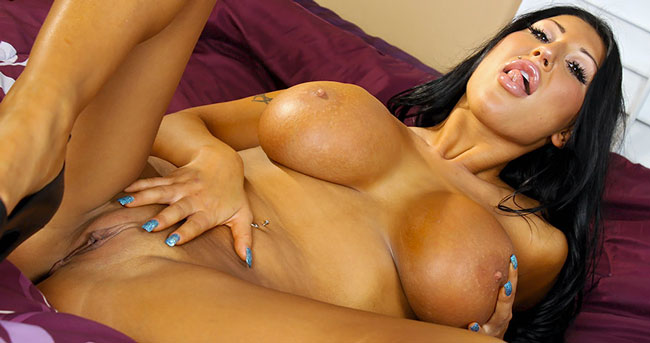 Design and features
The sites of this program, the PimpRoll, are all looking fine, and it looks like they haven't been changed recently. Though the pages are not looking that great, you are going to gather every information you need about them, and the tour is satisfactory. Inside, the page is easy to follow: menus, search field on the top, content list and the banner ads are located lower.
This layout is the same on mobile devices as the site is only responsive, there is no standalone mobile version.
We were quite surprised to see that the in-browser playing is possible in HD too. This means that if you don't want to download the videos, you don't have to compromise the quality. The stream is fine, and also the download speed is nice. You can save the videos in HD too, by choosing an MP4 file – if this resolution is available. For SD versions, the WMV download is fine.
Girls and videos
Yeah, big breasts all around! The models here will certainly awaken your curiosity, as they are not just hot, but they have always have a pair of big juicy juggs on their body. If you are looking for big tits porn videos, you will find this selection to be an exciting, and utterly satisfying one. We believe that here the girls are all going to fit your tastes, as their boobs are really big, and they are all naturals. And the best of all? They tits are just big as they are, the girls are not fat or anything! For example, just look on the wonderful and sexy Keisha Gray (aka Keisha Grey) who is a 22 years old cute, with an intact, un-enhanced body and a pair of two amazing tits. In her video on the site Keisha takes on a large cock, sucks it and gets drilled by it, but most importantly, she has her big breasts fucked and covered with cum too. We are certain that you are going to love her video. But, if you are into a bit older women, maybe Anissa Kate from Lyon will touch your libido. She isn't old, only 29 years old, but she has everything you need. A different look, juicy breast and a fine pussy she gets fucked hard. She is French, and she knows how to use her body.
Let's see these flicks, shall we? As far as we can tell they are all studio-produced videos, probably coming from the same production company's workshop. This means that sometimes the stages are similar or the same, and the crew behind the videos consists of experienced and professional members. They are doing their best to get you the excitement you seek, and we are positive that you are going to enjoy the tit-focused hardcore action in these movies. You don't have to worry about the level of hardcore-ness here, as the girls aren't just getting fucked and made to suck, no, they get their fine breasts worshipped in different ways: the guys lick and kiss them, touch them a lot, rub their cock against them, and they fuck those tits too. To crown their excitement and show the girls that they are the real things to worship, they usually cum onto those fine juicy juggs. As it is, the sex itself is quite exciting, and we certainly happy to recommend this collection to your attention, as the movies here shouldn't be missed by any tits-fan.
Conclusion
In case you love big juggs, you are going to be utterly satisfied by the videos of this site. It's a fact that there haven't been new flicks added for a while, but the existing collection is going to keep you interested and busy here. We loved watching these videos, and these professional models are really giving everything into it. Those who are looking for professional porn, and don't mind if it focuses on big juggs will be utterly satisfied by watching these flicks. Of course the deal is sweetened by the great bonus-content pile you get, and it adds a high level of variety – and also a lot of other big-tit videos on the network sites.