BaDoinkVr review
m4rc0f
BaDoinkVr review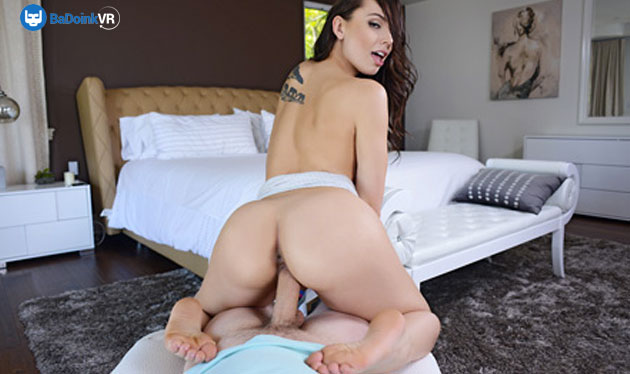 Positives
• exclusive clips • 3D and 4K quality
Site Overview
Technology has been evolving day by day and sometimes, it is pretty hard to catch up on the baddest, most rad ones right now. A few years back, I was really banking on flying cars and such but we have not caught up that far yet. Yet. We do have a couple things lined up for an even better lifestyle and entertainment purposes. Even now, there are already some on the market and they live up to my expectation better than I expected. One of these creations is the one and only 3D virtual reality goggles that is essentially sweeping marketing deals left and right these days. Because of its ingenuity and the fact that it brings a whole new perspective and experience to the consumers, it's rather a popular sort of thing going on. It may be costly but it sure is worth it.
It can be used for movies, games, documentaries, and… drum roll please… porn. Yes, you heard me right, my friend. Porn! What is better than watching porn in front of your screen, you ask? 3D virtual reality porn, that is what is better and a whole lot of you would agree with me on that wholeheartedly. The technology we have today is so advance that it gets implemented on almost everything that we interact with. So, without further ado, let me introduce to you BaDoink Cash's very own 3D virtual reality porn site: BaDoinkVR. Sure, BaDoinkVR sounds a little funky at first but when you get to the virtual reality part, you will be at awe with how things work here and how good everything seems to be.

Its primary focus remains on 3D virtual reality porn, and hardcore POV sex. POV would mean 'Point of View' and it fits perfectly to the 3D feature the site offers. With that, it will automatically feel that you are entirely part of the whole scenario because with the 3D goggles you will be given, you can enjoy the entire scene in 360 degrees goodness. That in itself is already a unique experience since it is the very first time that this has been implemented in porn.

With the 'Point of View' idea, you are to immerse yourselves in the idea that you are actually there and doing all the nasty things to the given female of your choice. BaDoinkVR is a fun and entertaining way to present porn and I would not have it in any other way. If you think that watching porn is amazing in itself, just being in a flat screen, you would revel at the fact that BaDoinkVR can give you so much more than your usual intake of normal porn. In this particular porn site, you will enjoy porn in a different light and it's better than anything else.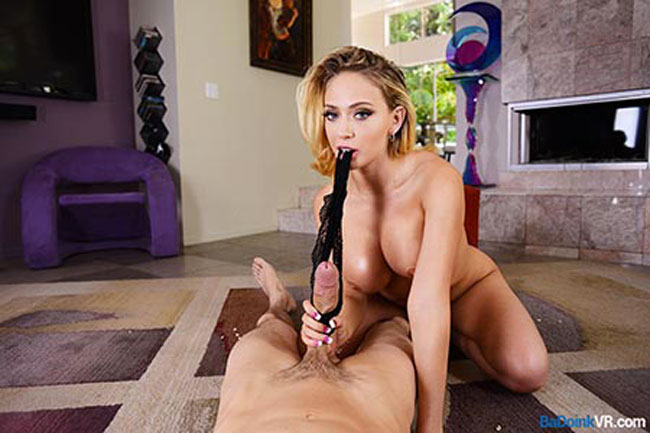 Design and features
BaDoinkVR has a pretty minimalistic website design and user interface is absolutely user friendly. There are only a few links found in this site and they are mostly really the ones that matter the most like the home button where you will be prompted immediately to the main page, the videos button where you can access all the available videos using a pagination link, the girls button which basically is the model index where you find portraits of the available girls and their names, along with the number of videos they star in click on those to get prompted to the page where its located, you also have the help button where you will find the 'Frequently Asked Questions' so if there are things that you do not understand somehow, you can always turn to that for do-it-yourself troubleshoots, and the news button where they give you information about the latest updates and nerfs.
The site is practically something that revolves solely on 3D virtual reality porn so the videos do not work like the usual. Do not fret though because it is really easy to do. Once you have signed up for a membership, you will get a free 3D virtual reality goggles that is evidently provided by the site. It will, naturally, be delivered to you as soon as possible. While waiting, you can vouch for other options like your smart phone (so long as it has a motion sensor) – you can download the videos from there and watch it without any problems, or you can buy your own 3D goggles like the Occulus Rift or the Google Cardboard. The cheaper option would be the Google Cardboard and it has a decent resolution but if you are more hardcore than ever, the Occulus Rift would be even greater. Heads up, the free 3D goggles are also really good.
So let's say you already have those goggles you need, you would only need to download a player from the site (or anywhere basically) and then download the videos to your devices. From there on, it gets pretty simple. Just play it and enjoy your 3D adventure with lots of lewd women and even lewder circumstances. The site does not support any photo galleries or bonus sites but since it is fairly new, I am hoping that they add it up later on just for the content amount although right now, it is really good as it is.
Girls and videos
Now, the girls in BaDoinkVR are all gorgeous. They are completely different from each other so you get tons of choices and its not boring at all. You have girls like Yurizan Beltran who looks heavenly and badass with her purple hair, pretty face, and banging hot body. You also have the angelic Nikki Delano and Kylie Page, whose blonde hair and innocent face resembles that of an angel.
You have inked chick Katrina Jade whose black hair and gorgeous face just screams hotness. Point is, there are 100+ videos right now and so you could expect a lot more girls as well. The free 3D goggles you get will give you a minimum of 1920 x 1080 pixel resolution and with the other least cheap goggles, you get even better and can go up to 4K resolution.
Conclusion
If you are vouching for a new experience, then you will love BaDoinkVR and the many new things it brings to your table. It has good quality videos, really gorgeous chicks, and a really neat way of presenting its porn.