BackroomFuckers review
m4rc0f
BackroomFuckers review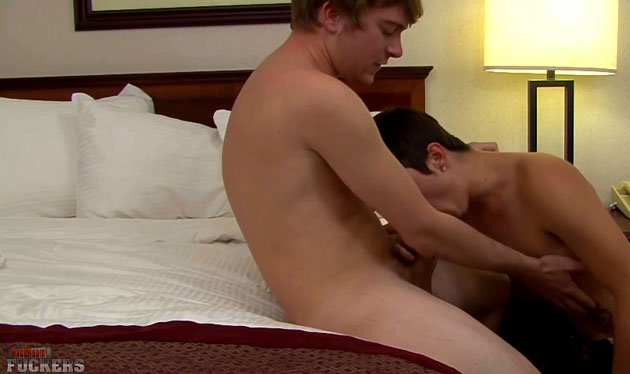 Positives
• bareback sex • muscular boys
Site Overview
For porn lovers, there's a lot of niche that they can take advantage of nowadays. Especially when they turn to the Internet for some resources, people will find there to be a lot of websites that they can access if they are looking for some porn content. If you are interested in looking for some porn websites and you are into gay porn, then it is highly recommended that you check out Backroom Fuckers. This is one of the porn websites that are categorized under the gay reality site. However, unlike the common gay porn sites that you can access on the Internet, you can actually feel a darker vibe to the contents here in the site.
It is kind of difficult to find guys here who are of the cutesy type, though you may be able to find the tough-yet-cute type here as well. These are guys who are into barebacks, cocks, cum swallowing, and anal sex. Sometimes, there's leather involved – meaning that you may be able to see a little bit of BDSM here in the site. There's a lot of videos, photos, and other porn content that you should be able to enjoy if you come here to the Backroom Fuckers porn website. All you have to do is make sure you get your membership to this site so that you can enjoy every porn content and features that this amazing gay site has to offer.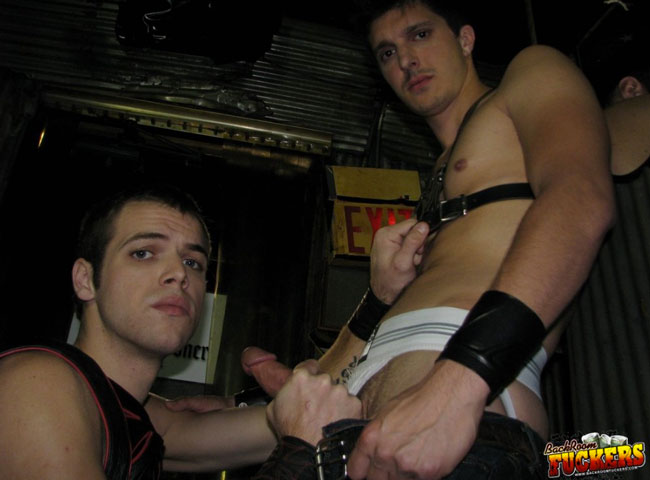 Design and features
When it comes to the website, the first thing that you will need to check is whether or not it has an easy-to-navigate design. The Backroom Fuckers porn website easily fills that requirement. There should be no problems when navigating around the site because it has quite an uncomplicated website design and layout. Aside from the layout and design of the website, the next thing that you will notice is the video content that are made available in the site. Currently, there's about 90+ videos you can find here in the Backroom Fuckers porn website. While the site may be updating irregularly in the past, it is good to note that this now has a regular updated schedule being followed – on video every Sunday. The videos are both for streaming and download, of which it should be good to note that they are DRM-free. The videos are available in MP4 format, which is also available for mobile viewing.
For the older videos though, you are only able to view them in their WMV format but you can also view them on your smartphone in their MP4 format. Don't forget to check out the DVD full scenes that are offered to you here in this site as well. Moving on, there's the photo sets too. With the Backroom Fuckers porn website, there are currently 200+ photo sets available for your enjoyment here in the site. About 100+ of these photo sets are of good quality despite the fact that they are amateur stills. On the other hand, 90+ of these photo sets are all screen captures with the same size as that of the videos they are associated with. Each of the latter photo sets has about 12 photos in them. You can opt to view these photos in slideshow or you can also download them in their zip files. It is also through the membership to the Backroom Fuckers porn website that you are able to gain access to more bonus sites. There're about five bonus sites that you can enjoy here. These five bonus sites are as follows: Daddy Raunch, Harlem Boyz, Boys from Prague, SD Boy, and Straight Men XXX.
Guys and videos
The boys that are found here in the site are all good-looking men with great bodies. You can see them so horny and craving for sex. For some of the boys who are featured here in the Backroom Fuckers porn website, you can find those who are mostly masculine. There are times when you can find the athletic ones quite pleasing to the eyes. If you like the beefy ones, they are also featured here in the Backroom Fuckers porn website. There may be some twinks here but they are the tough twinks that are appropriate for the site. When these guys take off their clothes, you can just see their muscles, pecs, and – of course! – their cocks! There are some of the guys here who feel better when they are shaven. On the other hand, some of the guys have a kink for bushy pubes. With the guys, you can see them cock sucking, barebacking, ass eating, group sex, and many others. You can expect some leather, face cums, and other similar hardcore plays here in the Backroom Fuckers porn website as well.
If you want a good scene, then check out those scenes where the guy takes on two cocks at the same time. It's quite a sexually charged video that you'll easily get off in no time. The videos vary in terms of shooting location. There are some that are taken in adult bookstores, gay bars, men's rooms, at the baths, and in many other places. The jocks that you can find featured here in the Backroom Fuckers are usually ones with large dicks too! You will definitely enjoy some great hardcore fucking when you want the videos here in the Backroom Fuckers porn website. There is no doubt that this particular site is the best site that you should go to when you are interested in gay reality site due to the fact that the guys here are all what you are looking for.
Conclusion
There's definitely good value to your money if you spend it all for your membership here in Backroom Fuckers. Not only are the videos and photos high quality in terms of settings and content, the bonus sites are also offering you more than what you can handle in terms of gay reality sex. You can never find another site online that rivals that of what Backroom Fuckers can offer!
This site is no longer active, find other great gay pay adult sites!
---
Looking for further info? Check these other porn review sites.