50PlusMilfs review
m4rc0f
50PlusMilfs review
Positives
• hd movies • hot matures • exclusive content
Site Overview
The 50PlusMILFs is an interesting website, which might grant you a lot of hot hours if you are into old ladies. The 50PlusMILFs is going to offer you a selection of hardcore porn videos, and some modeling-solo shots too, featuring only women who are over the first 50 years of their lives. These ladies are eager and hot, and they are going to show you thing you won't see a regular woman do. This website launched back in 2009, and during its seven years of operation it has been kept updated on a weekly basis. Nowadays it also seems they add new content every day, and we have to tell you that these videos are going to satisfy all your needs. There is hardcore sex, masturbating and some kinky elements in them.
Also, the fact that they are keeping it updated leads to the satisfying revelation that newer videos are coming in HD resolution. These videos are exclusive to the company behind the site, and it also feels like they were shot in-house, so you won't find them anywhere else. Regarding the bonuses, you are going to see here some really hot stuff, and if your loyalties lay with the over-50 women, then you are going enjoy the extra site. Signing up to the 50PlusMILFs gives you access to the 60PlusMILFs. Those who love their sexy foxes mature, are going to be utterly served and satisfied.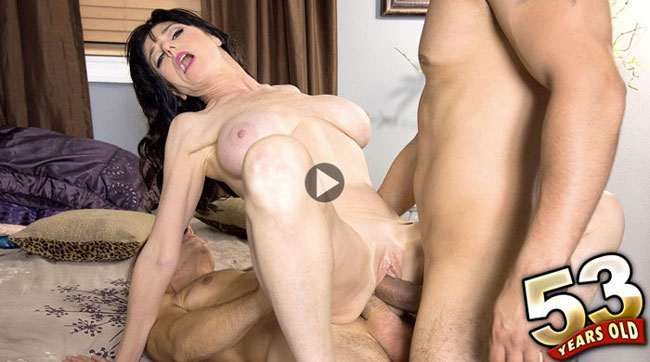 Design and features
Well, the home page of the 50PlusMILFs won't tell you too much, but actually, the thumbnails they listed and the preview video you can watch tells two important thing: the girls are looking good despite their age, and the video quality is quite good. Now, if you love matures, it is highly recommended to stop fooling around and enter the members' area, after registering. There is going to be a simple page welcoming you. The search field is on the top, use it for your convenience. The menu is located somewhat lower, and it doesn't offer anything out of the ordinary. You will be able to pick from the regular options: photo galleries' page, models' page and of course the videos' page. These are your options, pick what you like.
Concerning the videos, you will find more than 290 listed on their listings' page. You can play them by using the Flash-resources of your browser – the player isn't oh-so-great one, but the stream is steady, so the playback is quite good. However, close everything else that uses Flash. You also have download options to live with. These grant you a selection to choose from. As usual, we advise to pick the highest ones, which are HD files nowadays. You might also love the photos, because many of them are standalone, and they feature real shots taken during the action, or before/after. They are easily obtainable through downloading – for that, nice archived packages are granted.
Girls and videos
The lustful and horny ladies at the 50PlusMILFs are going to make you horny too, especially if old women are what you prefer. This porn site has a very nasty collection, and we don't mean only the sex taking place in the scenes, but these grannies are also really nasty pieces. Open the site and see it yourself: they are old, but they are very-very hot. Large natural breasts, which aren't as firm as they was, though they still nice to hold on to, wet, tight snatches and round asses that just needs some spanking and firm hold. So, if you are turned on by older women, these ladies will certainly satisfy your needs, and when they are doing their thing, you will go crazy for them. You can find on the site ladies from the United States, and it seems that they come from the semi-professional field. Their level of expertise doesn't really matter though, since these ladies are going to become your favorites in no time, especially because they are doing things that chicks in their twenties would envy. In order to have you served well, some ethnic-looking ladies are appearing too.
Since the site has been running for quite a long time, it's necessary to mention that its video collection is an ultimate mature sex video compilation. There are some videos from the early 2000s which look somewhat dirtier, and they feel much kinkier than the newest ones. We don't know why, but when we watch HD videos we always have an uneasy feeling for the scenes look very sterile. This is just an insignificant issue with today's porn, but fortunately the site has a collection that doesn't have such problems. You will find here a really big selection of sexy scenes, and while the videos are loading, you are going to find the collection to be just as heavy as you wanted it to be. The ladies are not taking on guys of their age, you will find them mostly getting banged by well-hung, much fresher men. Those who like age-gap porn, and especially like it when the women are the older party, will love these flicks. There are mostly mainstream videos with pussy fucking, but you can expect a fine level of kink too: the ladies get their ass banged, they perform some deepthroat sucking, and they also seem to enjoy when a big black cock gets in their pussy or even in their ass.

Conclusion
The 50PlusMILFs raises the limit, and while many porn sites stop at 50 years, this one goes further, and gives you ladies who are well beyond this age. Also, one of the best feature you of the site you could take advantage of is the signup offer: you can access the 60PlusMILFs with your account credentials, which means that you can see much matured women rocking hard getting banged. These are grannies are not the kind who welcomes with cookies and sweeties – no they are older versions of Mrs. Robinson.
---
Looking for further info? Check these other porn review sites.