41Ticket review
m4rc0f
41Ticket review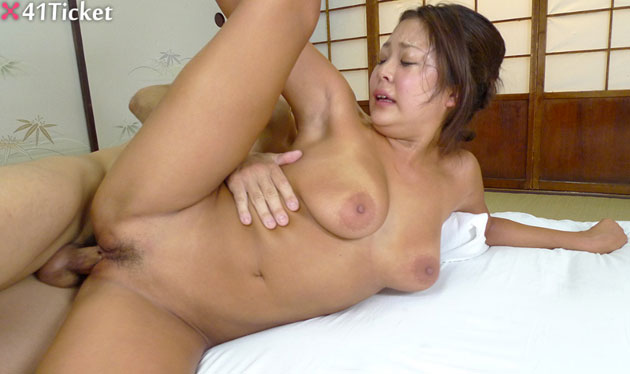 Positives
• uncensored videos • high quality videos • regular updates
Negatives
• no ebony girls
Site Overview
Japanese porn has taken the world by storm ever since it has been launched years ago. Of course, who wouldn't want to fantasize over these Asian girls who are so cute and erotic at the same time? In fact, you won't be able to tell that they are older than their age simply because they act charming and adorable. They take advantage of their charm to give sexual gratification and pleasure for their partners (or partners!). Don't be fooled by their ultra slim bodies! They can take two hard cocks or dildos at the same time! If you wish to watch these Asian girls get down and dirty with their partners, then it is recommended that you go to 41 Ticket. With an affordable price for subscription, you'll be able to enjoy hardcore fucking of these cute Japanese girls. They will make sure to let you cum with just their moans and actual hardcore sex you can see in the videos. You should not hesitate to visit 41 Ticket then.
Design and features
The design of the 41 Ticket is pretty much a modern and sleek one. Right when you enter the said site, you will be asked if you are at the right age to enter this site. Moreover, you have the option of accessing the site in English or in Japanese. The tabs, instead of being placed horizontally at the top bar, are located at the sides in a vertical order. You'll have the home page where the naughty Japanese girls are being featured. The latest videos uploaded on the site are also showcased in the first page to entice you to choose them first. Of course, it is highly likely that you click on these videos first considering that the girls are not only pretty, they also look horny for sex.
The videos are available for streaming and downloading. There are screenshots of the videos that you can view as well. If you want to check out some of their other movies, you can click on the All Movies tab. In 41 Ticket, you also have the option of searching for the movies, either through the Movie Search tab or the Quick Search box. There are events that you can watch out for. You also have the Ranking tab where the popular girls and movies are listed according to their ranks. The best thing about this site is that it updates regularly every couple of days.
Girls and videos
Since this is Japanese porn, the girls you see here are most definitely Japanese. That is easily distinguished considering that the girls look for Japanese-y and they speak the language as well – even in the middle of the hardcore sex. If available, you may even be able to read some subtitles. Of course, there is no need for you to learn Japanese just so you can understand these girls. You'll already understand how much pleasure they are feeling just from their sexy looks while having a fuck. The girls are mostly the slim type. Their cup size can range from A to D, letting you choose which one you would want to cup your palm to in your fantasy. They can black, long-haired amateur girls or brunette, perm-haired BDSM professional ladies. Some of the girls that you will surely love to watch in 41 Ticket include Yukina Mori, Fugetsu Kacho, Chika Hayami, Kanade Asamiya, Azumi Ao, Shizuku Morino, and so much more. Watching them participate in the high definition uncensored porn video is definitely one thing that can keep you going as you jack off and reach your climax.
There's more than 200 videos of uncensored porn here – and when it says uncensored that basically means you can see every detail of the genitals in the video. You can find different recommendations that you should watch for your "material". One recommendation is "Yukina Mori's Cock Sucking Fun (Uncensored)" video starred by Yukina Mori herself. As the video suggests, this video closes up on this hot, erotic girl dishing out her tongue-and-mouth techniques while doing fellatio. When you think of Japanese girls, you'll also visualize them in sexy yukatas, right? For that, you should not miss out on "Down on You (Uncensored)". This is another uncensored, high quality video showcasing a Japanese girl in her yukata being fucked on a futon in a tatami-mat room. If you are a Japanese porn aficionado, then you should already know that "yukata", "futon", and "tatami-mat room" are the perfect ingredient for mind-blowing, memorable hardcore sex in the Japanese porn industry. Other videos that you should watch include "Yuri Wants It Bad", "Glamorous Risa Creampie (Uncensored)", "Jail Cell Gang Bang", "Ninja Pussy Stabbing (Uncensored)", "Luna's Passionate Cock Riding (Uncensored)", "Yuko Kurokawa's MILF Service (Uncensored)", and "Reiko's Sexual Fantasy (Uncensored)".
Conclusion
There are a lot of things that you will absolutely love in 41 Ticket. With Japanese porn, you'll know that you shouldn't expect the same kind of thing with American porn. In fact, Japanese porn is more hardcore, more erotic, and more arousing. You will find every penny you spend on the subscription to this website worth it considering the features that it has to offer to the members. The videos and the images that you can get your hands on here are very frisky and you'll surely find yourself sexually drooling over them.
Just the teasers enough in this website will have you dripping with precum (which is definitely perfect if you want to cut down on your expenses for lube!). The best thing about this porn website is that it is very affordable too. You should not hesitate to get your hands on this porn site then. You'll be able to have good company when you are alone in your room and you are trying to enjoy your "private" time. Don't hesitate to sign up for a membership in 41 Ticket as soon as you can then!
This site is closed. Take a look at other paid porn sites!