18Flesh review
m4rc0f
18Flesh review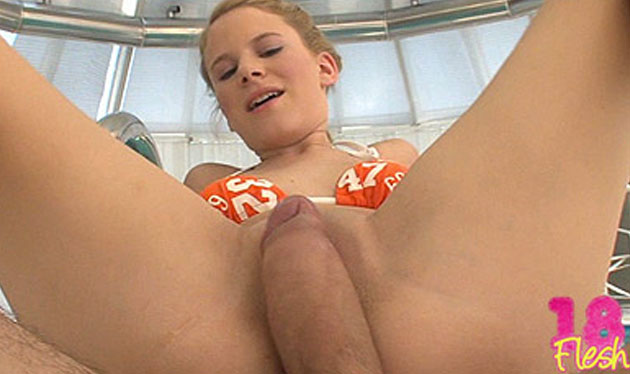 Positives
Exclusive content 100% hardcore videos
Negatives
No matures, no milfs
Site Overview
Fresh faces have always been a favorite in the porn industry. They are quite a draw, especially because of the fact that they are known for new tricks up their sleeve. Sometimes, new girls on the block can fail to entertain you as expected but that is not the case with this site. 18Flesh delivers on every end of the spectrum. It has beautifully shot scenes that are of HD quality. The models on the site really know to work the camera from every angle. The budding expertise that is shown off on the site is hard, fast and very entertaining. There is a lot of girl/guy and girl/girl action that will make you want to get crazy too.

Design and features
The membership benefits are evident; you will get an exclusive sneak peek of the best hardcore porn action. The site represents a large number of scenes that have different niche themes. The indoor and outdoor location shots prove that 18Flesh is diverse in its content delivery mode. There are many full movies and clips that are downloadable at your own pleasure. The stunning fresh faces will always offer you something to talk about. 18Flesh is all about giving you the extra naughty. The large amount of movies will keep you and your internet connection very busy. If you prefer specific porn in comparison to general sex scenes then this site is just right for you. The innocent looking girls show their expertise in giving head, fucking cock and taking a lot of jizz in their mouths. The fun does not stop here, there are 20 additional bonus sites that will also preview you to the more dick and pussy scenes. The idea behind 18Flesh is that is one that encourages you to make the most of all your sexual moments. Launched in June 2007, 18Flesh is not a new site but you can never tell that it is dated because it has been maintained in a fairly simple but chic way. The tour page depicts what every girl would want of their sexual fantasy. The site adds its updates in a frequent manner. You can easily tell this because each update is coupled with catchy descriptions and four images. The focus of the site is mainly centered on the movie scenes as they are quite a large number on the splashy page. The movies are separated into girl/guy and girl/girl. This makes it really convenient to find the movies that you are looking for. There are also many links that will guide you through the process. Links give you scene titles and the model's name. For a new visitor, this easy guide will make the site tour a really easy one. The keyword and tag search comes in handy too.
Girls and videos
The models are the best part of the movies. Their beauty and sexiness make them the center of attention on the site. 18Flesh boasts of an array the right sized boobs and booties. Most of the models are not full-figured but they are perfectly proportioned from head to toe. Their accents easily give away the fact that they are Europeans. Their perky tits and shaven pussies which give you one too many boners. The site does not have familiar favorites because it represents an amateur collection of new porn models. However, every site has its most outstanding models. The list for this one incudes Lexy, Missy, Carol and Raven. Most of the models are really into deep throat sex. Their pussies handle the pressure in an appealing way. Cloe's steamy sex movie is one to be remembered. As soon as she got nude, she was begging to suck cock and moaning in submission to her desires. Cloe is sexy in her ripped off stocking and asks her partner to go for anal sex rather than her pussy. He sexily obliges and from there, the movie is filled with many cum-breaking moments. Cloe is just one model among many on the site who are full of potential. Each and every scene has a great representative of full-on sex acts that give you hair-raising excitement. Janelle's movie preview is another eye-catcher. It blew my mind on how such an innocent girl could handle such a big cock. She gets fucked in the most sensational way and later on submits to a cumshot scene. Imagine what her full movie would hold?! 18Flesh has scenes that vary in run-times. Most of the thrilling action is known to last approximately 20 minutes long. The site has 197 movie scenes and an incredible amount of pictures that are all about oral sex, fingering and even kinkier scenes like the use of dildos and many other sex toys. Even threesome are not out of the equation. Whatever the models can handle, they will do in the most outstanding manner. Anal sex scenes are also very popular on 18Flesh. There is easiness to the way models portray themselves that will make you think that all the moves are fairly easy to do. 18Flesh satisfies the sexual hunger that you may occasionally have. There are 17+ models that will give you that unlimited amount of sexual content that you always hope for anytime you log into a new porn site.
Conclusion
18Flesh is a great site for any porn follower. Navigating through the members area is a breeze especially since you can go for any category that you desire. The great selection of the site's movies makes this site a go-to destination for anyone with a good eye for porn. There are many straightforward hardcore scenes that are exclusively meant for you. The action seems to get better and better through each and every scene. 18Flesh also has the best selection of fresh-faced porn models. Any porn lover would enjoy the collection of action and the many membership benefits that come with the site.
The website has been removed, discover other fine fresh girl pay xxx sites.