Romi Rain
m4rc0f
Romi Rain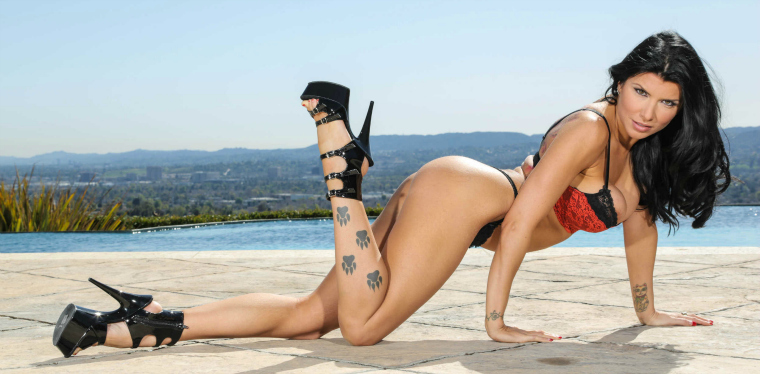 Bottom Line
Romi Rain has proved that the doors of the adult entertainment industry are open for everyone who has got sexy looks, talent, and passion to work. She knew from the very first day that her choice of the porn industry is going to make a big and positive difference in her life, and it did.
Romi Rain
Romi Rain is popular American pornstar born in Boston, the United States on January 12, 1988. She is a perfect mix of beauty and sex. This brown-eyed American beauty is five ft 4 inches tall, and she weighs around 52 kgs. She has got natural black hair and amazing bodily measurements of 34D-24-32.
The lush beauty of Boston came to Los Angeles as soon as she hit adulthood. She came to Los Angeles with a plan to express herself in a new place and to show the world that nothing is impossible for her. To start with, Romi Rain started to work as a waitress in a fast-food company. But after a year she realized that this wasn't the job she came for, and she decided to quit from the Fast Food Company. After some time, Romi Rain joined a club where she began to show her body as an exotic dancer and started to seduce men over there. Then she moved a little towards the porn industry and worked as a nude model in a modeling agency. She used to go to exhibitions and parties, as well as; she started to get nude in front of her webcam to delight the people on the other side of the screen. And finally, she decided to join the adult entertainment industry as a full-time profession to show her skills and capabilities to the people on a large scale.
This famous American slut works a lot on her wavy body shape, and she regularly goes to the gym for exercise to improve her killing figure. Moreover, she has also used silicone to enhance her tits to attract more and number of fans. Romi Rain loves tattoos around her body and currently she has the cherry on the right wrist, the cat on the left paw prints on the right foot, three stars behind the right ear, and a huge Phoenix with flowers on the back that looks damn hot in her every scene. In an interview, she admitted that she is going to increase the number of tattoos greatly because they excite her almost as much as sex.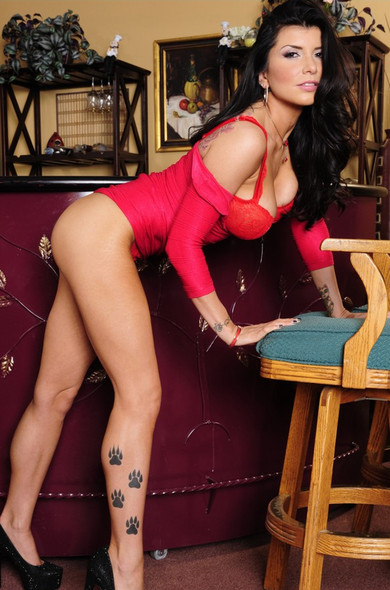 Her Porn Career
Romi Rain started acting in the porn industry back in 2012, since then she has developed more and more skills with the passing time. People also get attracted by her mysterious appearance, and her very long legs, which are always a pleasure to look at.
Romi Rain is always there on screens with her busty beauty and sexy appearance. Romi Rain is good in any kind of sex – blowjob, facials, double penetration, creampie, deep throating, vaginal sex, lesbian, anal sex or any other genre. For Romi Rain, it makes no difference. Romi can be called as one of the most outspoken and immoral brunettes in the porn industry. Her career is in full swing, and this beautiful chick never ceases to please us with her new hot work.
Romi Rain admits that her decision was supported by her mother, and she motivated Romi to do what she wants. As a matter of fact, sex was not a taboo or strange thing in her family, therefore, she didn't face any issues from her family. Romi did not hesitate to come out as bisexual, which naturally helped her later on stage. At the same time, Romi Rain feels hypersexual, and she is always ready to get fucked around the clock. Such frantic desires had helped her in her career when the director noticed her talent and decided to implement it to the maximum potential. At the beginning of her career as a porn actress, this passionate brunette mainly used to show skills of lesbian love, but quickly she decided to grow her talent, and ultimately she reached up to anal sex. During 2013 and 2014, Romi Rain has starred in over a hundred films and videos that were highly admired by large organizations.
In 2014 at AVN ceremony, Romi Rain was nominated in a number of categories including Best New Actress, but unfortunately, she didn't win any award. However, she is not among those who quit quickly, given that she is still as rejuvenated as ever and is not going to stop performing – she has all the chances to prove herself as the winner of many awards.

Romi Rain – The Sex Queen
For every movie of her that has been released so far, this sex freak beauty queen from Boston has shown her unmatched talents and insanely attractive sexual charms. The black-haired lady with a big and delicious pair of boobs strikes sexual chemistry with any co-star on the set, regardless of the fact that which of her hole is going to be penetrated. Another quality of Romi Rain is her lust for lesbian scenes. She simply enjoys fucking a girl working with her a very pleasant manner.
Romi Rain is free to do what she wants, and there is no bossy environment, in fact, she is her own boss. Romi knows well that her boobs and butt are the main sources of attraction for her viewers and she really works hard on her entire body, particularly parts above, to stay in high demand. She understands that her body is now a public property and she takes good care of it.
Romi Rain likes to interact with her fans through Twitter and Facebook. She really likes to respond to her fans when they ask about her personal life experiences or anything related to her.