Rebeca Linares
m4rc0f
Rebeca Linares
COUNTRY
San Sebastian, Spain
Bottom Line
Rebeca Linares does not prefer to present herself in any particular category of porn, but she is the one who feels pleased to perform in every genre of the porn movies. It can be said, without any doubt, that Rebeca has proved her skills in almost every genre of the porn industry with amazing results.
Rebeca Linares
Rebeca Linares was born in Spain in the city of San Sebastian on June 13, 1983. She is beautiful and sexy Spanish lady with a height of 5 ft and weighs around 49 kgs. The Spanish brunette has an amazing figure of 34D-26-34, which is quite enough to make anyone cum when she strips down to her birthday suit.
Her family moved to Barcelona when Rebeca was small, and she spent most of her life over there. When she grew up, Rebeca started to work as a machine operator in a factory and then as a cashier in a bank, however, these jobs didn't satisfy her much. She liked those moments the most when she had sex with someone, and that was the only thing that used to make her happy. For this reason, Hot and bothered Spanish beauty decided to become a porn actress in the adult entertainment industry. In 2005, Rebeca made her first steps in the pornography business, and in 2006, she moved to Los Angeles to become the most professional slut and to increase her popularity.
Linares loves to receive offers from well-known publishers of magazines. Recently, she successfully conducted a photo shoot for Maxim magazine. Although, Rebeca has passed three decades of her life, but she has kept herself fit and has perfectly preserved her appearance and shape – thanks to her Spanish roots and the care she takes of her sexy body. She finds time to visit beauty salons and fitness clubs and has her own trainers and beauticians. She is quite popular in the US porn industry, and she is well recognized on the streets.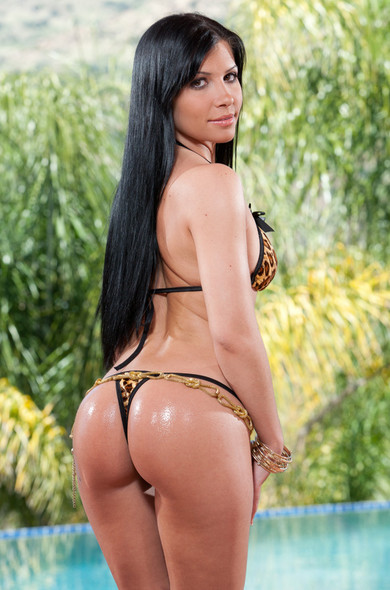 Her Porn Career
As mentioned earlier, Rebeca Linares kicked off her career in the porn industry back in 2005 from Spain. She chose her pseudo on her own, and she likes it because it is short and very attractive. Due to the small amount of work in hometown and the lack of money, she began to work in other European cities, particularly in Berlin and France. In March 2006, she moved to Los Angeles for her better future in the adult entertainment industry. In March 2009, the magazine Penthouse named Linares as Pussy of The Month. In the same year, in 2009, Spanish television channel "Canal +" has produced a documentary on the life and career of Linares in America entitled Vente a Las Vegas, Nena (Come to Las Vegas, Baby). Till last year i.e. 2014, she starred in 436 films.
Due to her extraordinary dedication and performance she has been given some awards on different occasions. For instance, in 2007, Rebeca won Best Actress Award in FICEB Ninfa, and in 2010, this sexy slut was recognized in the category of Best Threeway Sex Scene in AVN Award.
The black-haired actress has performed in a number of porn movies, and Rebeca, from the first days of her appearance on the screen, has generated enormous interest among fans of adult movies. Actress attracts attention with her talented and unique performances that are so natural that it almost looks real. She doesn't notice camera or the people around when she is performing, and this is quite an amazing talent to perform in such a natural way in front of the camera. Her gorgeous body writhing under the caresses of men makes her fans more excited. Promotional video presentations featuring Rebeca Linares are seen quite often and are released in large numbers. There is not a single porn movie with her participation that has not earned appreciation and applause by her fans. Producers from the most famous sex studios seek to enter into the contract with this Spanish sex bombshell, but the actress is quite loaded with work and can afford to choose what suits her best. Over the years, Rebeca Linares has won a number of awards on different occasions in the porn industry. She has on her account several feature films with her participation in the lead roles.

Rebeca Linares – Real Spanish Beauty
In the porn industry, Rebeca has tried everything. She has performed in more than three hundred films so far. She has become very popular in the United States to the point of appearing on the cover of many magazines for men. Rebeca Linares is without a doubt the most famous Spanish porn star known in the history of Spanish porn, and it is only due to her passion and excitement for her work.
In her routine life, Rebeca is a friendly and easy to talk to. She is not the one who just ignores people around her due to popularity and fame, but she likes to interact with different people. She likes to go to parties with her friends as she believes that fresh mind will lead to exciting work on screen. Therefore, she makes sure that she is keeping herself active and fresh all the time. For this purpose, she usually goes to the gym, dines out with friends, she goes to beaches for sunbathing, and she visits different places to find peace of mind. This is all that she does to keep her mind fresh and results are seen when she is performing on the screen.
Rebeca Linares likes to interact with her fans that are always curious to talk and know about her personal life. She regularly coordinates with her fans through her Twitter and Instagram.